The Phoenix Suns (5-11), led by Alex Len and Eric Bledsoe, defeated the Orlando Magic (6-9) 92-87 Wednesday night in Orlando.
It was the heroics of Bledsoe who would make two key free throws with 16 seconds left to play in the fourth for a five-point lead, and Devin Booker added two more with 6.2 seconds to go.
Before the strong close from the Suns, Orlando went on a 9-4 run in the last two and a half minutes of the game to pull within three points of Phoenix.
Suns Have Strong Offensive Performance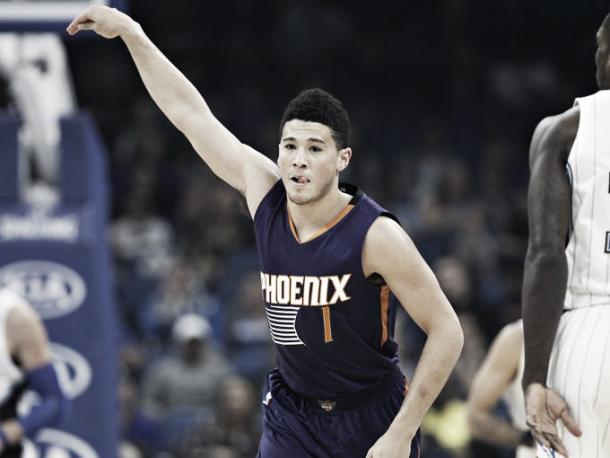 All five of the Suns' starters scored in double digits. Alex Len was the leading scorer for the Suns, scoring 17 points with 12 rebounds in 35 minutes of play. Eric Bledsoe had 16 points, nine rebounds, five assists, and a steal. Devin Booker would score 11 points, collect two steals, and would record one block and one assist, going 2 for 2 behind the arc.
P.J. Tucker would have a strong night coming off the bench, scoring 10 points, hauling in seven rebounds and recorded an assist and a steal. The rest of the Suns' bench would combine for 16 points.
Magic Struggle on Offense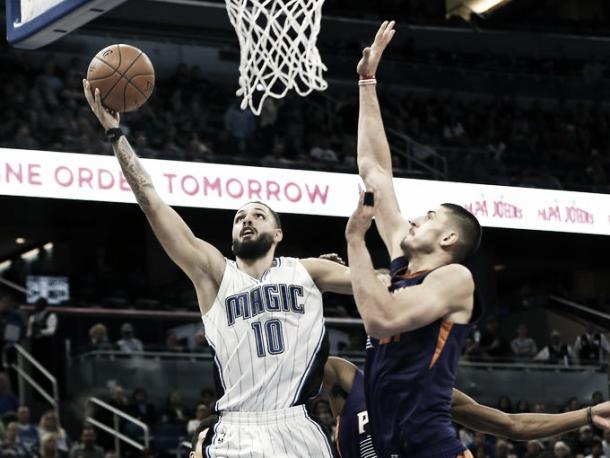 Evan Fournier would score 25 points, grab four rebounds and collect two assists for the Magic. Nikola Vucevic had 21 points and 13 rebounds in the losing effort.
Other than those two it was a pretty rough night for Orlando. Jeff Green would go 0-for-7 from the field and would finish with three points. Serge Ibaka would go 2-for-9 and would finish with five points. Backup point guard D.J. Augustin would give the best performance coming off the bench for Orlando, scoring 12 points with two rebounds and two assists.
Orlando shot just 36 percent from the field and 28 percent from three-point range. Orlando would turn the ball over 11 times in the losing effort.
When asked about the defensive execution, Suns head coach Earl Watson said, "Defense has been our emphasis. We have been trying to become better defensively and play with an edge. [Our defense] has to be consistent and focused. In order to be where we want to be in the future, it has to be on the defensive end. We are not worried about our offense right now."
Suns Notes
Suns forward T.J. Warren missed his second consecutive game with what coach Earl Watson has described as a head injury.
Marquese Chriss has been coming into his own lately, scoring 23 points, eight rebounds, and two blocks in his last three games. If his development keeps improving, the Suns would have a nice piece going forward with Devin Booker.
Tyler Ulis is also making the most of his opportunities, scoring 27 points and accumulated nine steals in his last four games.
"Everybody told me I just have to wait for my time, just be patient and keep working. I saw Devin [Booker] go through this last year and he is a big part of helping me." Ulis said. "I understand the process; I understand you have to fall in love with the process and trust it. I just come in and do what I have to do when I get my chance," Ulis continued.
Magic Notes
Including Wednesday night's game against Phoenix, Orlando has held their last seven opponents to a combined 92.2 points per game and 43 percent shooting from the field. The Magic are ranked eighth in rebounds and seventh in blocks in the young season. Bismack Biyombo and Nikola Vucevic are a big part of that, combing for an average of almost 10 rebounds a game and two blocks per game.
Up Next
Phoenix will host the Minnesota Timberwolves on Friday at 9 p.m. E.T..
Orlando: will host the Washington Wizards on Friday at 7.p.m E.T..