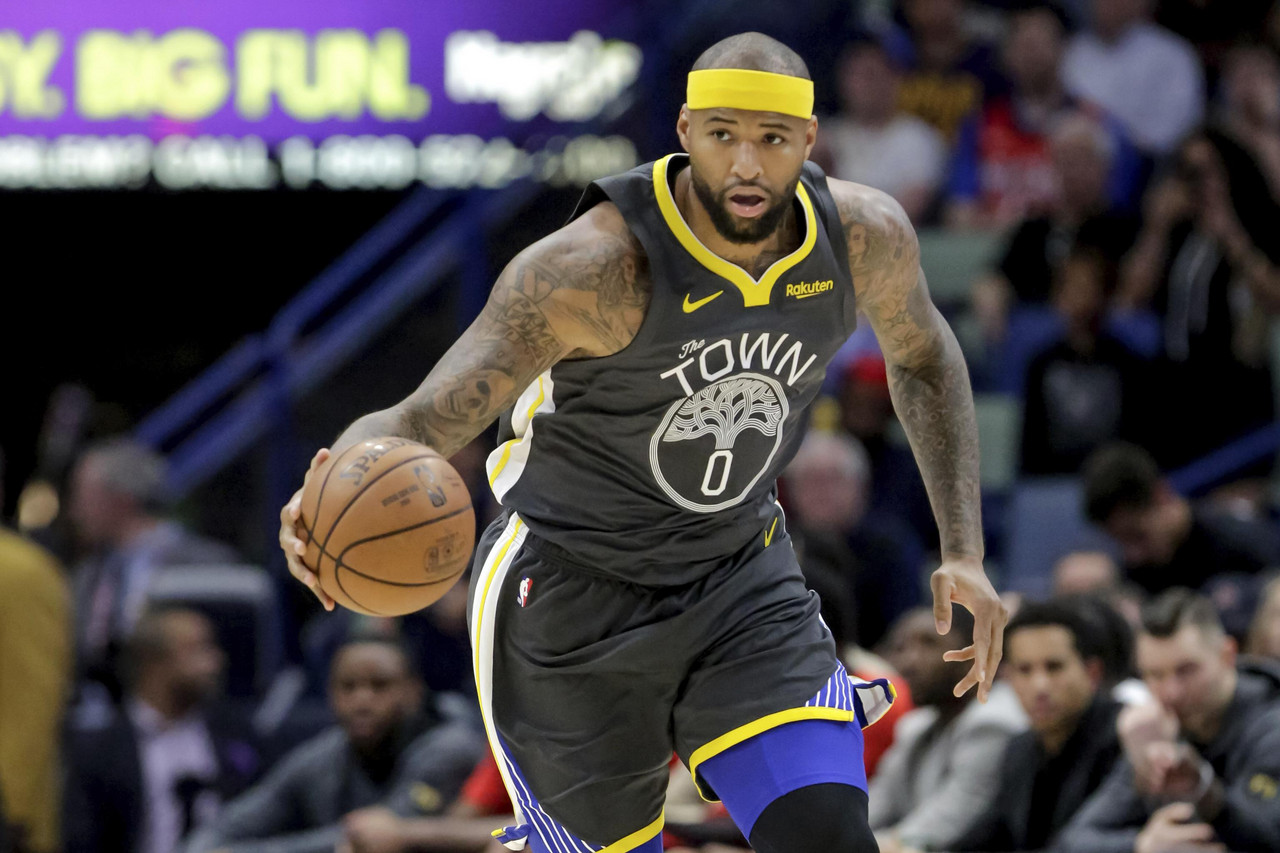 Former superstar Demarcus 'Boogie' Cousins remains a hot commodity throughout the NBA world despite his age and injury history; someone who a team can take a solid bet on without giving up too much in return.
Yet he has still been bounced around the league for the past 4 years, unable to remain healthy or find a home within an atmosphere; resorting to accepting two seperate one-year minimum deals with the Lakers and Warriors.
But next year could give him a chance to settle down with a team for more than one season and earn a big check in the process, especially considering the laughable free agent market. He has his choice of team and he knows it.
The success level of the two teams he decided to sign with should tell us all we need to know about where his priorities lay, first accepting an unflattering sum of money to play with 4 other All-Stars in the Bay City, then teaming up with world-class Anthony Davis and LeBron James after the Warriors dynasty crumbled in his only year there- ending up being waived after another season-ending injury.
His decision to play with two California teams is also telling, considering his original home lay in the state capital of Sacramento.
Cousins has not ruled out the possibility that he will be a part of the NBA's bubble in Orlando (brought to life with a recent tweet reading 'Another Boogie Bomb …'), weighing up between a chance at a championship or an extra 6 months of rehab on his knee. It won't be an easy decision for DeMarcus. He has been longing for a championship ever since his traumatic experience in Sacramento, and he has a very good chance of doing just that should he decide to play for LA through the 8-game season and following playoffs.
At the same time, an aggravation of the injury he has had for multiple years could go as far as end his career. So let's say he decides not to play in August, ending his contract with the Los Angeles club and starting fresh on the free agent market. What are his best options?
One could obviously point to the league-leaders at the moment in the Milwaukee Bucks, who would be happy to have him as a rotation big man and could give him the championship he desires, but that is barely realistic. He doesn't fit the mold of a Milwaukee player, nor does he have the personality to fit that squad.
If he is happy to take the role, the Toronto Raptors would certainly be appreciative for a third-string Center when Serge Ibaka and Marc Gasol inevitably get injured, Cousins would slot into the team quite nicely and they could definitely make a deep playoff run with him to fill up the hole as a rotation Center. He may not be as quick as a lot of the Raptors full-sprint fast break specialists, but neither is Gasol and the two of them have a few things in common- allowing a smooth transition among the group.
Another team which could have been a capable home for Cousins is Brooklyn- Boogie has an X-factor that neither of their other Centers do- but they have well made their decision as to what their roster will look like for the NBA bubble with the recruitment of Tyler Johnson, Jamal Crawford and Michael Beasley, and DeMarcus would not fit their long-term plans.
If he were to decide to play for a smaller-market team, the negatives would healthily outweigh the positives, he would be forced to take up a big role without guarantee that he would perform to expectations and endanger his health at the same time. There would also be few benefits to his time spent at a team such as Charlotte or Washington, both of which he has been linked to.
A lot of this is based on how Cousins returns, if there is a chance for him to get close to the play of his former self then any of these teams he joins will immediately be a playoff threat, as unlikely as that may be. From what he has shown with his play over his last couple of teams, it is highly likely that he will provide nothing more than a spark off the bench as an unpredictable yet well-rounded offensive threat for whichever team he should join.
This ultimately points to the conclusion that he should stick around in Los Angeles, it would be the most sensible choice for someone with his résumé as a player and it would be a move which should reap strong benefits as long as he plays it right. He gets to stay in California, joining up with former teammates Anthony Davis, Quinn Cook and Rajon Rondo aswell as the man who needs no introduction, LeBron James.
He has already built a relationship with the team, he obviously wants to be there and he has no pressure to be anything more than he is. The minutes he will be getting are of low stress to his oft-injured legs and he could come out of all of this with a championship ring around his finger, rounding off his impressive legacy.
Wherever Cousins is to end up, one thing is at the front of his NBA mind; a championship, and he will stop at nothing to get it.