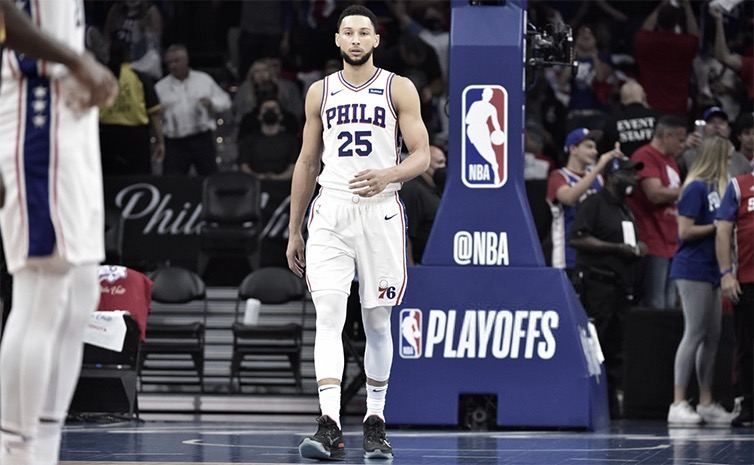 It was another disappointing year in the playoffs for the Philadelphia 76ers this year, as they were eliminated in the second round by the Atlanta Hawks.
The Sixers were defeated in six games in a surprising result by a Hawks team that is surprising everyone.
The Hawks defeated the New York Knicks in five games and then went on to defeat the first seed in the Eastern Conference.
Trae Young's first year in the playoffs has been nothing short of incredible. He is averaging 29.4 points and 9.9 assists.
Whilst other young talent has been impressing the basketball work in the playoffs, such as Devin Booker, Luka Doncic, and Ja Morant, Ben Simmons has done the opposite.
Simmons has averaged 11.9 points in this playoff run which simply isn't good enough for a championship team's second-best player.
Despite not being able to shoot, the Sixers showed throughout the season that he is still a top player and they are still a top team with him on the court.
However, the playoffs have changed that and revealed it to be an even bigger liability than originally thought.
Teams are happily sending him to the line and making him shoot free throws.
This year in the playoffs he shot 34.2% from the free-throw line which is the worst he has ever shot in the postseason.
In the Sixers' game five loss, Simmons had eight points. The biggest problem with his performance is that he shot 14 free throws and could only make four.
Philly only lost the game by three as well. If Simmons hadn't gone 28.6% from the line, perhaps that game would have been a lot different.
Is his shooting struggles making him afraid to be more aggressive on offense? Because Simmons isn't attacking the basket anywhere enough.
Sixers can't have their point guard taking only four shots during the entire course of a close-out game. They especially can't have him taking zero shots in the fourth.
Will Simmons develop a shot, or will he continue to be a liability at times in games? Fans will just have to wait until the next season for the answer.
He will definitely be working on developing his shot before the season starts, but whether or not it can be trusted in-game we won't know until we see it.
If Simmons can't be at least a reliable free-throw shooter, it's hard to see the Sixers winning a Championship anytime soon. He's still young and can definitely improve, so hopefully, for his sake, he does so as soon as possible.