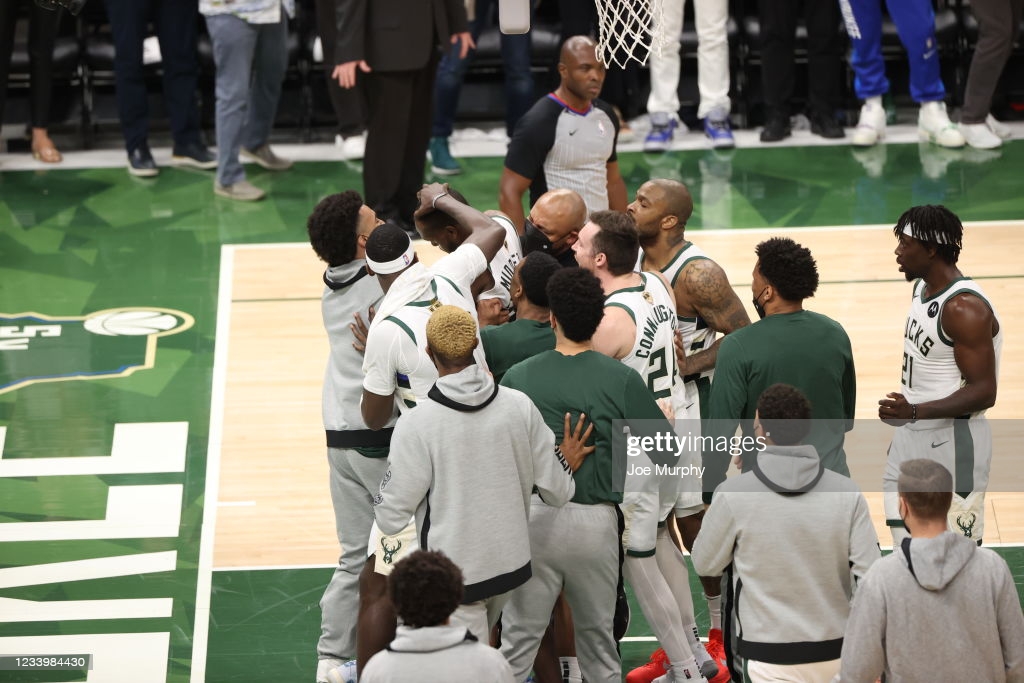 The Milwaukee Bucks have evened up the 2021 NBA Finals at two games apiece following a 109-103 victory over the Phoenix Suns in Game 4 at Fiserv Forum.
Khris Middleton led Milwaukee with 40 points as all five Bucks starters scored in double figures. Giannis Antetokounmpo added 26 points and 14 rebounds. Devin Booker was brilliant for Phoenix with 42 points, but Chris Paul scored just ten on 5 of 13 shooting.
Middleton outduels Booker as Bucks close fast to even up Finals
Four of the five Phoenix starters, including Booker, scored in the opening couple of minutes, giving the Suns an early 10-4 lead, forcing Milwaukee into a timeout. The lead was increased to 16-9 after Mikal Bridges scored in the paint.
Paul had a couple of early turnovers, forcing coach Monty Williams to sit him down in favor of Cameron Payne. A three-pointer from Bobby Portis cut the Phoenix lead to 18-14 and with tough defense on both ends, the first quarter saw the Suns lead 23-20.
With the Bucks becoming more aggressive on the offensive end, they slowly worked their way back into the game and although Jae Crowder hit a pair of threes for the Western Conference champions, Milwaukee eventually tied the game at 33.
Booker answered anything Middleton did with a pull-up jumper and layup. He followed that with another layup and mid-range shot to give Phoenix a two-point edge, having scored eight consecutive points. A pair of free throws subsequently gave him 20 points in the first half.
The score was 52-52 at halftime and Phoenix went on a 7-2 run to start the second half, forcing another Bucks timeout. Booker was eventually whistled for his fourth foul and after being forced to the bench, Paul hit a pair of shots and Booker had 12 in the first nine minutes of the third.
Payne and Booker splashed a pair of threes and although Milwaukee made a slight run, the Suns led 82-76 heading into the fourth quarter. Cameron Johnson hit his own three and after Booker picked up his fifth foul, Johnson nailed a shot from mid-range.
Despite this, the Bucks were creeping closer and closer, cutting the Phoenxi lead to 89-86 with 7:43 remaining. Johnson then hit annother big shot to extend to a five-point advantage. Mental mistakes by Paul and Booker made it a one-point game and it was 99-99 with two minutes left.
Milwaukee closed the game much the way Phoenix opened it: with a 10-4 run, Middelton scoring eight of the ten points, to seal the victory and turn the Finals into a best-of-three with Game 5 Saturday night in Phoenix.