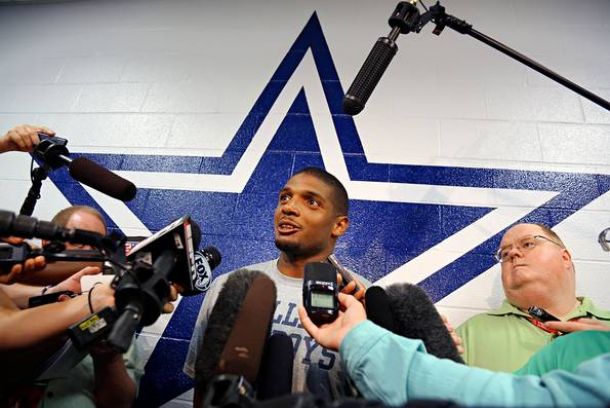 The Cowboys officially added Michael Sam to their practice squad Wednesday September 3rd.
Dallas head coach Jason Garrett announced that Sam has been added to the team's practice squad.
"We feel like he has a chance to come in at a position that we've tried to address really throughout the offseason, throughout training camp and compete for a spot," Garrett told reporters Wednesday.
"It's also a great opportunity for us to develop personnel and evaluate personnel, and this is not new and different for us," Garrett added. "We're bringing a player in we want to see on the practice field. We've got nothing but good reports about him from our people and people in St. Louis. We just want to give him a chance to come in and see if he can help our football team."
"This is Jerry's team and he wants everything right and I'm here to do everything I can to earn a spot on this team," Sam said when addressing the media.
The reaction around the locker room was very low key and another day at the office. Tony Romo greeted Michael Sam and told him, "It's time to get to work."
Jason Witten and DeMarco Murray had similar reactions with both expressing they'll treat Sam just like any other player that's added to the practice squad. "It's no big deal," commented DeMarco Murray.
Bryant said Wednesday that he's not bothered by the Cowboys adding an openly gay player to their practice squad. The Pro Bowl wide receiver says he views Sam just like any other player on the roster.
What was Bryant's initial reaction when Sam was drafted by the St. Louis Rams in May?
"I look at it as if you play football then you grinded it out and you got a shot to be in the NFL, then don't judge a person off of what they do or what decisions they make, if it's not a life or death situation," Bryant said. "It is what it is. He deserves a shot just like everybody else."
The Cowboys enter 2014 with boundless holes in their defense. Dallas placed second-round pick DeMarcus Lawrence on revocable injured reserve Tuesday, signing Jack Crawford to take his place. With Lawrence on the shelf until at least Week 9, Sam has a legitimate shot at eventually making the active roster if another injury crops up.
Sam will need a couple weeks to acclimate himself to Rod Marinelli's system, so it's doubtful he sees any time the first couple of weeks. If he does get on the field, odds are it'll be as a specialist on obvious passing downs. He's still a bit on the slight side (6'2", 261 pounds) for an ideal defensive end, which can lead to him occasionally being overpowered on run plays.
Sam is at his best when coming off the edge, where he can use his off-the-ball quickness to get in the backfield. Even if most of his work came against second- and third-team offensive linemen, Sam's three sacks in his limited playing time was impressive. At the very least he has a future as a situational pass-rusher.
Don't be surprised if Sam is moved up to the 53 man roster sooner rather than later. No matter what happens in the future, Michael Sam and the Cowboys just made history.