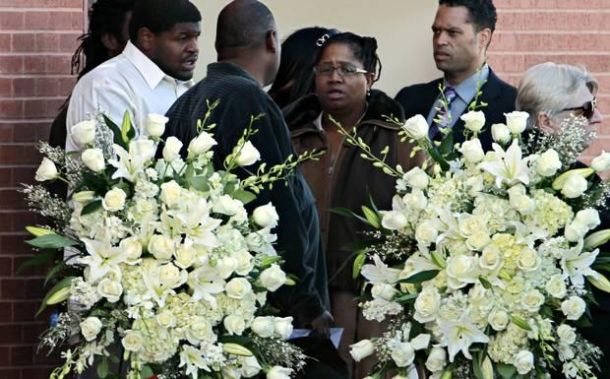 The mother of Jerry Brown Jr. continues to support former Dallas Cowboys defensive tackle Josh Brent almost two years after her son was killed with Brent driving his car while intoxicated.
Stacey Jackson told The Dallas Morning News on Wednesday, September 3rd, that she's "very happy" that the NFL conditionally reinstated Brent on Tuesday and the league and Cowboys are willing to give Brent a second chance at his professional football career.
Brent learned Tuesday, September 2nd, he will be suspended the first 10 games of the 2014 season and will be allowed to take the field in November if he complies with a series of conditions laid down by commissioner Roger Goodell.
"I'm very happy Josh has been reinstated with the Dallas Cowboys!" Jackson said. "My beautiful son is in Heaven now, and Josh has to be given a chance to live his life and do something for someone else! We all make mistakes, and we all have an entrance date and an exit day. Although I miss Jerry every day, I know he would be very happy that Josh has another chance to play football!"
Brent last played on Dec. 2, 2012. Six days later, he was involved in a single-car crash on the State Highway 114 frontage road in Irving. The passenger in the Mercedes, which was traveling at least 110 mph, was Brent's close friend, 25-year-old Cowboys practice squad linebacker Jerry Brown Jr. He died in the accident when the car hit a curb and spun out of control, court testimony later revealed. Tests showed Brent's blood alcohol level after the wreck was 0.18 percent, more than twice the legal limit for driving.
Brent was sentenced in January to 180 days in jail and 10 years' probation after being convicted of intoxication manslaughter. He was released from jail June 15 and allowed to spend the final 45 days of his jail sentence in rehabilitation.
On July 29, Brent was discharged from EnterHealth, an alcohol and drug treatment center in Van Alstyne. He met with Goodell in New York last month.
Jackson said she's been pleased to see how Cowboys owner Jerry Jones has followed through on what he told her about giving Brent a second chance and supporting him throughout the last two years.
"Josh doesn't have to answer to you or me. He has to answer to God, about what he has done with his second chance," Jackson said. "Who has he helped with this opportunity that he has been given! I have to answer to why I didn't forgive him and live out my life with taking care of my family."
Jackson started a scholarship foundation in her son's name — the Jerry Jerome Brown Jr. Spark The Leadership Foundation, LLC. Jackson said that Brent "has been helping to raise money for that."
Seven weeks after Brown died, his first child was born: Mya Lee Brown. The NFL has extended benefits to Brown's daughter. The baby's mother, Andrea Bosquez, lives in San Antonio, and Jackson stays in regular constant contact with the two.
"Me and her mom take care of my granddaughter," Jackson said. "I have done two book bag giveaways and gave out two scholarships in my son's honor."