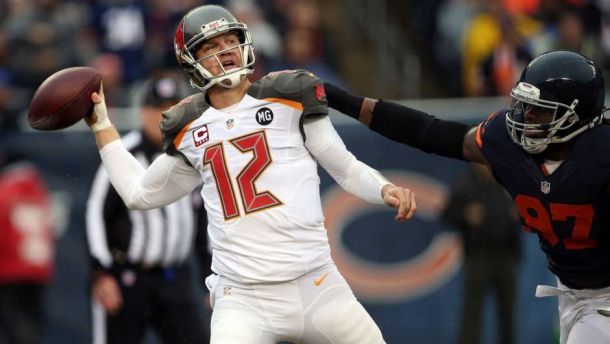 After last week, the Tampa Bay Buccaneers played the best game. The team looked to continue on a winning streak and gain some important divisional ground. The Buccaneers had some players coming back from injury and were looking to start a winning streak. Lovie Smith was looking for a win against his former team. Unfortunately that's not what quite happened for the Bucs. Before the game, Pro Bowler and All-Pro linebacker Lavonte David was ruled out. That was a mess for the Bucs they clearly missed him with making big plays. Mike Evans was looking for another sensational game. The Bucs however fell short of a needed victory and fell part in the second half.
There was nothing for both teams in the first quarter. It wasn't until the second quarter where the Bucs scored a touchdown on a catch by rookie sensation Mike Evans. That was his only score for him. Mike Evans had three catches for 47 yards a quiet day for him. Vincent Jackson had a good day instead for the offense. Just under two minutes remaining in the half, Patrick Murray put the Bucs up 10-0 at the half. The Buccaneers fullback, Jorvorskie Lane, had to be carted off with an leg injury. Multiple reports are reporting it's most likely a season ending injury.
In the third quarter, the Bucs would unravel. Josh McCown would throw two interceptions and this quarter cost the Bucs. With around 12 minutes to go in the quarter Bears quarterback, Jay Cutler, finds Alshon Jeffrey for the score putting the Bears on the board. Josh McCown would fumble setting up a rushing touchdown by Matt Forte which gave the Bears the lead at 14-10. With around 40 seconds to go in the third quarter a close play came. Vincent Jackson had the ball and his elbow was clearly down. The ball popped loose after having his elbow down. Therefore, Chicago recovered it. This was a bad call and had this gone the Bucs way could have been a momentum swing. The Bucs would have had first and goal. In the fourth quarter, Patrick Murray's field goal will be the only thing. Bucs failed to covert a fourth and one.
The Bucs decided to challenge it and wasn't successful. The Bucs however had a chance with five seconds remaining. The Hail Mary wasn't successful.