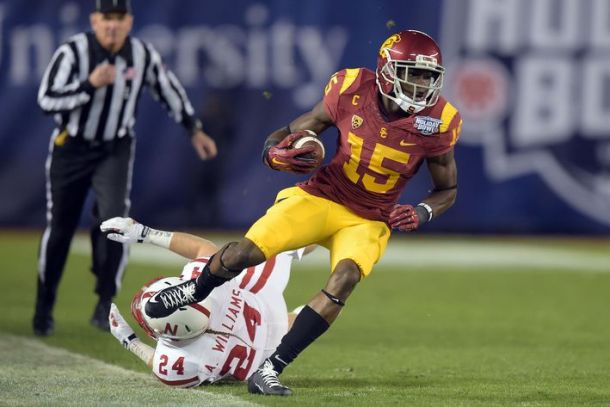 Position: WR
School: USC
Year: Junior
Overview
In 2014, Agholor was selected third-team All-American and first-team All-Pac-12. He led his team in receptions and yards. Had a 12-catch, 120-yard and one-touchdown game in blowout win over Notre Dame. In 2013, selected second-team All-Pac-12 as a return specialist and was an honorable mention All-Pac-12 wide receiver, finishing the season with one reception fewer than Marquise Lee (2014 second-round pick). Was a Super Prep and Prep Star All-American in high school while playing running back, wide receiver and safety.
Analysis
According to the following analysis by NFL.COM: Agholor strengths include running a good route and competes hard on every snap. Able to drive defender into a poor leverage position. Bouncy, quick feet for burst out of breaks. Adequate separation quickness and twitch. Understands his position. Will improvise to get open for scrambling quarterback. Highly instinctive in space with consistent feel for working his way to open spaces as a presentable, ready target. Almost always works his way back to the throw when needed. Natural hands. Has snatch-and-run readiness after the catch with initial quickness to make things happen. Tracks the ball over his shoulder and careful not to crowd himself against the boundary. Dominated the competition over second half of the year. Dangerous punt returner.
His weaknesses include he is quicker than fast. Has some straight-line to him with just average fluidity through hips. Unable to blow by cornerbacks and create separation over the top. Play strength is below average. Had issues shaking Oregon State CB Steven Nelson. Will get stuck in low gear from time to time by long, press corners with strength. Lean frame. Worked well from bunch formations and might rely on pre-snap movement to free himself, depending on matchup. Will have to prove he can work inside and take punishing shots from NFL defenders. Willing blocker but lacks the core strength to be consistently effective at it.
NFL Comparison
Ryan Broyles