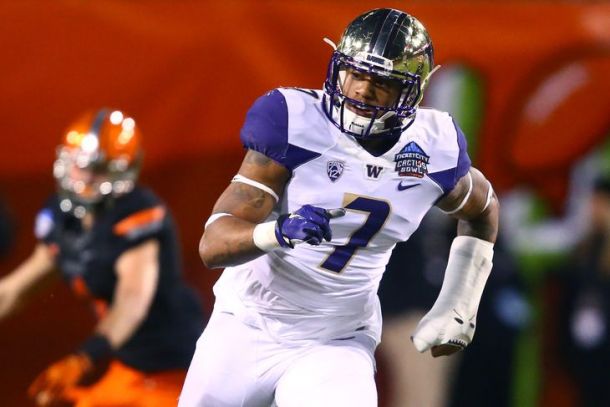 Height: 6-foot-0
Weight: 228 lbs
40 Yard Dash: 4.64 sec
Vertical Jump: 33.5 inches
Bench Press (Reps of 225 lbs): 20 reps
Broad Jump: 117.0 inches
Three Cone Drill: 6.99 sec
For the first time in school history, the Washington Huskies have seen three players selected in the first round of the NFL Draft as Shaq Thompson was selected by the Carolina Panthers. Thompson joins former teammates Danny Shelton and Marcus Peters as the players selected. Thompson won the 2014 Paul Hornung Award as the nation's most versatile player. That was not any surprise as he scored six touchdowns during the 2014 season, two on the offensive side of the ball and four on the defensive side of the ball.
Thompson played in three different positions last season seeing time at running back and safety as well as his normal outside linebacker. It will be very interesting to see where Ron Rivera will utilize Thompson's unique skill set. Thompson did express his desire to play on the defensive side of the ball, linebacker to be more specific.
Personally this writer thinks that Thompson should play linebacker for Carolina. He will be another good addition to an already excellent position group. Middle linebacker Luke Kuechly leads the defense but Thompson will likely learn from 32-year-old Thomas Davis.