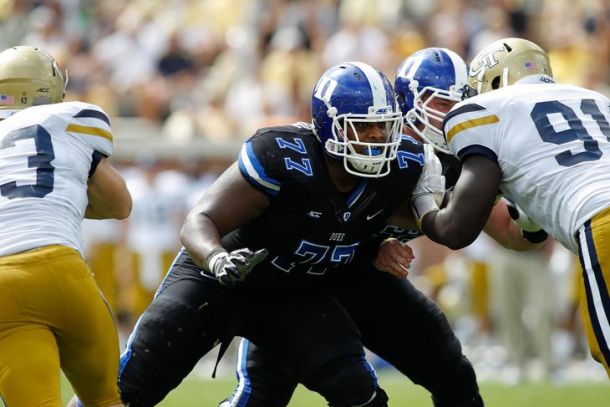 Position : Guard
School : Duke/Sr.
Height : 6'3"
Weight : 323 lbs.
40 yard dash time : 5.33
Laken Tomlinson is a smart guy who graduated from Duke with a double major in psychology and evolutionary anthropology. Tomlinson started every game at right guard for Duke following a 2010 redshirt season. He was born in Jamaica, moved to the U.S. with his mother at the age of 10 and started playing football as a freshman in high school.
In 2014, Tomlinson was selected first-team A.P. All-American and first-team All-ACC. Second-team All-ACC selection in 2013. Academic All-ACC selection in 2012 and 2011. Duke coach David Cutcliffe said : "People had a hard time matching up with him. He has first-round ability. His intelligence and ability to learn the game are special." Tomlinson excels at keeping the quarterback safe, and he didn't allow a sack over the last two seasons. At times Tomlinson has had his way with opposing defenses, but getting defenders centered and jacked will be tougher in the NFL.
After his playing days are behind him, Tomlinson wants to work as a neurosurgeon. Until then, he will be giving pain rather than taking it away. Now he knows that he will be doing that in the Motor City.