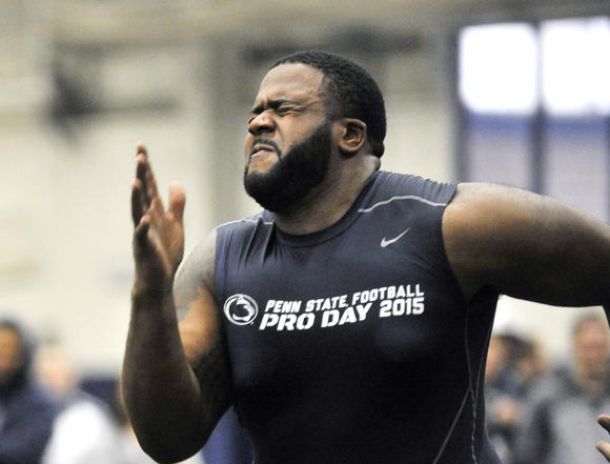 POSITION: OT
SCHOOL: Penn State
AGE: 21
HEIGHT: 6-6
WEIGHT: 338

The Tampa Bay Buccaneers were expected to take an offensive lineman in the second round. They indeed did that as Donovan Smith was taken as pick 34 in the NFL to the Buccaneers, a tackle out of Penn State. Anthony Collins was brought in last season via free agency to be a productive tackle for the Bucs. Things went south after year one and Collins was released and Smith will now take his role. Smith comes into one of the worst offensive lines in football. After the Buccaneers drafted quarterback Jameis Winston in the first round, Donovan Smith will be the protector for him.
His NFL combine numbers were 26 reps on the bench press as well as a 4.79 20-yard shuffle. His 40-yard dash came in a bit slow at 5.27 seconds, a time he improved on during the Penn State pro day with runs of 4.98 and 5.03 seconds. One of the nice things about his is his versatility. He's able to play tackle at both sides. He will most likely play both to start and then find a side that fits him.
Donovan Smith is a great pickup by the Tampa Bay Buccaneers, as they really needed offensive line help. This doesn't solve the issues alone but this is a step forward. The Buccaneers had their eyes on some other players but he was the next best man up. In the third round, the Buccaneers could finally make their first defensive pick in the Lovie Smith era or look at a potential additional weapon for Winston.