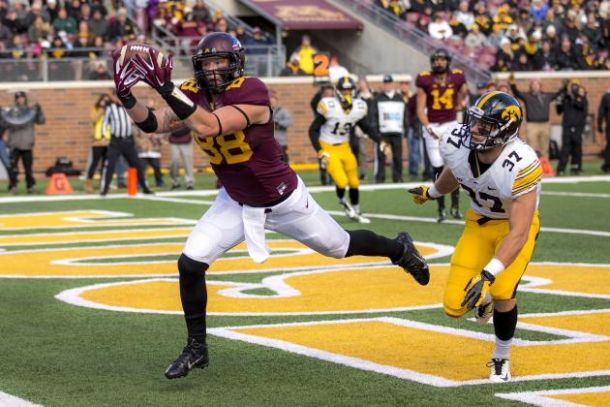 The Baltimore Ravens selected University of Minnesota Golden Gophers' tight end Maxx Williams with the 55th overall pick in the second round of the NFL draft. The Ravens originally had the 58th overall pick but decided to give up the 58th overall pick and their 5th round pick (158 overall) to the Arizona Cardinals. The Ravens probably didn't think Williams would last a couple of spots longer with the Pittsburgh Steelers lurking and having a need for depth at tight end as well with Heath Miller getting older for the Steelers.
With the addition of Williams, it provides a bit of security at the tight end position for the Ravens as Dennis Pitta is still a question mark for not only the 2015 season, but for the rest of his career with two hip injuries in the last two years.
Williams is a player who has pretty good speed for a tight end to beat linebackers and safeties and also does well with yards after the catch. Some have compared Williams to former Ravens pro bowl tight end Todd Heap and even Jason Witten to an extent.
With the Ravens selecting wide receiver Breshad Perriman in the first round last night and now drafting Williams, the team is making sure Super Bowl MVP quarterback Joe Flacco has young talent around him for a long time.