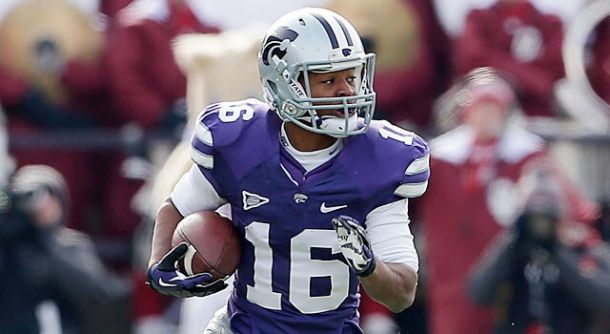 Tyler Lockett is one of the most underrated receivers in this years draft class. He posted a remarkable 40 yard dash time of 4.40 in Indianapolis, while also finishing in the top performers list for the 20 yard and 60 yard shuttle. To trade up to pick 69 of the Washington Redskins, they gave up picks 95 (3rd), 112 (4th), 167 (5th), and 181 (6th). This shows you just how much they like the former Wildcat.
He will instantly help the Seattle Seahawks receiving crew, and will give Russell Wilson a speed weapon to add to his arsenal next season. Lockett uses his speed well, and is also a great route runner, one of the best in the draft. He is described as being positive in the locker room, and he is an excellent return man and blocker.
His main negative is that he is extremely small for a wide receiver, at only 5'10". He is also extremely ineffective and struggled mightily against the press coverage from good corners. But the Seahawks have several bigger targets including recently traded for tight end Jimmy Graham, and haven't had a serious speed receiver since they traded away Percy Harvin in the middle of last season.
He will likely be a good slot receiver in the NFL, and also will step into the Seattle Seahawks as a kick or punt returner as well, as the only player with more all purpose yards in their career was Ameer Abdullah, who just got drafted by the Detroit Lions.