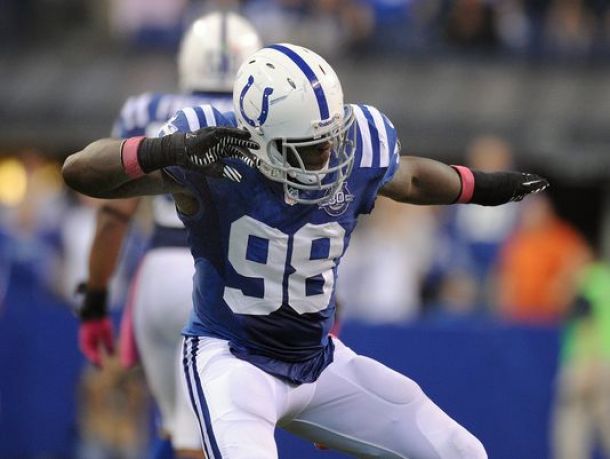 INDIANAPOLIS -- Indianapolis Colts linebacker Robert Mathis has repeatedly stated that he believes that he will be ready for the first month of the Colts' 2015-2016 regular season. Mathis spoke with NBC's Indianapolis affiliate [WHTR] to discuss his upcoming celebrity softball game, but they managed to ask him some important questions regarding his recovery.
"I said I meant it, I'll be ready [in] September," Robert Mathis said.
This hasn't been the first time that Mathis has stuck to his words regarding a return date. In late March he spoke with Sirius Radio about his recovery. Alex Marvez [Sirius Radio host] posted on Twitter that Robert Mathis planned to be ready for the start of training camp. August 1 marks the beginning of Colts training camp in Anderson, Indiana. Mathis expects to be ready.
"[email protected] OLB Robert Mathis said he's not ready to run yet but plans to be ready for start of training camp. Audio coming soon @SiriusXMNFL"
The Indianapolis Colts open their 2015-2016 regular season in Buffalo, New York against the Bills on September 13. That means that Mathis would have nearly a month and a half to physically prepare for the season opener. That may not sound like a lot of time, but for a veteran like Mathis who is very familiar with his role on the team, it shouldn't be too big of an issue.
Mathis has only been able to prepare for the mental aspect of his return with limited physical work. Earlier this week, Mathis was cleared to start running and fully train for his return. There is no doubt that Mathis is one of the hardest working players in the NFL, so an August 1 return is certainly not in the 'crazy realm' for him. But, he is trying to make sure that a September return wouldn't be deemed a disappointment.
It is important to remember that Robert Mathis is not only a phenomenal player that can contribute for the Colts, but he is a great leader for the team. Sure he could lead from the sideline like he has been, but leading by example is certainly a much easier approach. Having him back on the field could really serve some good for the younger outside linebackers on the roster, or even for the other outside linebackers who are still doing what they can to improve their game.
"Guys view me as their leader, and I'm busting my hump to get back out there with them because it wasn't easy to sit back and watch them play without me [last season]," Robert Mathis told WTHR.
Robert Mathis has not been participating in any of the Colts organized team activities due to injury, however, he has been working with the team's medical staff. Mathis has a burning desire to return to the field as soon as he possibly can, so again, don't be surprised if he manages to completely surpass any expectations for his return to the Colts.