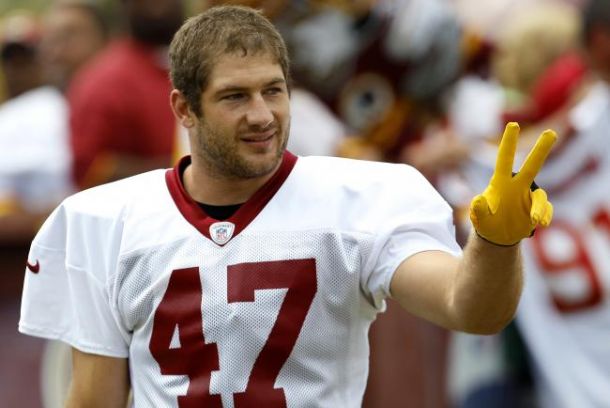 After losing tight end John Carlson to retirement this offseason, the Arizona Cardinals have expressed interest in tight end Chris Cooley. Cooley has not played since retiring after the 2012 season. Arizona also talked to free agent tight end Jermaine Gresham.
Cooley last played in 2012 for the Washington Redskins where he had one catch for eight yards while being targeted three times in nine games. It was an injury-rattled season for Cooley as he did not get many chances to see the field because of injury.
Cooley can still be good veteran tight end for depth purposes. He can catch the ball, has solid speed, and can also pass and run block. Before the 2008 season, he recorded six or more touchdowns in a season. Then the 08 season arrived, and he was not the same. From 08 on, he only recorded six touchdowns.
If Arizona could convince Cooley to come out of retirement and play for them, it would be a good addition for the team. He could slot in at the second string tight end. He would be a good leader in the locker room for the young guys on the team. But if they strike out with Cooley, they also have an option of signing Jermaine Gresham who visited with the team this week, so a lot of options in Arizona. The team is bound to find a tight end with camp starting soon.
On the Cooley side of things, he must be enjoying retirement, but he has never won a Super Bowl before. Arizona has a strong team so maybe he's coming back to chase that elusive ring. Arizona would be the perfect place to do it; they already have one of the top defenses and a solid offense (shall Carson Palmer stay healthy). It might not happen right away, but if he can be patient, then he might get that ring.