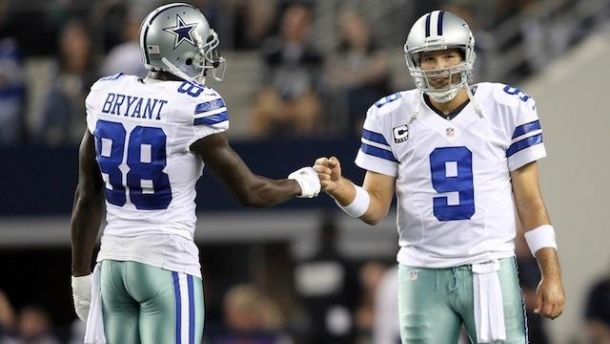 The Dallas Cowboys are coming off of one of their best seasons in perhaps two decades as they went and won the NFC East with a 12-4 record and won their second playoff game in the last 18 years before losing a heartbreaker in the divisional round to the Green Bay Packers. Now, the Cowboys look to build off that momentum and hope to ride it to a potential Super Bowl berth.
For the Dallas Cowboys, the window to win with Tony Romo is slowly closing but that doesn't mean that the former undrafted quarterback out of Eastern Illinois is done by any means. Romo had perhaps his best season last year as he led the league in passer rating and was a league MVP candidate. This was the first offseason that Romo didn't have any type of surgery that he had to rehab for and instead was able to focus on strengthening his core and back muscles to help with the long-haul of the NFL season. Romo is physically better than he has been in quite some time and there's no reason he can't play as well or even better than he did last season.
The Cowboys offensive line is still in tact and with another year under their belts, they'll only be better as their chemistry with one another only increases. Dez Bryant is a happy camper after signing a new deal in the offseason and is entering the prime of his career. Jason Witten is doing his best Tony Gonzalez impression as the veteran tight end looks as healthy and as ready as ever and has been the standard for consistency at the tight end position.
More so than anything, this Dallas Cowboys team is hungrier than ever after losing to the Packers on the Dez Bryant "It was a catch" play. Now that wasn't the main reason Dallas lost that game as they had multiple errors throughout that game, but it's become a rallying cry for Tony Romo, Dez Bryant and Jason Witten.
In past seasons under former head coach Wade Phillips, the Cowboys were unable to build off of 13-3 and 12-4 seasons the following year with all the momentum on their side for a Super Bowl run. Jason Garrett has made sure that doesn't happen this year as he has echoed throughout the offseason to his players that this is a new year and there is no such thing as building off of the previous year. It's a new squad with new faces and a new set of challenges ahead of them to make it to the playoffs and beyond.
Garrett is right there are a number of new faces to examine and evaluate after another crazy NFL offseason.
Offseason Losses:
Running Back: The Cowboys lost a couple of key players during the NFL free agency period but none greater than leading rusher and reigning offensive player of the year, DeMarco Murray. Dallas valued DeMarco Murray very highly on and off the football field but Murray's asking price was simply more than what the Cowboys wanted to spend, reportedly in the $4-6 million per year range. Instead Murray signed with the Philadelphia Eagles and signed for 5 years and $40 million with 21 million guaranteed. It leaves a little bit of uncertainty as to how effective the Cowboys running game will be without Murray.
Linebacker: Bruce Carter and Justin Durant were important cogs in the Cowboys linebacker core last season with both players playing above expectations entering last season. Carter signed with the Tampa Bay Buccaneers while Durant signed with the Atlanta Falcons. While both played well last season, the Cowboys have the depth at linebacker to be just as good or even better than last season's group.
Tackle & Special Teams: Two of the more underrated offseason losses for Dallas is special teams specialist Dwayne Harris signing with the New York Giants and swing tackle Jeremy Parnell leaving for the Jacksonville Jaguars. While it can be argued that the Giants overpaid for Harris' services, he was still very valuable on special teams for his versatility to play multiple positions. Harris returned kickoff and punt returns, one of the better players at doing so, as well as play wide receiver in certain play packages. Jeremy Parnell may be felt a little more, especially if starting right tackle Doug Free gets injured again like he did late last year. Parnell was more than adequate in filling in for Free and provided depth on Dallas' offensive line in case of an injury bug at either tackle spot. The Cowboys haven't found a solution at swing tackle that they feel comfortable with just yet and that can be a concern if Tyron Smith or Doug Free have to miss any time at all.
Offseason Additions:
Defensive Linemen: No acquisition was more important nor more controversial then the signing of Pro Bowl defensive end Greg Hardy to a one-year deal. Dallas' biggest weakness last season was their lack of pass rush and inability to put pressure on the quarterback in key moments of a game. Greg Hardy is a huge boost for the Cowboys defensive line and while he is slated to miss four games due to suspension, he will be a force to be reckoned with upon his return. Jerry Jones compared the arrival of Greg Hardy to being similar to that of Charles Haley in 1992 that propelled Dallas to three Super Bowls in four years. Along with Hardy, Dallas was able to draft Randy Gregory late in the second round, a player that many had rated as a top-10 player in the draft. Gregory slid in the draft due to failing a drug test prior to draft day and that raised a lot of flags in teams minds about the risk involved in drafting Gregory. Jerry Jones isn't afraid of drafting players who may need some mentoring and has actually been quite successful with those type of players in the past. Gregory won't be expected to be a Pro Bowler by any means but he adds much needed depth to the defensive line.
Running Back: Veteran running back Darren McFadden was signed after the DeMarco Murray departure and the hope is he'll have somewhat of a career revival in Dallas. McFadden signed a 2-year $3 million deal with only $200,000 in guaranteed money, which makes the move a low-risk high reward signing. Jason Garrett and the Cowboys front office believe McFadden still has a lot of tread in those running legs of his and can be a key piece in their running back by committee approach this season. Joseph Randle is expected to be the leading back out of the backfield but if McFadden can stay healthy it'll certainly be a huge boost behind their elite offensive line.
Rookies: Jason Garrett, Jerry Jones and Stephen Jones were ecstatic with the rookie class they were able to come out with as they acquired what many analysts would call three first round talent players. Defensive back Byron Jones, defensive end Randy Gregory and offensive linemen La'el Collins were all rated as first round draft picks but Gregory and Collins fell due to off the field circumstances. Byron Jones is a huge boost to the secondary and has the athleticism to play all across the field, defending all different types of wide receivers including tight ends. While he's still a raw player, he's turned a lot of heads during training camp thus far. La'el Collins claimed that this Dallas offensive line will be the best in NFL history now that he was added as an undrafted rookie but graded as one of the best linemen in his class. He'll add great depth to the guard position and may even be give a look at the tackle positions.
Overall the Cowboys offseason was a very good one as they've added depth across their defensive unit with the exception being at safety. Nonetheless, they've turned their biggest weakness in their defensive line into a strength, with the acquisitions of Greg Hardy and Randy Gregory to go along with the development of young players such as second-year defensive end DeMarcus Lawrence and defensive tackle Tyrone Crawford, who many are predicting to have a breakout season.
The addition of Byron Jones and the return of Morris Claiborne gives defensive coordinator Rod Marinelli options in the secondary. The improvements made on the defensive line will also be a big plus for the secondary as the hope is that added pressure on the quarterback will relieve some of the time the corner backs are guarding their respective receivers.
Equivalent in importance to the arrival of Greg Hardy, is the return of linebacker Sean Lee who missed the 2014 season due to a torn ACL. This defensive unit raises their level of intensity and focus when Lee is on the field and serving as the captain on the defensive side of the ball. Lee's health is still a major question as one has to wonder if he'll be able to stay healthy throughout the entire season, but if he does, it'll be a huge boost to this Dallas team.
The one question that still lingers highly over this Cowboys team is on the offensive side of the ball, in particular the running back position. However, that isn't the case when talking to Jason Garrett who is very confident in his group of backs led by Joseph Randle. Randle's speed and vision fits in very well with the Cowboy's zone-blocking scheme and is more of a home run hitter than DeMarco Murray was. Randle isn't the bruiser that Murray showed he can be, but Randle doesn't have to be as his speed more than makes up for that. McFadden and Lance Dunbar are also expected to have their share of carries and each bring a different dynamic to the table.
The Cowboys have done a fine job rebuilding this roster over the last few years and have it into a Super Bowl contender. With Tony Romo and Jason Witten a year older, the sense of urgency is certainly there and this may be the most balanced team that Dallas has had in years. Anything short of a Super Bowl berth will be a disappointment.