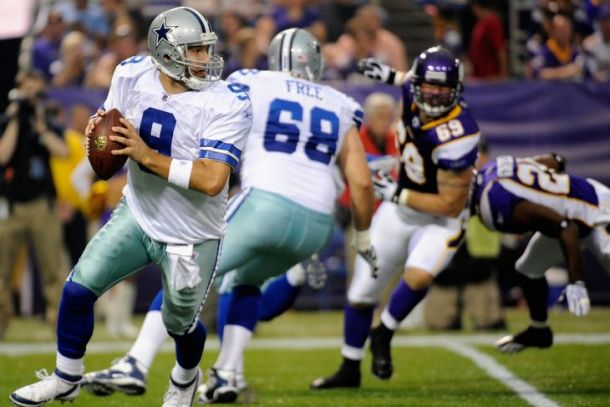 The Dallas Cowboys will return to AT&T Stadium for the first time this preseason to face off against the Minnesota Vikings Saturday, August 28th at 7:00 PM ET.
This is the third preseason game for both clubs and is widely considered by many to be the 'rehearsal' game, as this is the week that teams tend to play their starters the most. Of all the preseason games, the third game is where coaches work on their offensive and defensive schemes more to prepare for Week 1 of the regular season.
For the Dallas Cowboys there's a silent confidence internally that this is a team that can compete for the Super Bowl this year barring injuries. The recent season ending injury to Pro Bowl cornerback Orlando Scandrick is certainly a blow but not a devastating one that many may think it is. Dallas' secondary will be something to watch for against the Vikings.
Tyler Patmon will be in the spotlight Saturday night as he's the main guy that will be tasked to replace Scandrick in the secondary, mainly in the slot position. Patmon is an undrafted second year player out of Oklahoma State, who has had an impressive training camp and has the coaching staff confident that he'll be able to soften the impact for the loss of Orlando Scandrick.
Patmon won't be the only player in the secondary that will be closely monitored, Morris Claiborne will be making his preseason debut and lining up opposite of Brandon Carr in the backfield. Claiborne was once rated as the top cornerback in his draft class and the second coming of Hall of Famer Deion Sanders, but has done nothing in his three-year career to warrant such praise. He's healthy now and will get his chance to put his naysayers to rest.
Staying on the defensive side of the ball, this will be the first time that linebacker Sean Lee will suit up for the Cowboys since coming back from an ACL injury last season. He'll be a big addition to the defense as long as he's healthy. This will be an important game for Lee, at the very least to knock off any rust he may have.
Lee will help a running defense that has looked awful thus far in the preseason, but a healthy starting defensive line should help matters. Tyrone Crawford, DeMarcus Lawrence, Greg Hardy, Jeremy Mincey and Randy Gregory are all expected to play.
On the offensive side, fans and spectators may finally get their first glimpse at the running game post DeMarco Murray. Joseph Randle and Darren McFadden may finally be able to see a glimpse of what they should expect a defense to throw at them with most of the offensive starters expected to play, including quarterback Tony Romo for more than one series. All-Pro offensive guard Zack Martin and Pro Bowl wide receiver Dez Bryant are doubtful for the contest, but nonetheless this is still a Cowboys offense with more than enough firepower to get a rhythm going.
The Cowboys have taken a very cautious approach in resting their key players through the first two games of preseason, however, they'll be rolling with most of their starting players against the Vikings. Like any other team, Dallas' main concern is staying healthy more than than picking up a meaningless victory in Week 3 of the preseason.
For the Minnesota Vikings, head coach Mike Zimmer looks to get his team ready for a winning season, in which many are predicting them to be a 'dark horse' out in the NFC North.
Second-year quarterback Teddy Bridgewater has had a full offseason as the starter to familiarize himself with Norv Turner's offense and looks poised for a breakout year. The return of Adrian Peterson will be a big plus, but the addition of wide receiver Mike Wallace as a deep threat and the development of Charles Johnson, who became a favorite target of Bridgewater's down the stretch last season, adds to Minnesota's depth at the skill position.
It's uncertain if Adrian Peterson will actually play as he usually sits out preseason games to rest his legs, but nonetheless the Vikings want Bridgewater to continue to make strides in Norv's friendly spread offense.
The Vikings had a formidable defense last season that had all the characteristics of a Mike Zimmer defense, and it should be even better with another year learning his scheme.
This is a matchup between two teams that have higher expectations than where they ended at the conclusion of last season, and could be a sneak peek if those expectations can realistically come to fruition.