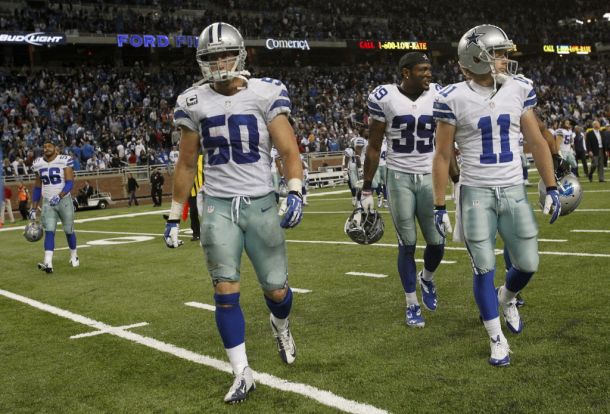 The Dallas Cowboys beat the Philadelphia Eagles in week 2 to improve to 2-0 and gain sole control of the NFC East division but it came at a costly price of losing starting quarterback Tony Romo to injury. Now the Cowboys will be without not just Tony Romo but also Dez Bryant, who's recovering from foot surgery, for roughly the next 8 weeks.
All is not lost for this Cowboys team with Super Bowl aspirations as the answer can be seen in their defense's performances through the first two weeks of the season. The Cowboys allowed only 289 yards and one offensive touchdown in a 27-26 victory over the Giants in the season opener, then went on the road against an even better foe Sunday and flashed even more dominance, allowing just 226 yards and one offensive TD in a 20-10 triumph over the Eagles.
Their defense for the large part of two games has carried this Dallas team to two victories over a pair of division rivals and it has been spearheaded by one man, and that's their defensive general Sean Lee.
Sean Lee tallied up 14 tackles, 2 tackles for losses and 1 key interception in the end zone that was really a turning point in the game when it seemed as if Philadelphia was marching to a potential comeback.
Sean Lee is making an early case for comeback player of the year as he's been all over the field on defense and could in large part be found in the Eagles backfield on Sunday tackling DeMarco Murray for a loss of yards more times than once. Sean Lee missed all of last season due to a torn ACL in mini-camp last offseason but his presence on the field this season has made all the difference. He's the heart and soul of this defensive unit much like Dez Bryant is on the offensive side and his impact has been received loud and clear.
The defensive line has held up their end of the deal as second year defensive end DeMarcus Lawrence has made his presence and defensive tackle Tyrone Crawford is creating problems for opposing centers after signing a huge contract extension couple weeks ago.
The secondary has been better than expected as former first round draft pick, Morris Claiborne has been spectacular in tight coverage and had a large part in shutting down Odel Beckham Jr. in game 1 against the Giants. Brandon Carr has transferred over his good play from the end of the 2014 season into this year and Tyler Patmon has stepped up to the challenge of replacing Orlando Scandrick in the slot position and has done a good job at that.
Perhaps the biggest reason of optimism for this Cowboys defense is that they'll only get better with Greg Hardy, Rolando McClain and Randy Gregory returning from suspension/injury in the next two weeks. With Gregory and Hardy returning soon the defensive line will be a force to be reckoned with and be able to make life difficult for opposing quarterbacks. McClain's return at middle linebacker is big as well as he'll play alongside Sean Lee and together will be hard to run on.
So the defense will play a large part in how far this Cowboys team can go in the absence of Romo and Bryant while the offense just has to be 'good enough.'
Brandon Weeden will get the nod to start at quarterback in Romo's absence and he doesn't have to be spectacular by any means, he'll simply have to be a game manager. The Cowboys still have one of the best offensive lines in all of football so Weeden will certainly have enough time in the pocket to find a man open more times than not.
Speaking of the offensive line they'll need to be huge in the running game most of all as Joseph Randle, Darren McFadden and Lance Dunbar will all have to step their level of play. The Cowboys must run the ball better in order to relieve some pressure off of Weeden's shoulders and force defenses to remain off balance and not give Weeden a chance in the passing game.
Now perhaps the biggest reason that all the reasons above may be enough to work is the upcoming schedule for the Dallas Cowboys. For analysis purposes lets assume that its 8 weeks before Tony Romo and Dez Bryant are back out on the field. That'll mean matchups against the Atlanta Falcons, New Orleans Saints, New England Patriots, bye week, New York Giants, Seattle Seahawks, Philadelphia Eagles, and Tampa Bay Buccaneers.
If you're the Cowboys all you want to do is keep afloat in the porous NFC East division long enough for Tony Romo and Dez Bryant to return at full health to make a stretch run for the playoffs. If Dallas can pick up 3-4 wins during the upcoming 8 weeks/7 games then that'll put their record at a possible 5-4 or even 6-3 with 7 games left in the season, more than enough to pull out a 9 or 10 win season to win the division.
With the Giants and Eagles both at 0-2 and the Kirk Cousin's led Washington Redskins at 1-1, the feeling is none of these teams will be able to run away with this division lead and be uncatchable come week 10 of the regular season.
Do the Cowboys face a long road ahead of them for the next 8 weeks or so? Sure they do but it isn't out of the realm of possibility that if the defense can continue to play at a high level and if the offense can be adequate then the Cowboys can still make a run when Romo and Bryant make their glorious returns.
The Cowboys may not be contention for a top 2 seed anymore but the division is still very much attainable and if you're one of the final 6 teams standing come January, anything is possible.