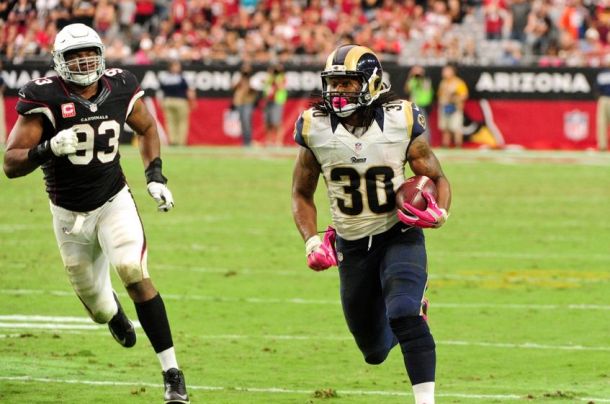 St. Louis Rams running back Todd Gurley has been named VAVEL USA NFL Rookie of the Week. Gurley put together a strong effort on Sunday against the Arizona Cardinals. Gurley finished the game with 19 carries for 146 yards and added two receptions for 15 yards.
This was Gurley's second NFL game, as he made his debut last week against the Pittsburgh Steelers. Gurley was a game time decision and was made active. But behind a lackluster offensive line and a solid defensive front of the Steelers, Gurley finished the game with six carries for nine yards and one catch for five yards.
Gurley's debut wasn't pretty, but it was great to see him suit up and play. Gurley was drafted tenth overall by the Rams in the draft from this past spring. The Rams drafted him, knowing he was coming off of a torn ACL last November. The Rams were very slow in the process of getting Gurley back on the field.
Gurley didn't see the field in the preseason as a precaution. Gurley was then declared inactive for the first two games of the season when the Rams played the Seattle Seahawks and Washington Redskins. Then just about an hour before game time, Gurley was announced as active and likely to make his debut against the Steelers, which he did. He didn't dazzle anyone then, but he sure did this past Sunday against the Cardinals.
Gurley only had four carries for two yards at halftime, but exploded in the second half. Gurley had 144 rushing yards in the second half, and over 100 of it came in the fourth quarter. Gurley is the first rookie to rush for over 100 yards in the fourth quarter of a game since Adrian Peterson did it in 2007.
Gurley's impressive game makes the future for the Rams rushing game look very bright. If the offensive line can stay consistent and play good, Gurley has the potential to become an elite running back in the NFL.