After consecutive losses following a 9-0 start, the Cincinnati Bengals (9-2) needed a boost of confidence heading into an upcoming stretch of divisional matchups.
That is exactly what they received Sunday afternoon, riding the arm of quarterback Andy Dalton to a 31-7 shellacking of the scuffling St. Louis Rams (4-7) in front of the Cincinnati faithful at Paul Brown Stadium.
Dalton completed 20 of his 27 pass attempts for 233 yards, three touchdowns and one interception, managing the contest admirably while carving up a vaunted Rams defense. Wide receiver A.J. Green hauled in six receptions for 61 yards and two touchdowns while tight end Tyler Eifert garnered three catches for 40 yards and his 12th touchdown of the season.
Cincinnati also activated their ground game, with running back Jeremy Hill rushing 16 times for 86 yards on the afternoon.
St. Louis, on the other hand, struggled to find their footing on offense, with quarterback Nick Foles pitching an underwhelming performance through the air. Foles completed 30 of his 46 pass attempts for 228 yards, however, his three interceptions proved incredibly costly.
The Bengals also found a way to limit Rams running back Todd Gurley, one of the most explosive budding rushers in the NFL. The rookie, the owner of four consecutive 100-yard rushing performances earlier this season, received just nine carries for 19 yards on the day.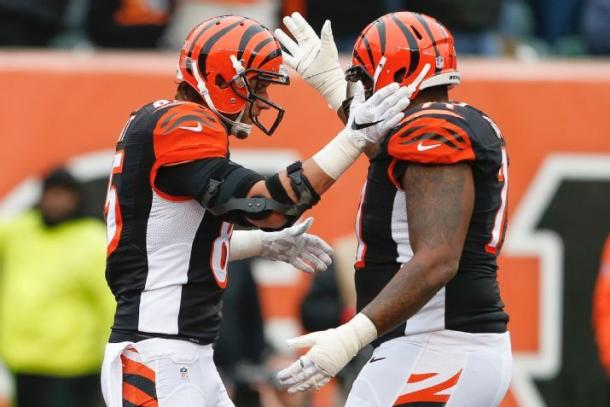 After a St. Louis punt to begin the game, the Bengals jumped on the board immediately, traveling 63 yards in seven plays with their drive concluding in a 10-yard touchdown connection between Dalton and a wide-open Green to give Cincinnati a 7-0 advantage.
The Bengals pieced together another extensive scoring drive to begin the second quarter, increasing their lead to 10-0 after a 21-yard field goal by kicker Mike Nugent following a 14-play, 85-yard possession which spanned 6:49.
However, the Rams countered with an impressive drive of their own facilitated by lightning-quick wide receiver Tavon Austin. On 2nd-and-3 from the STL 27-yard line, Gurley took a direct snap and handed it off to Austin, who traveled 60 yards to set St. Louis up inside the red zone.
Two plays later, Austin finished off the possession with a five-yard touchdown run, cutting the Bengals' lead to 10-7 with 8:29 remaining in the half.
Despite the response, Cincinnati enforced their will on the Rams on the ensuing possession, with Dalton piloting a 10-play, 80-yard drive ending in a 22-yard touchdown pass from Dalton to Eifert. This score put the Bengals up 17-7 entering the half after Foles tossed his first interception of the day to Cincinnati cornerback Reggie Nelson at the CIN five-yard line with 44 seconds left.
The second half started on a disappointing note for the Bengals, as Dalton tossed an interception to Rams cornerback Janoris Jenkins on the opening possession of the half, however, Cincinnati recovered on their subsequent drive.
Taking over at the CIN 28-yard line, Dalton began the march with a short pass to running back Giovani Bernard, who traveled 45 yards to set up an 18-yard touchdown reception by Green to give the Bengals a 24-7 lead.
Cincinnati took little time to extend their advantage even further, as, on 3rd-and-13 from the STL eight-yard line, Foles attempted to create something out of nothing, rushing out of the pocket and making an ill-advised throw across his body into a flurry of Bengals defenders.
The pass ended up in a arms of Cincinnati cornerback Leon Hall, who strided 19 yards into the end zone for a pick-six, pushing the gap to 31-7 with 5:20 remaining in the third quarter.