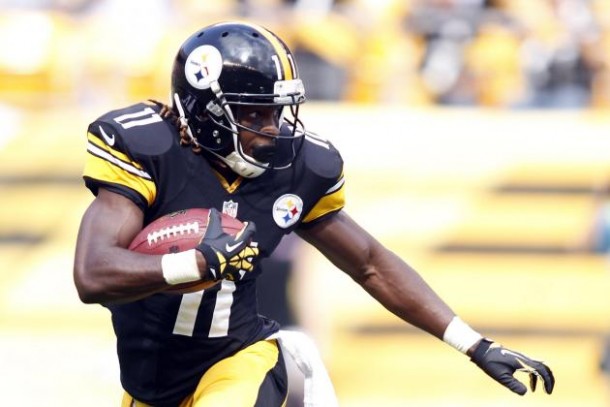 Another week goes by for the Pittsburgh Steelers, and yet another game where the defense lets down the offense. It has been a trend for several games this season, one that the team must fix if they want to squeeze their way into the playoffs. There were definitely some good things in their loss to the Seattle Seahawks, but the positives seemed to be outweighed by the multiple low-points.
Have A Day, Markus Wheaton!
Through the first ten games of the season, third year wide receiver Markus Wheaton seemed to play no role in the Steelers' offense, and it looked like he would have no future with the team. Antonio Brown, Martavis Bryant, and Heath Miller seemed to handle just about all of the receiving duties, as Wheaton totaled just 16 catches for 273 yards and one touchdown in those first ten games. Then, against the best passing defense in the NFL, Wheaton exploded for 201 yards and a touchdown on nine catches in Week 12. When Miller left the game due to an injury, Wheaton completely took over the role of exposing the weak coverage of the middle of the field by Seattle. This game definitely proves that Wheaton is a talented player who should definitely have a future with the team, as long as he can continue playing just half as good as he did against the Seahawks.
Run the Ball
DeAngelo Williams has played so well this season when he has played in place of Le'Veon Bell, whether Bell was suspended or injured like he currently is. For whatever reason, Williams totaled eight carries on the day, one of a slew of questionable decisions made by Mike Tomlin and Co. Williams did make a huge impact through the air, catching seven balls for 88 yards. The lack of rushing attempts just made the offense too one-dimensional, though, and the Seahawks proved to be too much in the end.
Roethlisberger Continues His Success, Injured in Process
When healthy, lifetime Steelers quarterback Ben Roethlisberger has been playing at a very elite level. He has actually averaged the most passing yards per game this season than he has in any season of his illustrious career. Against the league's best defense, Big Ben threw for 456 yards, which was a milestone in multiple ways. Steelers PR man Dom Rinelli tweeted that 456 yards is the most a Seattle team has allowed in one game in history. This mark also set a career high for a road game and moved Roethlisberger into a tie for fourth place with eight 400 yard passing games in his career, according to Rinelli. Unfortunately for the team, Roethlisberger sustained a concussion in this game, according to Tomlin, though the two time Super Bowl champion quarterback thought he aced his tests. He will need to be healthy if this team wants to make the playoffs (Update: Big Ben was cleared to practice on Wednesday and should be good to go in Week 13).
Secondary Still Needs Work
The Steelers' defense has had its up and downs this season, to say the least. Up front, the team has been solid all season long, but the same cannot be said for their struggling secondary. Antwon Blake, Ross Cockrell, and Will Allen allowed Russell Wilson to have a career day against them. Even Will Gay and Mike Mitchell, who have been the sole bright spots all season, struggled. Wilson finished the game with 345 yards and five touchdowns while completing 70% of his passes. Coach Tomlin, at his weekly press conference, expressed his dissatisfaction with Blake and Cockrell's missed tackles more-so than their coverage lapses. He mentioned that Brandon Boykin could get some reps this week, something that fans have been asking for all season. They have to try something, because things can't get much worse at this point.
Make Up Your Mind, Tomlin
All season long, the Steelers have been aggressive when it comes to fourth downs and two-point conversions. To start the second quarter, the Steelers came out in a field goal formation. It would have been a 45 yard attempt for Chris Boswell, who had earlier nailed a 44 yarder. Instead, Tomlin tried a fake, in quite a weird way. He decided to have backup quarterback Landry Jones line up as holder (a position he doesn't play, so the play was telegraphed), then move back about nine yards behind the center in an odd shotgun formation. Jones threw across his body to Alejandro Villanueva, though it went right to Seattle's Jeremy Lane, and he took it all the way to the Steelers' 24 yard-line. The Seahawks would score a touchdown a few plays later.
But then, with just over three minutes left in the game and down by five, Tomlin decided to kick a field goal and trust his defense (which was clearly a bad idea). Pittsburgh had the ball at Seattle's three yard line, so getting the touchdown was not undoable. Earlier in the game, kicking the field goal and taking the 6-0 lead made much more sense. Late in the game, going for the touchdown was the clear best choice. Tomlin got it wrong both times.
Final Thoughts
Simply, this team has many things to improve upon if they want to find themselves in the playoffs come January. There are many teams at 6-5 right now, and this loss took the Steelers from the fifth seed to the eighth seed, on the outside looking in. Still, the offense is among the elites in the league, so they will still be able to put up a lot of points. However, it's all on the defense at this point. The offense is capable of putting up 30 points per game, but it'll come down to the defense conceding 29 instead of 31.