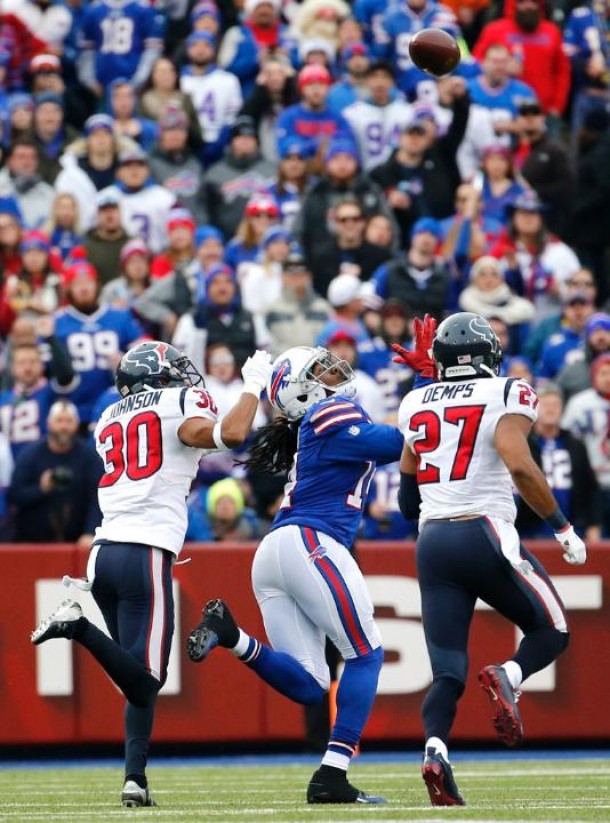 The Buffalo Bills didn't have a choice Sunday. They had to win against the Houston Texans or they would extend the longest playoff drought in NFL history.
The first quarter both the Bills and Texans scored touchdowns. The Bills came after a drive which include big runs from LeSean McCoy and just signed Michael Gillislee. The drive ended with a 3-yard Tyrod Taylor to Sammy Watkins touchdown. Dan Carpenter's extra point made it 0 - 7 Buffalo. The Texans also scored a touchdown with a drive built on the ground. Houston's drive also ended with a 8-yard touchdown pass from Brian Hoyer to Chris Polk. Nick Novak missed the extra point putting the Bills ahead 6 - 7.
Buffalo scored early in the second quarter on a 8-yard Tyrod Taylor run. The extra point made it 6 - 14 Bills. Houston scored again on an 11-yard Hoyer to Polk touchdown pass. The extra point was good putting the Texans within one point. The Bills then came back again with a touchdown late in the second quarter. The drive included a huge 53-yard pass from Tyrod Taylor to Sammy Watkins. Robert Woods 2-yard reception and Dan Carpenter's extra point made it 13 - 21 at the half.
The third quarter didn't produce any points from either team. The Bills had a chance to widen the lead but Dan Carpenter missed a 50-yard field goal (laces out Dan, ahem Colton).
Houston tied the game in the fourth on a DeAndre Hopkins touchdown reception (which appeared to be blatant offense pass interference). The Texans has a successful two-point conversion making it 21 -21 with a little more than nine minutes left in the fourth.
It was back and forth for the Bills and Texans until just before the two-minute warning Tyrod Taylor completed a 41-yard touchdown pass to the wide open Charles Clay. Dan Carpenter missed the extra point and the score stood at 21 - 27. The Bills defense held the Texans on the next series and took over on downs. Dan Carpenter got a chance to redeem himself with a 36-yard field goal to make the score 21 - 30 and the Bills got the win they needed to stay alive in the playoffs. They improved to 6 - 6 and the Texans fall to 6 - 6. The Bills stand as the 8th seed in the AFC while Houston falls to the 9th seed.