Coming into 2015 the expectations for the Cowboys were very high, with many thinking they could contend for a spot in the Super Bowl. However, another injury to starting quarterback Tony Romo and the team lost close game after close game to stumble to a 4-12 record.
Top Free Agent Needs
For years the defense had been much maligned, including one of the worst defenses in the history of the NFL in 2013. But in two years Rod Marinelli has gotten that unit into shape. This season they ranked 16th in points allowed, 17th in yards, 5th in passing yards but tied for 22nd in rushing yards.
However, one of the missing pieces on the defense is pass rush. The Cowboys were one of the worst in the league, tied for 25th with only 31 sacks. Fortunately, there are plenty of options in free agency at defensive end. The first is Olivier Vernon of the Miami Dolphins. He racked up 7.5 sacks in 2015 without Cameron Wake on the other side for over half the season. If the Cowboys don't get Vernon's services, then they could look at veterans Mario Williams, Chris Long and/or Jason Pierre-Paul, seen here taking down Cam Newton in week 15. However, there is some inherent risk with all of them.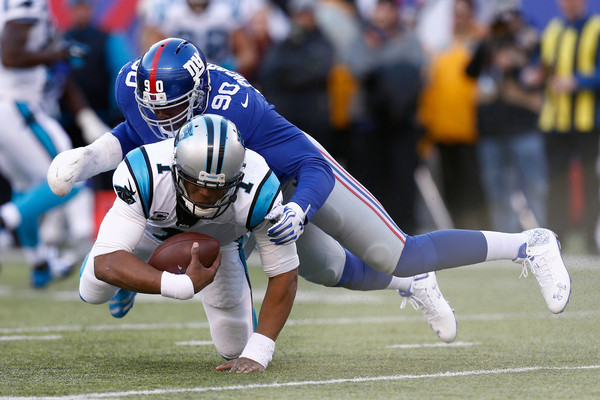 Williams has been in the league for ten years, and his best might be behind him. He got only five sacks last season after three straight years of double digit sacks. Long is 31 and his best days also look to be behind him, but he might come cheap. Even with over a year to heal, Pierre-Paul will still likely have club on his right hand. Regardless, he will have to protect that hand the rest of his career. Von Miller will be franchised in Denver, keeping him off the market. Other possibilities are William Hayes, Robert Ayers, and maybe even Bruce Irvin. Greg Hardy is a free agent but he will not be returning to Dallas. If Joey Bosa is there with the fourth overall pick, the Cowboys should not waste two seconds to pick him.
Another position for Dallas to look for in free agency is a number two receiver to go along with Dez Bryant. Cole Beasley is fine as a slot receiver, but Terrence Williams has never lived up to his potential coming out of Baylor. One option could be Travis Benjamin, formerly of the Browns, who can take the top off of a defense and take attention away from Bryant and Beasley. He came close to 1,000 yards last season despite a revolving door at quarterback in Cleveland and can also be used as a punt returner. Another option is Marvin Jones, who had 65 catches for 816 yards last season in Cincinnati. The market for receivers is really thin, so that might be something that is addressed in the draft.
Despite the year Darren McFadden had, don't be surprised if they bring in a running back. There are some good backs out there in Lamar Miller, Doug Martin, and Alfred Morris, among others. Perhaps the biggest name out there is Matt Forte, but he will probably sign a short deal with a team closer to contending for a championship such as New England or Seattle. Another back on the market to keep an eye on is Chris Johnson, who had a big year last year in a Arizona. But yours truly wouldn't want to bring in another old back alongside McFadden. Ronnie Hillman has been a decent back for the Broncos, but his fumbling issues will likely keep him as a #2 back wherever he goes.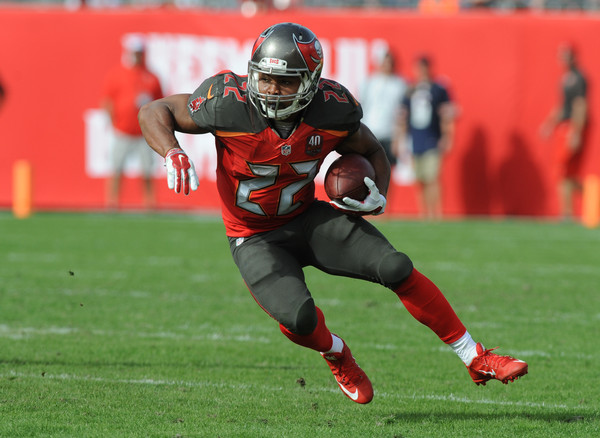 Finally, Dallas could be in the market for a veteran backup quarterback. However, there aren't many guys that make you say, "I want him as my #2 quarterback." Arguably the most attractive is T.J. Yates. The former Texan has been solid in his few starts for the team. Drew Stanton, the backup to Carson Palmer in Arizona, is another decent option. The most experienced backup out there is Matt Schaub, who has been on three different teams in three years and will likely get to number four in 2016. His time as a productive player looks over. Others include Charlie Whitehurst, Matt Moore, Kellen Clemens, Colt McCoy and many others.
Dallas' Free Agents
While those are the guys Dallas might look to bring in, here are the guys from Dallas that will hit the market: Matt Cassel (who figures not to be retained), Mackenzy Bernadeau, Charles Brown, Morris Claiborne, Tyler Clutts, Jack Crawford, Lance Dunbar, James Hanna, Hardy, Ronald Leary, Rolando McClain, Danny McCray, Jeremy Mincey, Josh Thomas, Robert Turbin and Kyle Wilber. This writer projects that Claiborne, McClain, Wilber and Turbin will be back while the rest likely leave.