 There are plenty of free agents heading into the 2016 NFL season. Let's take a look at the top free agents from the wide receiver position prior to the 2016 season.
Alshon Jeffery, Chicago Bears
It isn't often when a legitimate number one receiver is scheduled to hit free-agency. Playing only half the season, Alshon Jeffery amassed over 50 catches, 800 yards, and 4 touchdowns. No matter how someone extrapolates those numbers to a whole season (or even 11 or 12 games), it was clear that the Bears offense took a different complexion with Jeffery out of the lineup.
When Jeffery was in the lineup, the Bears averaged around 368.7 yards per game, which was good enough for 11th in the league. Without him, that figure drops to 314, or 30th in the league. Jeffery's contributions to not only Jay Cutler's production, but the team's offensive success, as a whole, is no secret and will be especially needed with Matt Forte already out the door.
While it's clear the Bears should keep Jeffery, pre-free agency reports suggest the Bears aren't scheduled to franchise their thoroughbred wideout. What's more important is that Jeffery seems to like playing in Chicago, and things could potentially get easier for him when 2015 7th overall pick, Kevin White, finally hits the field.
New Team: Same
Marvin Jones, Cincinnati Bengals
More often than not, the coveted number two receivers tend to be the belle of the ball when it comes to free agency. Jeremy Maclin, Golden Tate, and Eric Decker all got payed handsomely for their sidekick roles on their original teams. While investing in a number two has varying degrees of success, Marvin Jones will likely follow a long line of former second fiddles who cashed out in free agency.
Even with both Jones and Mohamed Sanu scheduled to enter free agency (the latter seems all but gone), the Bengals will have to make tough decisions on not only which receiver they'll attempt to bring back, but also if they're willing to outbid the competition for their services.
The Los Angeles Rams have recently jettisoned Jared Cook, Chris Long, and James Laurinaitis in an effort to allow more flexibility in free agency. For a team whose legacy includes Torry Holt and Isaac Bruce, the revolving cast of retreats and has-beens at receiver has been an embarrassment. Los Angeles native Marvin Jones could be a potential answer for a team making all the right moves to transform their middling offense.
New Team: Los Angeles Rams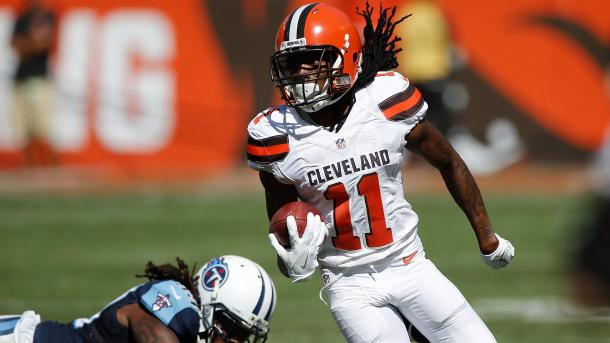 Travis Benjamin, Cleveland Browns
Anyone who played fantasy football in 2015 probably regrets not spending a few precious FAAB (free-agent acquisition budget) bucks to pick up up-start wideout Travis Benjamin. The former Miami Hurricanes speedster quickly became a difference maker for a Browns offense missing a dynamic element in Josh Gordon's absence.
Benjamin was only eclipsed on the team by tight end Gary Barnidge in receiving yards, but nearly led the league in average punt return yardage at 11.6 (3rd).
With a new coaching regime helmed by former Bengals offensive coordinator Hue Jackson, Benjamin should quickly find a role within the offense. Perhaps Benjamin's most important contribution to the team will be his ability to stretch the field for what will probably be a yet another rookie quarterback starting in 2016.
Rueben Randle, New York Giants
Part of the appeal of free agency for a lot of teams is finding treasure in another's trash. Not that Rueben Randle has been trash for the Giants since he was drafted in 2012. Even if he did miss the boat on New York's 2011 Super Bowl, he has been a consistent contributor since his sophomore season.
What is meant by trash is that Randle hasn't quite lived up to the potential the Giants expected from him. Randle flirted with a 1,000 yards only during his pivotal third season in 2014 (938), and even when an opportunity to shine in Odell Beckham's brief absence presented itself, Randle was unable to capitalize.
As the Houston Texans posture to perhaps select a quarterback early in April's draft, the table will need to be set for a young quarterback to succeed. The oft-injured Cecil Shorts and the aging Nate Washington don't provide the assurance that Randle does, who during his time in the NFL has never suffered an injury that stopped him from playing.
New Team: Houston Texans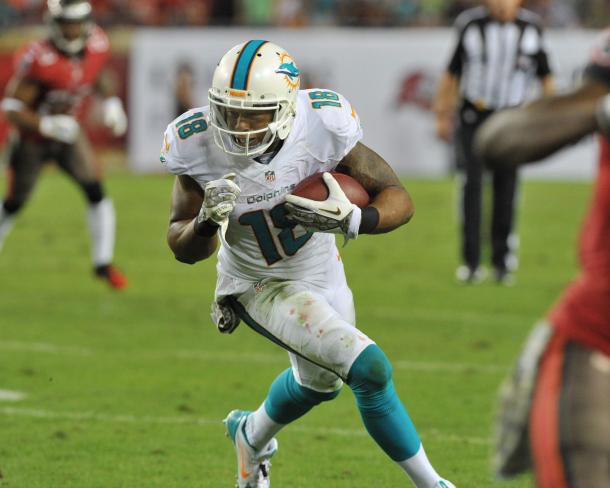 Rishard Matthews, Miami Dolphins
As stigmatized as it seems, fantasy football (yes, that is its second and hopefully final mention in this article) gives fans the opportunity to be exposed to the lesser-known contributors in the NFL. Rishard Matthews was an essential contributor to the Dolphins' offense for much of the season before being sent to injured reserve late in the season after a week 12 rib injury against the Jets.
Before then, Matthews was averaging a respectable 15.4 yards per catch, which looks even better against Martavis Bryant's 15.3 yards per catch. Unfortunately, the cash-strapped Dolphins have to make other considerations in free agency that won't leave room to re-sign a competent third receiver.
For Matthews, the arrows pointing to the San Francisco 49ers have been in the making since high school. Originally committing to Chip Kelly's University of Oregon, Matthews ended up playing his college football in Nevada for--get this--the Colin Kaepernick-led (and current projected 49ers starter at penning of this article) Nevada Wolf Pack.
New Team: San Francisco 49ers
Jermaine Kearse, Seattle Seahawks
More than the final score, post-season heroes are remembered like monuments in the minds of fans. For Seattle's famous "12th Man" contingent, Jermaine Kearse will be known as the man who caught the touchdown pass to eclipse the Green Bay Packers in the 2014 NFC Championship game.
Fast-forward to 2016, and its business as usual between NFL teams and free agents. Doug Baldwin has emerged as Seattle's best receiver and rookie dynamo Tyler Lockett ran step for step with Kearse's 4th year production. It's tough to imagine Seattle prioritizing re-signing a third receiver with their limited cap room and other fish to fry.
As the old saying goes: birds of a feather flock together. With a liberal interpretation of the famous idiom allowed, the Philadelphia Eagles present an enticing destination for the potential former Seahawk. By every measure, the Eagles were the worst catching team in the league amassing 37 drops on 620 targets (6 per game). Kearse finished the year with a favorable 72% catch rate, nipping at the heels of Cardinals star, Larry Fitzgerald (75%) (via Football Outsiders).
New Team: Philadelphia Eagles
James Jones, Green Bay Packers
It sometimes takes a lot of courage to call back an ex. For the 2015 Green Bay Packers, that call was more of a cry for help after Jordy Nelson was lost for the year.
While clearly not the spry athlete during his first stint with the Packers, James Jones almost immediately became Aaron Rodgers' leading target. Jones got more looks in 2015 (99) than he ever got with the team in years prior and only 13 less than his lone season with the Oakland Raiders. Although Jones' play was admirable for much of last season, it would be hard to imagine the money conscious Packers investing in a declining commodity.
Although probably out in Oakland, Jones won't be out of the NFL in 2016. The bay area native Jones signed in Oakland for a reason and may see his way into the sunset with a 49ers team lacking offensive leadership and identity.
New Team: San Francisco 49ers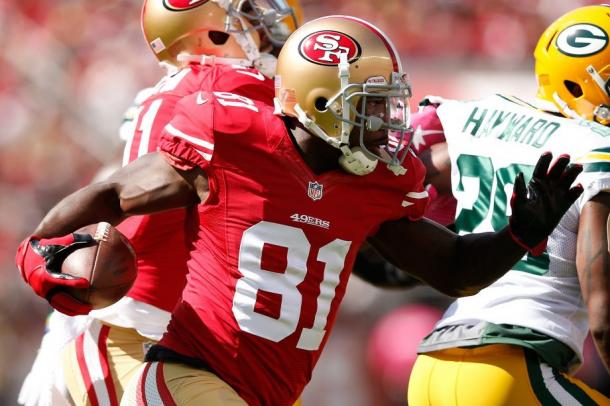 Anquan Boldin, San Francisco 49ers
Once upon a time, Anquan Boldin took on father time and won. Unfortunately in 2015, it appears the 35 year old Boldin may finally appear to be slowing down.
Although it won't be a guarantee that he'll be signed until right before training camp, it does appear likely most teams still view Boldin as an employable veteran asset. Despite a series of nagging injuries, Boldin still toughed out 14 gritty performances in San Franciscio.
Boldin's next chance will probably come with a team that has true Super Bowl aspiration and a need to quickly fill a gap on offense. The prospects of losing not just one, but two receivers in Cincinnati may prompt the team to squeeze the final productive drops (no pun intended) from the ageless vagabond.
New Team: Cincinnati Bengals