 Guard and center are routinely underrated compared to the glamorized skill positions on offense and defense. Despite the group's relative anonymity, this year's free agent crop is strong with the unsung positions.
Alex Boone, San Francisco 49ers
Lost amongst the dysfunction behind center in San Francisco are the persisting question marks that exist on the offensive line. Alex Boone has remained among the league's best guards since he was signed as an undrafted free agent in 2009.
The dilemma for the 49ers stems from the state of the franchise. What would it take for Boone to return in a team that has bigger fish to fry than drafting sizeable contract for a left guard? Although the 49ers project to have the 4th most cap room entering the new league year on March 9th, re-signing Boone isn't something at the top of their agenda.
Boone is heading into a good market for guards. Excluding the 49ers, all the teams ranking in the top five for cap space could stand to add a quality interior lineman. Paramount among these are the Raiders, Giants, and Bears. The Giants--who have cleared over $50 million in cap space--identify as a logical landing spot for Boone who can replace an uninspiring John Jerry at right guard, or displace Justin Pugh at left guard.
New Team: Chicago Bears
Alex Mack, Cleveland Browns
The term "franchise center" may be a foreign concept to most, but the role has been a staple in the NFL for years. Alex Mack's presence on the Brown's offensive line has helped the unit remain among the best in the league since his arrival, and the eminent center's decision to void his final three years on the contract with the team is a curious one.
For any team on a perennial rebuilding process, holding on to players like Mack prove to be a fool's errand. Although Mack and his agent haven't rebutted a possible return to Cleveland on a restructured deal, the odds on favorite is that he goes elsewhere.
One of Mack's most productive seasons came while playing for current Atlanta Falcons offensive coordinator, Kyle Shanahan. Despite the Falcons seeing a stark boost in not only rushing, but total offensive production from 2014 to 2015, the line still has plenty room to improve. Because of his familiarity and proven success within the system, Mack would be an ideal fit on the Falcons.
New Team: Atlanta Falcons
Evan Mathis, Denver Broncos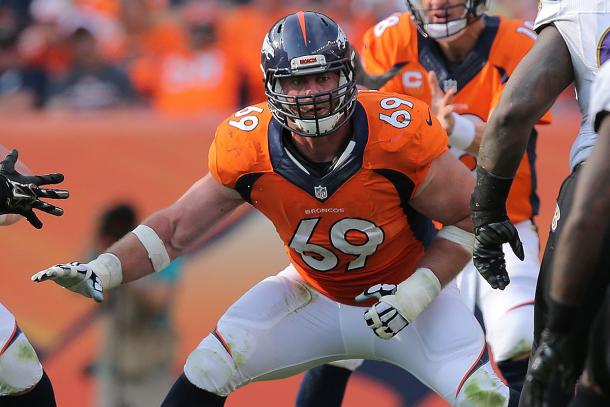 Sometimes father time takes a season off and some players are able to play well into the twilight of their careers. For Evan Mathis, 34, his twilight felt more like mid-day in 2015.
With Ryan Clady sidelined during OTAs, Mathis became the clear leader and best player on a mostly poor offensive line. Even with Clady's projected return, Mathis will still be counted on to protect the passer and invigorate the running game in Denver.
It would be hard to imagine Mathis end anywhere else. Even with Peyton Manning unlikely to return and the starter at quarterback not becoming any clearer with Brock Osweiler still unsigned before free agency, Mathis will be a big part of how the Broncos will transition in 2016.
New Team: Same
Richie Incognito, Buffalo Bills
Is wasn't that long ago that Richie Incognito was virtually black-listed following an embarrassing bullying scandal on the Miami Dolphins. Since then, he's turned around his career and proved to be an integral part of the Buffalo Bill's league leading rushing attack.
At 32 years old, Incognito will likely hope to follow up his successful rebirth in 2015 with a contract he can retire on. The Bills flirted with post season aspirations last season and hope to retain enough talent to make a sincerer run in 2016.
Even though he'll be a sought after name by teams on the cusp of playoff contention and beyond, Incognito's best interests lie with the team who believed in him most.
New Team: Same
Jeff Allen, Kansas City Chiefs
The constant shuffling of the Chief's offensive line has been a proof of concept for combatting attrition in the modern NFL. The revolving door at guard continued in 2015 as week 1 starter, Ben Grubbs, failed to return from an early season neck injury.
The Chiefs' offensive never lost a step with Jeff Allen in. The talented 26-year-old was an essential cog that propelled the league's 3rd best rush per carry average (4.7).
Because of commitments the Chiefs have elsewhere--particularly on defense--Allen won't likely see his earning ceiling in Kansas City. The Chicago native and University of Illinois alum could easily re-plant his roots in the Windy City on the interior lineman thirsty Bears.
New Team: Chicago Bears
Ben Jones, Houston Texans
Considering the variable returns signing a free agent is subject to, center has often been among the safer positions to add via the market. The Raiders struck gold signing Rodney Hudson to a sizeable contract last spring, at Ben Jones may give a team similar luck.
While the Texans aren't doing too badly for themselves financially, re-signing Jones could result in a violent bidding war with other cash-rich teams. The Texans have helped themselves by cutting Arian Foster and Garrett Graham; freeing about $11 million in cap space.
If the Texans have their way, it's easy to expect Jones to return to Houston. Overtures from other interior lineman needy teams--particularly the Jacksonville Jaguars and their near $90 million cap dollars--may push Jones just out of their reach.
New Team: Same
Brandon Brooks, Houston Texans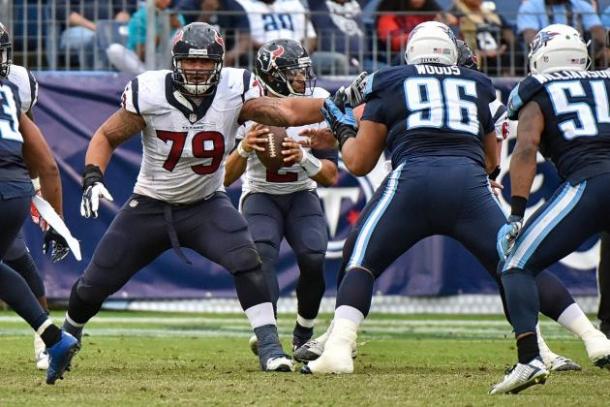 A big part of any team's initiative to take the next step in the playoffs remains entrenched in the performance of their offensive line. This theory especially holds true when a team projects to add a young quarterback via the draft or free agency. The Texans showed a lot of promise in 2015 as they represented the AFC South as a wildcard entrant in the playoffs. With Foster officially off the roster, much of the infrastructure that allowed the offense to remain effective had to do with the performance of the offensive line.
At nearly 350 lbs. with tackle movement skills, right guard Brandon Brooks, 26, will be a sought after asset around the league. As the Texans clear more cap room, it becomes increasingly clear they are willing to do almost whatever it takes to preserve their young core up front.
New Team: Same