 This season, there will be a large number of Pro Bowl-caliber cornerbacks hitting the open market. Among them are Janoris Jenkins, Sean Smith and Prince Amukamara. These strong cornerbacks will likely be at the top of some teams' free agency wish lists.
Here is a list of the top cornerbacks and where they could potentially end up playing:
Janoris Jenkins:
Janoris Jenkins will be a free agent for the first time in his NFL career.
Jenkins was originally a 2nd round draft choice by the St. Louis Rams (Now the Los Angeles Rams) in the 2012 NFL draft. Since being drafted Jenkins has constantly covered the opposing team's top wide out and has done a marvelous job with that role. In 2015 he had one of his best seasons as a pro as he racked up 64 total tackles, grabbed three interceptions and had 15 passes defended. As a free agent now Jenkins will likely be one of the most coveted defensive players out there.
Only in his fourth season Jenkins has proved that he can be one of the NFL's best defenders, which means he could be in for a big payday this offseason. The Rams will likely make a big push to try and lock him up for the foreseeable future although it will be tough.
Some other teams looking for help at the cornerback position are the Jacksonville Jaguars, Oakland Raiders, and the Tennessee Titans. The Jaguars have just over $80 million in cap space to spend this offseason and they could use some of that on a young defender like Jenkins to help solidify their secondary. The Raiders have the 2nd most cap space this offseason and could use a portion of that on Jenkins as they had a weak secondary last year. Lastly, the Titans. Jason McCourty has been good there for a number of years now but they need someone who can lineup on the other side of the field and be just as good. Jenkins can do that for them.
All Potential Destinations: Los Angeles Rams, Jacksonville Jaguars, Oakland Raiders. Tennessee Titans.
Sean Smith:
Sean Smith is likely to be one of the most coveted defenders on this year's free agent market. Smith is just 28-years old and is a good, strong veteran in the secondary.
Last season Smith's year was off to a rocky start as he was suspended for the team's first 3 games due to DUI charge from earlier that year. Since coming back Smith recorded 45 total tackles and snagged 2 interceptions.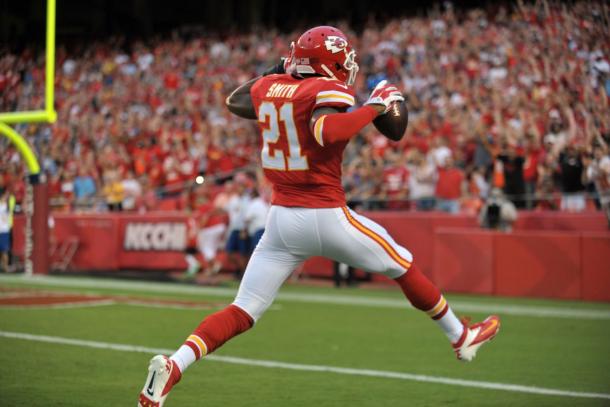 It is likely the Kansas City Chiefs will try to retain Smith but with limited cap space it will probably be very difficult to do so. That paves the way for teams with ample cap space like the Jacksonville Jaguars, Oakland Raiders and New York Giants to make a move.
As mentioned earlier, the Jaguars and Raiders both have a strong need in the secondary and Smith would help big time. Jenkins could help as a young corner but if they are looking for a more seasoned vet, than Smith is there guy. As for the Giants, they have close to $60 million in cap space and are dire need of a top cornerback. Their total team defense was dead last in the NFL last season and their secondary was a big reason why. Sean Smith would be a huge signing for them as he would be a defensive leader both on and off the field.
All Potential Destinations: Kansas City Chiefs, Jacksonville Jaguars, Oakland Raiders, New York Giants
Prince Amukamara:
Prince Amukamara will be a first time free agent this offseason. He was originally a 1st round draft pick by the Giants in the 2011 draft.
Amukamara has been great when on the field but his problem is staying healthy. Since coming into the NFL in 2011 Amukamara has played in just 55 out of a possible 80 games, including just 11 last year. Amukamara played well in the games he played as he finished with 63 total tackles, 1 interception and had 10 passes defended. Amukamara just needs to stay healthy.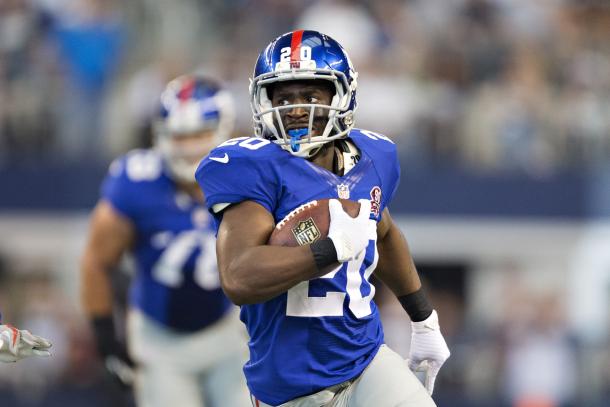 It looks the Giants will let him walk even though they could resign him to a low risk high reward contract. The Chiefs could be a team to watch because if they lose out on re-singing Sean Smith, Prince Amukamara will likely be available at a much cheaper cost. Another team to watch will be the Dallas Cowboys. The Cowboys cut Brandon Carr and have Morris Claiborne as a pending free agent this March. With a huge hole in their secondary right now it wouldn't be a surprise to see the Cowboys make a run at Amukamara.
All Potential Destinations: New York Giants, Kansas City Chiefs, Dallas Cowboys
Casey Hayward:
In his fifth season Casey Hayward had his most up and down season as a member of the Green Bay Packers.
Hayward recorded no interceptions and no forced fumbles but had 65 total tackles and 7 passes defended.
The Oakland Raiders, New York Giants, San Francisco 49ers, Tampa Bay Buccaneers, and Tennessee Titans are all in the top-10 in cap space and all have a serious need at the cornerback position. All of these should be able to offer Hayward a serious offer due to the amount of cap space they have. The Giants could possibly pair him with Dominique Rodgers-Cromartie or the Titans could pair him with Jason McCourty.
Whatever happens with Hayward he will likely be in for a major payday.
All Potential Destinations: Oakland Raiders, New York Giants, San Francisco 49ers, Tampa Bay Buccaneers, Tennessee Titans
Adam Jones:
Adam "Pacman" Jones had arguably his best season in the NFL last season even at 32-years old. He had 62 total tackles and 3 interceptions. Jones had multiple off the field issues early in his career but he has finally gotten everything together and has become a solid corner in the NFL.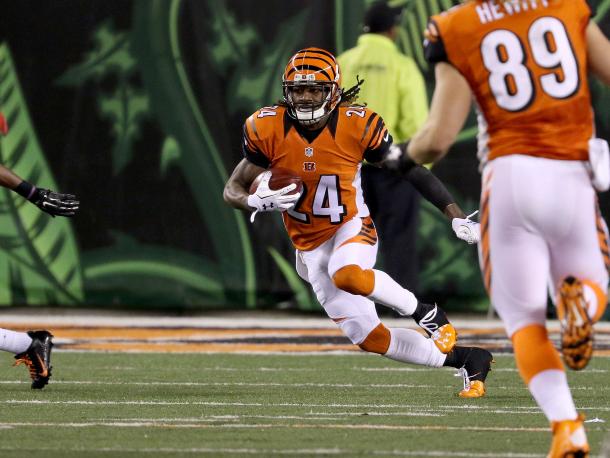 According to Pro Football Talk, The Cowboys, Raiders, Miami Dolphins, Minnesota Vikings, and Cleveland Browns are all in play for his services, while the Cincinnati Bengals are still hoping to retain him. All of these teams make sense as they are either in need of corner help or could use Jones's veteran presence to help lead their defense.
If Jones leaves the Bengals, he will likely be remembered for his unsportsmanlike conduct penalty that helped advance the Pittsburgh Steelers past them in the past seasons AFC wildcard game.
All Potential Destinations: Dallas Cowboys, Oakland Raiders, Miami Dolphins, Minnesota Vikings, Cleveland Browns, Cincinnati Bengals
Best of the Rest: Cornerbacks
Brandon Boykin, Jeremy Lane, William Gay, Antonio Cromartie, Sterling Moore, Tracy Porter, Jerraud Powers