History is repeating itself again in Jacksonville, as the Florida team is quickly going after some of the best free agents on the market as they are trying to build a team to be a threat not only in the AFC South, but also to be a team that potentially could be a Super Bowl team as well. Last year the Jacksonville Jaguars paid big money to tight end Julius Thomas and to cornerback Davon House, this year they have started to open up their checkbooks again, and they may be getting even bigger prizes in 2016.
Malik Jackson
Well, when you sign a player that rushes the inside for the Super Bowl winning Denver Broncos, clearly things are going well. Jackson has 14.5 sacks over the last three seasons, and has consistently been able to apply pressure up the middle in the Broncos scheme, regardless of who his defensive coordinator has been. Jackson will probably be best remembered from this past season as the man who recovered Von Miller's forced fumble in the end zone to give the Broncos an early lead in Super Bowl 50. But he is better than that as well. Expect Jackson to improve the defense for Gus Bradley in Jacksonville in 2016. Malik Jackson signed a 6 year, $90 million deal with $42 million guaranteed. That makes him one of the highest paid defensive players in the league today.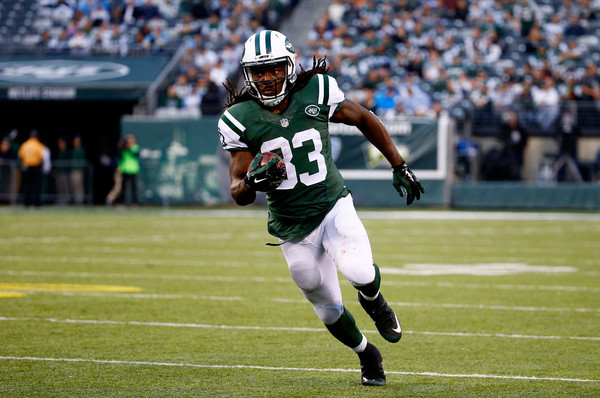 Chris Ivory
Well, when you have a rookie running back like T.J. Yeldon, maybe you don't need to sign another running back. But they had used Yeldon a lot in 2015, and pairing him with running backs like Denard Robinson and the now recently cut Toby Gerhart, didn't really work well for them in 2015. Ivory is only 27, and just eclipsed 1,000 yards in a season for the first time in 2015. It was also his best year for touchdowns as he had 8 total touchdowns in 2015. As far as the money is concerned in Ivory's deal, here is what Ian Rapoport is reporting.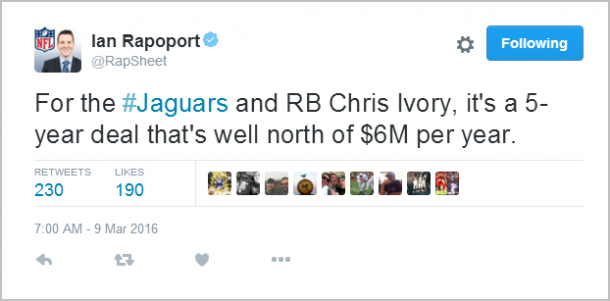 This is a good deal for Ivory, and you could argue that the Jaguars might be overpaying, simply because they already had a good young back in Yeldon, and paying a running back on a deal that will expire when he is 32 is just a bit risky. But one thing about the Jaguars this season and last season, they needed to bring in some better players, and they definitely are doing what they can to bring them to the organization.