For what has been a very quiet free agency period thus far for the Los Angeles Rams, it has been announced that LB Mark Barron and DE William Hayes have re-signed with the club.
Barron was listed as a safety on the roster last year, but because of a season ending injury to Rams linebacker Alec Ogletree, Barron stepped in for the Rams at the linebacker position. It's also listed that he has signed as a linebacker, but could also play some safety.
Hayes also re-signed. For years, he has been a backup to Chris Long and/or Robert Quinn. But Long was cut a couple weeks ago, meaning Hayes will likely be the starting defensive end opposite of Quinn. Barron's deal is reported as 5 years/$45 million and the years/numbers for Hayes has not been leaked.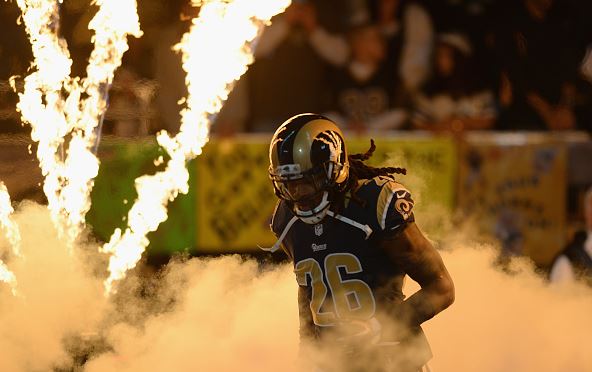 Sluggish Start To Free Agency
The Rams have struggled in free agency thus far, losing two starters to other teams. Cornerback Janoris Jenkins took more money to go play for the New York Giants and in a shocking twist, free safety Rodney McLeod signed with the Philadelphia Eagles. The Rams also had apparent interest in quarterback Brock Osweiler, but missed out on him as he signed with the Houston Texans.
But the Rams finally gave their fans a small breath of relief, as they re-signed Barron and Hayes. Last year, Barron played in all 16 games and registered a team high 116 tackles along with four forced fumbles and one sack. Hayes played in all 16 games as well, and totaled 5.5 sacks (including three in one game against the Seattle Seahawks), 53 tackles, two forced fumbles, and eight stuffs. Hayes' stats will likely increase since he will be a full time starter in 2016.
Work Still To Be Done
Despite the Rams re-signing two key players, they still have many other players they have to re-sign. Players on that list include Benny Cunningham, Case Keenum, Eugene Sims, and Tim Barnes amongst others. The Rams are also yet to make any splashes for other free agents. They desperately need a quarterback so they possibly might reach out to try and sign Robert Griffin III or Ryan Fitzpatrick. Only time will tell, Happy Free Agency!