 There are certain players that fans always want to see succeed. Former USC Trojans linebacker and Green Bay Packers 2012 first round draft pick, Nick Perry, comes in the same mold of former Trojan and current Packers' linebacker Clay Matthews. If that was the expectation for Perry, he certainly hasn't met them so far, but those are tough standards to expect anyone to be able to live up to. But let's take a closer look at the specifics of the new contract for Perry and some of his stats the last few years.
Contract Figures
Perry signed a one year, five million dollar contract, which was originally reported by Tom Silverstein of the Milwaukee Journal Sentinel.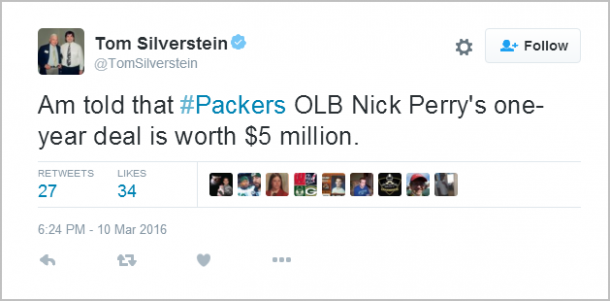 Let's face it, $5 million is not a whole lot to pay a linebacker, but it's tough to say that Perry has really earned it. He only has 12.5 sacks across four seasons. He's never had an NFL interception. But he has forced five career fumbles. According to yours truly, the Packers are signing him just to a one year deal because Perry is a known commodity at linebacker, but that doesn't mean that they won't try to acquire one later.
Second Signing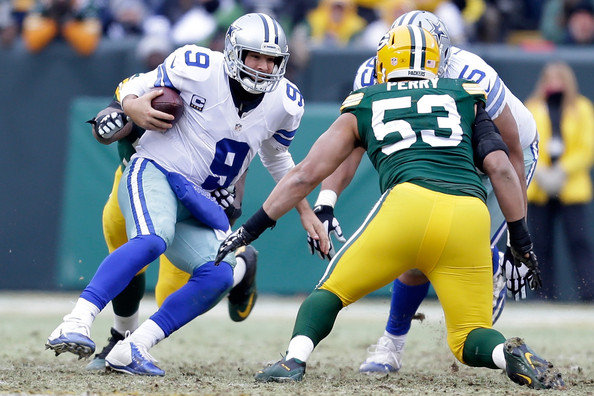 This is the Packers second re-signing of a 2015 Green Bay Packer as they already have brought back reserve guard Lane Taylor. Many Packer fans wanted to see the organization make a bigger push for Matt Forte, formerly of the Chicago Bears, but he has already signed a 3 year, $12 million contract with the New York Jets. The running back position should be an area that we see the Packers go after next, as James Starks is a free agent and Eddie Lacy is still trying to get his weight under control.