 The Baltimore Ravens dealt with a tragedy on Friday when cornerback Tray Walker died in a Miami, Florida hospital from head injuries he suffered in a dirt bike accident Thursday evening.
Everyone within the Ravens organization has reached out to Walker's family to let them know that they are in the organization's prayers.
The sad news has shook the NFL world as multiple teams and players around the league reached out to the Ravens organization as well sending condolences.
Walker passed away too young at the age of 23.
The Ravens drafted Walker in the fourth round of the 2015 NFL draft as a guy who was considered a raw talent, but could develop his way into a quality cornerback in the NFL. Unfortunately, Walker won't able to have that chance.
However, his presence in the Ravens facility will never be forgotten.
The Ravens organization sent out their heartfelt respect towards Walker as discussed below (via baltimoreravens.com).
Ravens Owner Steve Bisciotti:
"We have two sons not too much older than Tray, and we can't imagine how much his family is suffering. This is so sad. The right words are hard to find at a time like this. As much as we can comfort Tray's mom and the rest of his family, we will."
Ravens General Manager & Executive Vice President Ozzie Newsome:
"Tray was one of the most humble persons we brought in for a pre-draft visit. That was striking. After we drafted him, he and his family were so excited to receive the call that he was about to become a Raven. It was one of the calls I will always remember. There was such joy for Tray and his family."
Ravens Head Coach John Harbaugh:
"Tray was a young man with a good and kind heart. He was humble and loved everything about being part of the Ravens' team. He loved his teammates, the practice and the preparation, and that showed every day. He was coachable, did his most to improve and worked to become the best. I'll never forget that smile. He always seemed to be next to me during the national anthem; then we would give each other a big hug. May he rest in the Peace of Christ Jesus forever."
Ravens Defensive Backs Coach Chris Hewitt:
"My heart is heavy as these words come out of my mouth. I pray for Tray's family and his loved ones. In football – both on the field and in the meeting room – you preach to your players to play every play as if it were their last. But to think that we are now going lay a player to rest is unbelievable.
"Tray was a young man who had a way about him that he could light up a room with his smile. Once you got to know him, he was one of the funniest guys. Whenever I got angry, he could make me laugh in a tense situation and bring me back to a cooler head. He challenged me as a coach, because he had a thirst for knowledge. And although things didn't always go his way, he was ready for the next battle or challenge that you presented to him.
"He had a vision of what he wanted to be as a player, and after last season he left our building determined that in 2016 he would be a household name in Baltimore. He had so much potential and was on his way to being a great NFL player. He will be missed and will never be forgotten."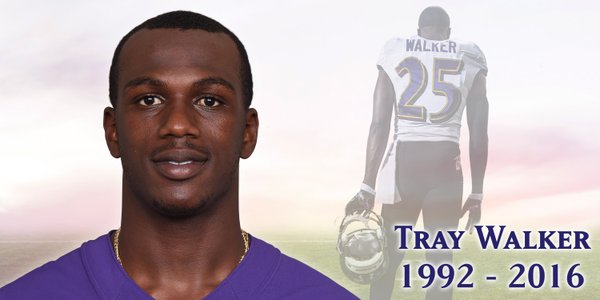 Walker will never be forgotten. Everyone should keep his family in their prayers.