 According to Pat McManamon of ESPN, the Cleveland Browns have agreed on a two-year contract with Robert Griffin III, former Quarterback of the Washington Redskins. The two-year deal is worth a total of $15 million with $6.5 million guaranteed.
Comments Regarding The Signing
The signal caller released a statement today about being signed by the Browns.
"I'm excited about the opportunity to join the Dawg Pound and help them build something here in Cleveland. Coach Hue and Pep [Hamilton], I had a great meeting with them. I really believe in what they preach and how they can help not only me as a player but this team win games and that's what we're all about. I'm just excited to come in and compete. Nothing's ever been given to me in my life, so I just want to go out and compete with the guys and grow with this team. I feel like that's all I'm really focused on. I cherish the opportunity to get another chance to play in this beautiful game."
Browns Senior Staff Writer, Andrew Gribble, released the previous statement and also provided a statement from Browns Executive VP of Football Operations, Sashi Brown.
"We are excited to add Robert to our team. Robert possesses a unique skill set at the quarterback position. He has played at a high level in this league and is intent on doing everything in his power to return to that level on a consistent basis. After meeting with him, having him work out for us and doing our diligent research, we felt it was right to grant him an opportunity with our organization. We were able to see and feel his passion and commitment to re-establishing himself as a starting quarterback in this league and his embrace of the hard work that will be is essential to his development. We've been clear on the importance of improving and stabilizing the quarterback position for our franchise. We have said that the draft is and will be our primary focus, but we will always look to complement the draft through free agency, and this is one of those examples. We look forward to working with Robert and getting him in the building with his teammates at the start of the offseason program on April 4."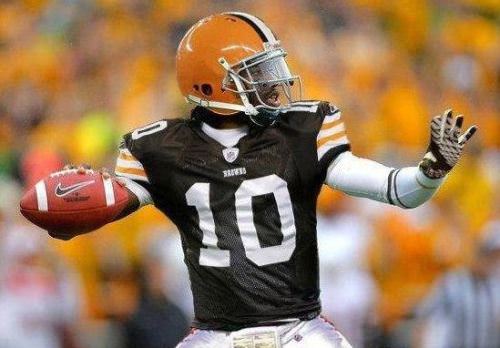 What's Next For The Browns
According to Bleacher Report, current Browns Quarterback, Josh McCown, may now be on the trading block. McCown played 8 games last season due to injury and threw for more than 2,000 yards. Bleacher Report also believes that McCown could serve as a mentor for Griffin III, as he helped Johnny Manziel become a better passer. It is believed and reported that Griffin III will start week 1 for the Browns, and the team is still expected to draft a quarterback at No. 2.
Griffin III, 2012 Rookie of the Year, played zero snaps last season.