 Christian Hackenberg was the nation's top prospect out of high school. He had thrilling first year at Penn State under coach Bill O'Brien. Many believed he could be the next Andrew Luck. Everything was pointed up for Hackenberg.
Then it all changed.
O'Brien left for the NFL and Penn State elected to take the hot coaching option out of Vanderbilt, James Franklin. However Franklin's system was never a fit for the All-American quarterback. So Hackenberg struggled, and as the years went on, his issues progressed further. He never seemed comfortable, he never seemed to be on the same page with Frankin.
He never could discover that ceiling that once seemed to be so high.
So now that Hackenberg has declared for the NFL Draft, he is still considered to be a one of the top quarterbacks on the board, but he is no longer a lock as the first round pick everyone thought he would be. Now Hackenberg has been mocked as high as the second round, but as low as the fourth. There has been a fall from grace for the once suspected superstar.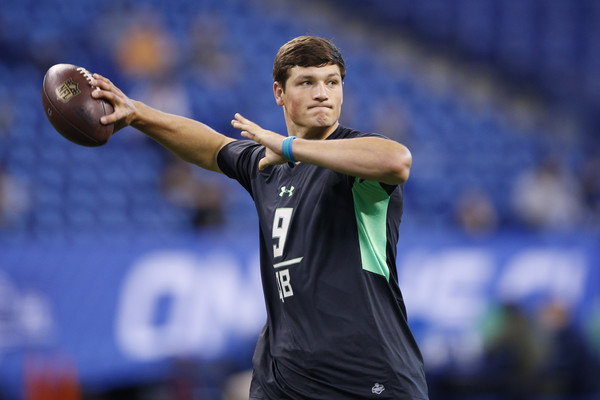 Hackenberg "Threw His Coach Under The Bus"
But it doesn't end there. This week reports claimed that Hackenberg "threw his coach under the bus" when talking to NFL teams, which is a 'no no' for college prospects. Some experts believe that this will hurt Hackenberg's already-damaged draft status because no team is going to want to draft someone who criticizes or blames their coach.
It's logical. Just not practical. Especially in the case of Christian Hackenberg.
In college football, players do not get to choose when coaches leave or what coaches get to come in. Hackenberg was Bill O'Brien's guy, not Jeff Franklin's. The only real choice Hackenberg had was to transfer, but according to multiple reports, Hackenberg never considered it.
He wanted to continue the rebuilding process that Bill O'Brien had promised to when he took the Penn State job. Hackenberg promised in return to play a big part in that rebuild and he stuck it out until the end. Even though his stats suffered along with his draft stock, Hackenberg's first priority was not to himself, but to Penn State.
Now that he is no longer with Penn State and he has to explain what took place during his collegiate career, what do people expect him to say? Do NFL coaches want intelligent quarterbacks or martyrs? It's not like scouts and front offices don't already know what Hackenberg must think or feel about his time in Penn State. Why is everyone so shocked when he speaks it?
Perhaps this could hurt his draft stock, but we are not talking about Hackenberg falling to the sixth or seventh rounds because of his "comments". If a coach believes that Hackenberg could be resurrected into the highly-touted prospect he once was, they will not hesitate to go after him because this is the NFL and the NFL needs quarterbacks. If you look at Christian Hackenberg's draft profile, it still remains... desirable.
Size & Ability – Above Average. Efficiency – Average. Loyalty – Well Above Average.
Criticism of Coaching Staff: Logical.