 The Seattle Seahawks have long possessed one of the league's best defenses. This is in part due to an excellent secondary who's great coverage allows the linebackers and lineman to put pressure on the quarterback.
Seattle's secondary is widely known as the Legion of Boom, and is comprised of Richard Sherman, Earl Thomas and Kam Chancellor. Sherman operates at one of the corner spots, while Thomas and Chancellor man the safety positions.
While all three are arguably the best at their respective positions, the Seahawks have had trouble finding a fourth member. Original Legion of Boom member Brandon Browner left in free agency. His replacement, Byron Maxwell, did the same just a year later.
Pete Carroll and company didn't let yet another cornerback depart in free agency as the team reportedly re-signed cornerback DeShawn Shead. That is the latest from Aaron Wilson of the Houston Chronicle and the National Football Post, who tweeted out news of the move.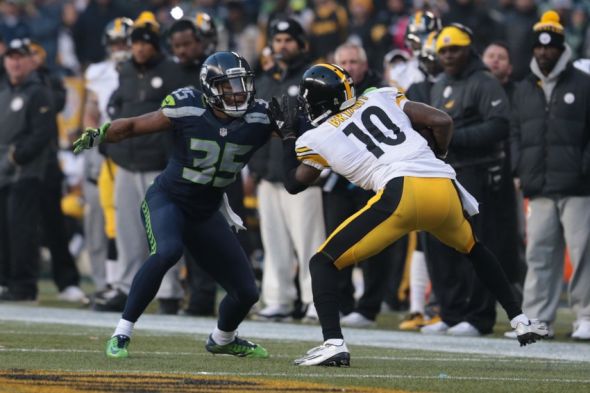 Key Contributor
The 27-year-old defensive back joined Seattle as an undrafted free agent in 2012. He's gone onto appear in 37 games for the Seahawks, starting seven and registering 55 tackles, 10 pass deflections, two forced fumbles, an interception and a sack.
His best year by far came in 2015. He was forced into more playing time due to the temporary absence of Chancellor and Jeremy Lane, not to mention Cary Williams' ineffectiveness. Shead started six games and made his only career interception, taking it back 40 yards. The four-year veteran also made eight pass deflections, forced two fumbles and made a sack. He compiled 38 tackles.
Restores Cornerback Depth
In addition to Sherman and the recently re-signed Lane, Shead gives the team some much-needed depth at cornerback. Seattle has a number of young options in Tharold Simon, Stanley Jean-Baptiste, George Farmer, Mohammed Seisay and Trovon Reed. However, all of them are just that—young. None have the experience that Shead does.
What's more, Shead's return could also help offset the loss of fellow cornerback Marcus Burley, who remains unsigned.
With Shead back in the fold, Seattle will be in a much better position should any Legion of Boom member miss time. The 27-year-old's primary position is cornerback, but he can also fill in at either safety spot. In fact, he even started a game during the regular season during Chancellor's contract holdout.
Next Free Agent to Sign?
While players like Bruce Irvin, JR Sweezy and Russell Okung departed in free agency, the Seahawks have made an effort to bring back a number of key free agents. Christine Michael, Jermaine Kearse and Lane have all returned.
The Seahawks still have a number of now-former players on the free agent market, including backup quarterback Tarvaris Jackson, fullback Will Tukuafu, running back Fred Jackson and tight end Cooper Helfet.
It is purely speculative, but based on need, Tarvaris Jackson and Tukuafu seem like the most likely to return. The only other quarterback on the roster not named Russell Wilson is Phillip Sims, who has yet to play in an NFL game.
Additionally, with Derrick Coleman also hitting free agency, the team might need a fullback. This could open the door for Tukuafu, who impressed as a run blocker last season.