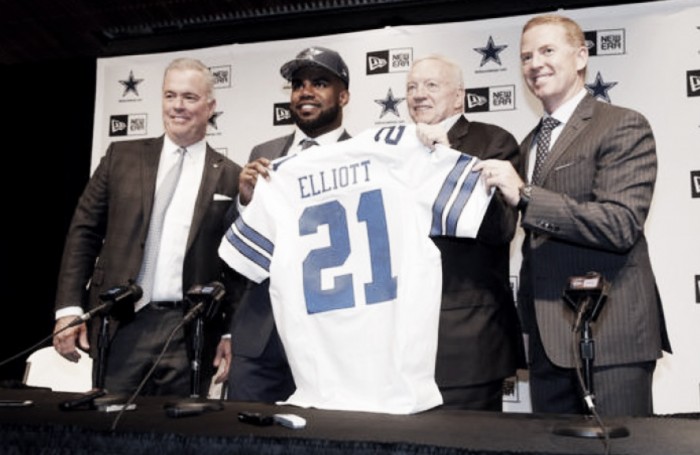 The NFL Draft is in the books, and once again it was full of intrigue, surprises, promising selections and questionable one's at best. While draft experts can plan and predict as intelligently as they can, only each NFL team knows what it is going to do. So how can we evaluate a team's draft without seeing them play? Easy, we do it the same way we do mock drafts. We guess.
But there can be some intelligence that goes into it. For example, its pretty obvious when a team takes a player way too high. That player is a relatively unknown, and was slated by most teams to be a mid-round pick as opposed to a first-round pick. It is those types of picks that can decimate a franchise for years to come. Sorry, Pittsburgh. It is also fairly simple to recognize when a team selects a player later than expected, we call those picks, picks of value.
When Reggie Ragland fell all the way to the Buffalo Bills in the first round and Jarren Reed fell to the Seahawks in the second as well, those became great value picks. And finally we can look at the risker picks and recognize whether the selection was good risk management or bad risk management. What is good risk management?
When a team selects a player to a situation where if it does not pan out, it doesn't do great damage to the franchise, but if it does work out, it came pay off huge dividends. There were a few good examples of risk management in the draft. Like when the game's two best young linebackers were taken in the second round; Jaylon Smith to the Dallas Cowboys and Myles Jack to the Jacksonville Jaguars. An example of bad risk management? Christian Hackenberg going to the New York Jets in the second round. And you know its bad when Jets fans are not excited about quarterback when they have Geno Smith slated as their current starter.
So before reading this year's winners and losers of the 2016 NFL Draft, readers should understand first, that I do know what I am talking about. (Even if the amount of knowledge I have could be interpreted differently).
Where I Was Right…
-Nobody believed Connor Cook was a starting quarterback
Nope, not anybody, and in a quarterback driven league, that is saying something. Instead Cook feel all the way to the 4th round where he will sit behind Derek Carr, for quite a long time.
-My mock draft saw five correct selections in the first round.
Not to brag (because who would by getting 5 out of 31), but after getting the first two gimmes, I nailed the Tennessee Titans trading back into the top ten for Jack Conklin and Ronnie Stanley going to the Ravens. I also got Josh Doctson being drafted by the Washington Redskins, I was off on Vernon Hargreaves by one spot (same with Shaq Lawson), and the Seattle Seahawks drafted Jarren Reed, but not till the second round. But that should count for something right?
But I should be humble…
Where I Was Wrong…
-Cleveland…wasn't Cleveland (At least, not yet).
I really thought that once the Cleveland Browns traded back in the first round with Tennessee they would have taken Paxton Lynch. Instead the Browns played it conservatively this draft and added some quality players. As long as Carson Wentz does not become a hall of fame quarterback, the Browns did a good job in this draft.
-Pittsburgh was going to have a good draft.
They missed out on Jackson III but then proceeded to whiff on nearly every pick. Key management positions in Pittsburgh may be in jeopardy come next winter.
Now to the draft. Our winners, losers, and those who went to the right place and those who went to the wrong place…
He Went To The Right Place…
Ezekiel Elliott, RB, Ohio State to the Dallas Cowboys
The Cowboys need to add another focal point to their offense besides Tony Romo. Its time to ease his burden. Elliott will do that.
He Went To The Wrong Place…
William Jackson III, CB, Houston to the Cincinnati Bengals
They need a lot…but a corner was not something they needed.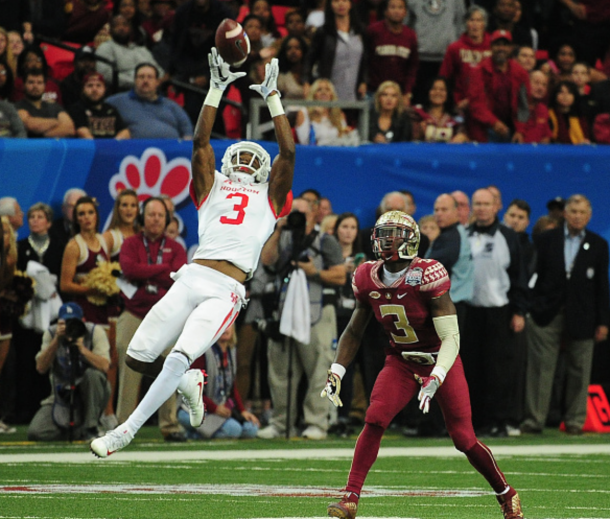 He Went To The Right Place, But At The Wrong Time…
Eli Apple, CB, Ohio State to the New York Giants
I thought there was nobody higher on Eli Apple, except for me. Boy was I wrong.
He Went To The Right Place, At The Right Time…
Reggie Ragland, LB, Alabama to the Buffalo Bills
Ladies and gentleman, allow me to introduce you to…the Steal of the Draft.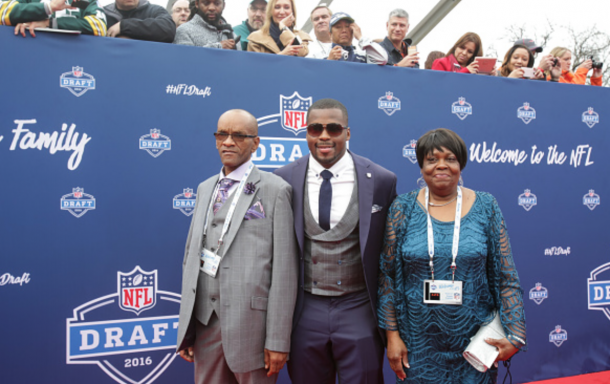 But who won and lost in this year's draft?
3 Winners At The Draft
1. Dallas Cowboys
After the selection of Ezekiel Elliott, the Cowboys had to be be feeling great. Talks about the 'new triplets' begun and Cowboys fans can now begin to have real Super Bowl expectations. But that was not the only story for the Cowboys in this draft.
In the second round, the Cowboys took a huge chance on Jaylon Smith, but if he is able to return to full strength, he could be the best defensive player in this draft, which is exactly what the Cowboys need. After the two high profile selections, the Cowboys selected Maliek Collins, a defensive tackle out of Nebraska who could have easily been selected high in the 2nd round. But the real steal of this draft, and what could become the biggest story, is when the Cowboys selected Dak Prescott, quarterback from Mississippi State.
There was a lot of speculation that the Cowboys were going to trade up in the 2nd round, or possibly back into the first, to select Connor Cook. Instead the Cowboys opted to go with Dak Prescott, quarterback, from Mississippi State, who has a skill set similar to Russell Wilson. Prescott is an intelligent, athletic play-maker at quarterback. He doesn't have the arm strenghth, nor the pocket presence, but he can sit and learn under Tony Romo, without providing an immediate threat to Romo's job if Romo were to get injured once again.
It is the ideal match for the Cowboys. As was the selection of Ezekiel Elliott and what they hope to be the same with Jaylon Smith. This draft could prove to be the perfect storm for the Cowboys.
2. Buffalo Bills
Year one under the Rex Ryan regime was not a success. The defense looked unlike anything Ryan had ever coached before, and it certainly did not live up to his pedigree. So what did Rex Ryan and the Bills do in this draft? They perhaps altered their fate.
With their first pick, Shaq Lawson fell right into their laps and they did not hesitate to secure the services of one of the best defensive ends in the draft. There are some injury concerns with Lawson's shoulder, but if he is healthy, there is little to deny how good he can become. He is the ideal replacement to Mario Williams, who never found a way to play in Ryan's system. Lawson will not have that problem.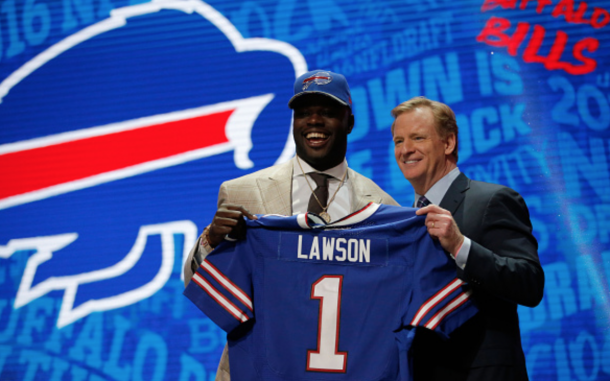 In the second round, the Bills got the best steal in the draft, when Reggie Ragland, an even better prospect, once again fell into their laps. In fact, if the Bills selected Ragland in the first round (which many mocks had predicted) it would have been considered a great selection. Instead they passed on Ragland in round 1, that was not going to happen again in Round 2. Ragland instantly provides relief to a position that has plagued the Bills, and should be a productive starter from Day 1.
In rounds three and four the Bills added a couple of Buckeyes to the mix, one of which, could provide great intrigue. The Bills added Adolphus Washington, a defensive tackle from Ohio State (another great value pick) in the third round and quarterback Cardale Jones. While Jones is incredibly unpolished, he is incredibly athletic, and if offensive coordinator Greg Roman can tap into his abilities, like he did with Tyrod Taylor, than the Bills might have found the gem of the draft.
3. Seattle Seahawks
Throughout the entire night, Seattle made smart choice after smart choice. They traded back in the first round ended up with the best guard in the draft in Germain Ifredi from Texas A&M, and then in the second round they got, possibly the biggest steal in the draft with Jarren Reed, defensive tackle, from Alabama.
Then the real magic took place in Seattle. With Marshawn Lynch retiring this season, the Seahawks need to find a way to replace his production, which is a tall order to say the least. Thomas Rawls had a number of great moments last year, but Seattle needed to address the position in the draft. And address they did. The Seahawks drafted CJ Prosise from Notre Dame in the third, and Alex Collins from Arkansas in the fifth round. Both have been regarded as sleepers in the draft and both have a different skill sets that can be utilized by Seattle's creative run offense.
3 Losers At The Draft
1. Laremy Tunsil
It was a rollercoaster night for not only Laremy Tunsil but anyone who watched what took place on draft night. At first you were angry and disappointed with the video on his twitter page, which showed him with a gas mask/bong. Then you felt bad for him because it appeared he would free-fall in the first round all night.
Then you felt happy for him when it did not last all night, as the Miami Dolphins drafted him with the 13th selection of the draft. And then finally you felt…just blown away at his press conference when he denied, denied, denied about accepting funds from a coach at Ole Miss, to only corroborate the story at the end of the same press conference. It a flurry of emotions, but in the end he is with the Dolphins, and there is a lot of egg on that uniform already.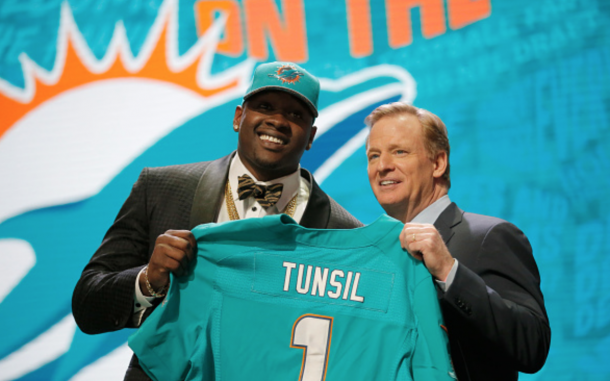 2. Pittsburgh Steelers
There is nothing worse than when the team ahead of you selects the player you want. Every active fantasy player understands this. No matter what the fantasy sport is, when you are drafting and you have a guy all cued up, only to lose him right before your selection; it sucks. That's exactly what happened to the Steelers on Thursday night. The only thing that sucks more, is when you panic and take a player that you should not have. That is also what the Steelers did.
After William Jackson III was selected by the Cincinnati Bengals, it appears they hit the panic button and opted to go with another corner who had no business being selected in the first round. The Steelers went with cornerback Artie Burns from Miami who has the size and athleticism to be a good cornerback, but he is not a good cornerback. Burns is incredibly unpolished, and he is as raw as a 30-second steak. The best way to sell this pick, is to say that Burns is a project. But teams that draft 'projects' in the first round, especially at a position that is your immediate need, typically end up regretting their decision, immediately.
After the selection of Burns, the Steelers went with the safety Sean Davis from Maryland in the 2nd, and Javon Hargrave a defensive tackle from South Carolina State in the 3rd who both offer very little immediate impact. The Steelers were a Super Bowl contender last year but they seemed to be missing key pieces to get over that hump. In this year's draft, the Steelers did not add those pieces.
3. Denver Broncos
Look I get it. The Denver Broncos do not want to pay for a quarterback so they are "out" on trading for Colin Kaepernick or signing Ryan Fitzpatrick (for now anyway). Its understandable, especially considering the fact that their Super Bowl MVP, Von Miller, has not signed long term (as of now). But this is a team that won the Super Bowl last year, its a team that lost their two quarterbacks (one of them being a Hall of Famer, and the other being the future of their franchise) and several other key pieces from their championship team. So despite all of their losses, one would think that the Broncos would of been a little more aggressive in this year's draft. But it was the opposite.
The Broncos ultimately had to trade up a few spots to draft quarterback Paxton Lynch, who does not match the profile John Elway has always wanted in Denver, and now they will embark on the journey of putting his round peg into a square hole…by Opening Week. The Broncos are now in a position where if Lynch is not the starter by day 1, than you can count on the 2016 season being a lost year in Denver. Which is quite disappointing after the season they had. After drafting Lynch, the Broncos did not seem eager to fill holes at linebacker or at corner, which is a huge need for them, but opted to draft a defensive end and safety instead.

It appears John Elway fulfilled his duty in Denver, by securing the city of another Super Bowl championship. It appears this franchise does not have the same urgency going into 2016.