The Seattle Seahawks have made yet another change to their roster. The team announced on Wednesday that they have cut running back C.J. Spiller and have brought back fullback Will Tukuafu.
Spiller signed before week four
Spiller didn't spend much time with Seattle. He was signed to their roster prior to week four and even played in the Seahawks game against the New York Jets. Spiller only played in two games, carried the ball three times for nine yards and had no rushing touchdowns. His longest rush of the season was for 13 yards. He was more productive catching the ball than running. He caught four balls for 43 yards and one touchdown. His lone score came on an eight-yard touchdown pass from Russell Wilson against the Jets on October 2nd.
Spiller became expendable after rookie running back C.J. Prosise returned to the active roster. Prosise played in the season-opening win against the Miami Dolphins before breaking a bone in his wrist the sidelined him for the next four games.
Will Tukuafu back for the third time in 2016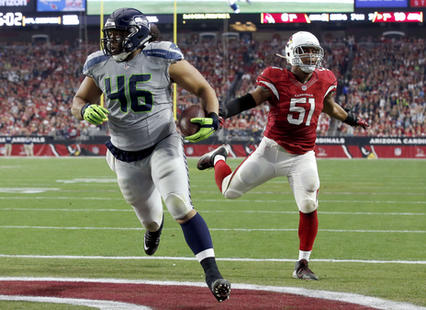 This is the third time that Tukuafu has been signed by the Seahawks this year. He has played in only one game for Seattle this year, their 9-3 defeat against the Los Angeles Rams.
He has been off and on with the team since 2014. In 2014, he played in nine regular season games, carry the ball one time for two yards. He also had one catch for four yards. He also featured in all three of the Seahawks postseason games in 2014 but did not carry the ball once. He did have one reception for eight yards in the NFC Championship Game against the Green Bay Packers.
In 2015, he played in 14 of Seattle's 16 regular season games. He carried the ball four times for one yard and had one rushing touchdown. He also caught one ball for seven yards that season. In the Seahawks two playoff games in 2015, he didn't carry or catch the ball once.