 Justin Tucker has often been hailed as one of the NFL's best place kickers and there's little evidence against that. Fresh off a four field goal performance against the Cincinnati Bengals, including three from 50+ yards, Tucker and the Baltimore Ravens have an idea on how to improve kickoffs.
Tucker talks about new idea
Tucker went on The Dan Patrick Show on Tuesday and advocated the idea intitially proposed by his coach, John Harbaugh. "The idea is if you split the uprights on a kickoff you get a point or you get rewarded for it in some way...just to make the game a little more interesting," Tucker said.
The former Texas Longhorns kicker also proposed that if a point wasn't awarded then instead of opposing teams starting drives at the 25-yard line, "maybe they start at the 10."
Harbaugh brought the idea up after the team's division win on Sunday, saying, "I'm on record as advocating that that should count as a point." He went on to affirm his seriousness before proposing it would make the game more exciting.
Tucker has been arguably the Ravens' most valuable player this season in terms of scoring and after shining against the Bengals, the 27-year old didn't hold back on advocating any idea for improving the game. He has kicked 35 touchbacks this season and has yet to miss field goal through 13 weeks.
In regards to the touchback idea, Tucker gave an estimate on how many points he thinks he could score.
"If I had to throw one out there, maybe one out of every five if the weather is all right and field's good."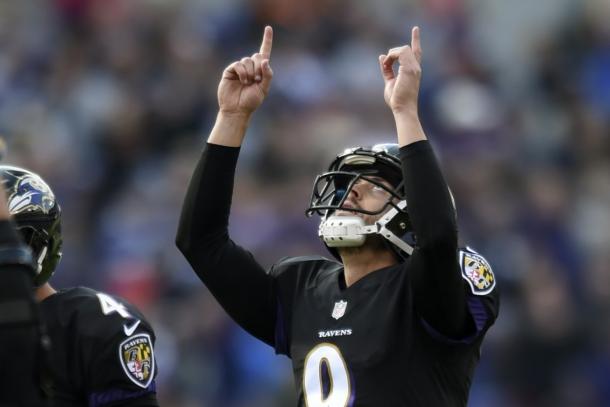 One of the Ravens' best
As one of the Ravens most reliable players this season, Tucker has helped Baltimore into first place in the AFC North after a disappointing 2015 season. If his actions on the field have helped turn around the Ravens, maybe his words off the field will push this idea further into the minds in the NFL's front office.
(Quotes via The Dan Patrick Show)