 New York Giants linebacker Jonathan Casillas is eyeing up a place in the playoffs following Sunday's hard-fought 10-7 win over NFC East rivals the Dallas Cowboys at the MetLife stadium. The defensive captain has his sights set on the three remaining regular season games that lie ahead as the Giants strive to earn a playoff spot for the first time since 2012.
Casillas finished the game with four tackles and one sack as the Giants added to their week one victory over the Cowboys to move to 9-4. The 29-year-old featured as part of an explosive and ever-improving Giants defense that rallied to hand Dallas only their second defeat of the season.
He told Giants.com: "Well, I think that everything is in front of us. I think that we can be as good as we want to be. As long as we keep our head down and keep grinding away – it is still a long season."
"We have some games left and I am planning on playing in January. That is the goal right now, to get through December and play in January."
Defense key in playoff push
Playoff football in Ben McAdoo's first season as Head Coach is now a realistic aim thanks to the rise of Casillas and the rest of the Giants defense. Defensive coordinator Steve Spagnuolo's unit prevailed in the absence of key defensive end Jason Pierre-Paul by limiting the impact of the impressive rookie duo of quarterback Dak Prescott and running back Ezekiel Elliott.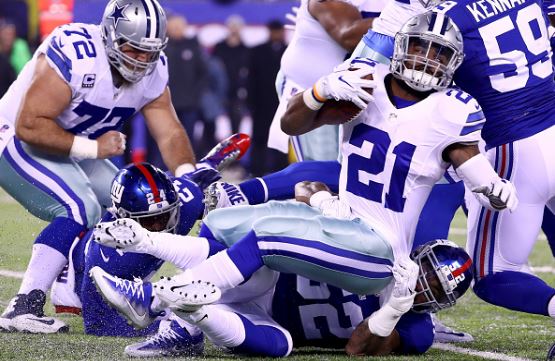 Lions clash vital
The Giants are set for a pivotal contest in week 15 as they welcome the Detroit Lions to New York for their final home game. Jim Caldwell's 9-4 Lions sit top of the NFC North with the same record as the Giants and will prove to be a tough matchup as both sides continue the fight for the Wild Card spot.