While NFL players enjoy the crisp air of a remote South Pacific island or sojourn in the turquoise waters of an Italian cove, their bosses are hard at work deciding the completion of next year's roster.
Late February is fertile ground for mock drafts with the new league year just around the corner and the convergence of free agency and the NFL draft - starting with the 2017 NFL combine. In VAVEL's first iteration of a full 32-team draft (not to be confused with the pre-playoff iteration), the San Francisco 49ers "reach" for a big need, the Jets give up on Christian Hackenberg, and three offensive tackles find their way into the first round.
1. Cleveland Browns select Myles Garrett, WR, Texas A&M
Garrett is currently, and will likely remain, in the pole position to become the number one overall pick in the 2017 NFL Draft - despite his overtures to Dallas Cowboys owner Jerry Jones. Unless the Browns move away from the top of the draft, Garrett will be the pick.
2. San Francisco 49ers select Corey Davis, WR, Western Michigan
With Kyle Shanahan secured as the 49ers head coach, him and general manager John Lynch will need to fertilize the soil on offense for a prospective signal caller. Unprecedented six-year deals give both coach and GM the assurance to not force the pick at quarterback. Although he may not be the household name now, athletic testing (which will have to wait until Western Michigan's pro day) should ascend Corey Davis into top five heights. His ability to play both in the slot and on the perimeter make him a perfect cog for Shanahan's complex offense.
3. Chicago Bears select Malik Hooker, DB, Ohio State
With the writing on the wall for Jay Cutler and his futile last days in Chicago, the Bears do not have to shoehorn a quarterback given the state of the draft class. Considering the amount of defensive talent available, simply taking what they view as the best available player may ultimately be what GM Ryan Pace decides. Like Corey Davis, Malik Hooker won't be able to wow scouts in next month's combine, but the Ohio State pro day should cast down any doubts on his ability.
4. Jacksonville Jaguars select Leonard Fournette, RB, LSU
Few teams are able to fire a head coach and still maintain an air of continuity. With the hiring of former assistant head coach turned interim head coach, Doug Marrone, the Jaguars can press onward with GM David Caldwell's vision for the team. After a breakout year in 2015, Blake Bortles and the Jaguars offense found themselves in an inescapable downward spiral all year long. While Bortles' regression was a big part of the offense's struggles, a lack of diversity and formidability to the run game also played a part. After Ezekiel Elliott justified runningbacks going in the top five again, Fournette may find the stars align for him at fourth overall.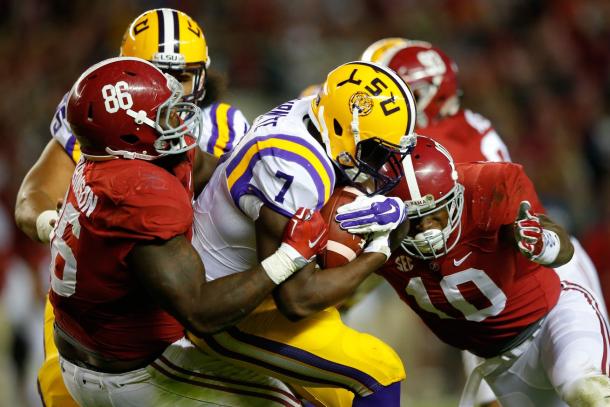 5. Tennessee Titans - from Los Angeles Rams - select Reuben Foster, LB, Alabama
The unraveling of college football's preeminent defensive juggernaut benefits NFL with holes to fill. Being one of the better teams picking in the top 10 via a trade with Los Angeles in 2016, the Titans can have their pick of blue-chip prospects in the top five. Reuben Foster is in the rarified air of Patrick Willis and Luke Kuechly - linebackers worthy of a top 10 selection. Popping off the screen while playing for the Crimson Tide, there's little doubt Foster can translate his college resume to the pro game.
6. New York Jets select Mitch Trubisky, QB, North Carolina
The quarterback conundrum is at it's height this draft season. With no one player fully distinguishing himself from not only from the pack, but from every other highly ranked positional player in this class, a team in the top 10 may have to hold its nose and take the dive. After a failed reunion with Ryan Fitzpatrick and a who-knows-what in Christian Hackenberg, the Jets will have to press the restart button on the quarterback position. Trubisky is a one year starter who surely wows scouts with his accuracy in the short and intermediate game and overall athleticism. Questions about measurables and experience abound, but he's as good as it's going to get in this class at the position.
7. Los Angeles Chargers select Jonathan Allen, DL, Alabama
With L.A. on the horizon, the newly minted Chargers have a steeper uphill battle in their public relations than on the field. Unsung throughout their 2016 woes was a roster containing breakout players on both sides of the ball, including back-to-back first round picks: Melvin Gordon and Joey Bosa. Continued success in the first round would go a long way in getting into the good graces of a potentially vapid L.A. crowd. Pairing Alabama's standout defensive tackle in Jonathan Allen with Joey Bosa could help swing the pendulum back their way in 2017.
8. Carolina Panthers select Jamal Adams, DB, LSU
GM Dave Gettleman has little appetite for "needs" based drafting in the first round. It just so happen that Gettleman's best player available approach and need intersect in this scenario. The Panthers struggled to get consistent play in their secondary all year long and taking the best defensive back, whether corner or safety, seems like the best course of action. Like Hooker, Adams has drawn comparisons to the league's contemporary greats, including Pittsburgh Steeler great, Troy Polamalu.
9. Cincinnati Bengals select Mike Williams, WR, Clemson
Some say the real Andy Dalton showed his stripes (pun intended) when A.J. Green fell to injury midway through the 2016 season. While it may be partially true that Dalton relies heavily on Green's playmaking ability, the cupboard was virtually bare for the rest of the year. As limited as he has sometimes shown to be, Dalton can flourish when surrounded by talented playmakers, and Clemson's Mike Williams is exactly that.
10. Buffalo Bills select O.J. Howard, TE, Alabama
Besides divulging who the Buffalo Bills might take at 10th overall, this selection also offers an opportunity at yet another open critique of Buffalo Bills' GM and future nuclear holocaust survivor, Doug Whaley. Whaley, who can virtually make any pick here and live to see another employed season, does have an eye for unique and athletic playmakers. In 2014, he traded up to select Sammy Watkins and worked in tandem with former head coach Rex Ryan to acquire runningback LeSean McCoy. If anything else, O.J. Howard is certainly a unique and impressive playmaker. The nearly 6'6" tight end is as skilled a blocker as he is a pass catcher and would aid both the pass and run in Buffalo.
11. New Orleans Saints select Derek Barnett, Edge, Tennessee
Brick by brick, the Saints have been investing heavily in building a competent defense. A late 2016 performance surge rings hopeful of things to come, but the proverbial foot can't come off the gas pedal if 2017 is going to truly be different. Tennessee's Derek Barnett, whose combined 52 tackles for loss and 32 sacks, has been as consistent a collegiate force as any in this draft.
12. Cleveland Browns - from Philadelphia Eagles - select Deshaun Watson, QB, Clemson
From pick 12 onward, the intrigue at quarterback fully engages as value and need come into play. The Browns dipped their toes in the water last year by selecting Cody Kessler in the third round, but a full dive into the deep end is needed to get the ball rolling in Cleveland. Watson has as many detractors as promoters, but his ability to perform in big games against top competition is undeniable.
13. Arizona Cardinals select Marshon Lattimore, DB, Ohio State
Despite maintaining form for most of the year on defense, the Arizona Cardinals will have to contend with a shallower depth chart with D.J. Swearinger, Tony Jefferson, Kevin Minter, and Calais Campbell scheduled to enter free agency. Also among the weaknesses is a need at starting cornerback opposite Patrick Peterson. A strong cornerback class pulls back what may usually be a top 10 pick in Marshon Lattimore - one of the better prospects at the position in recent years.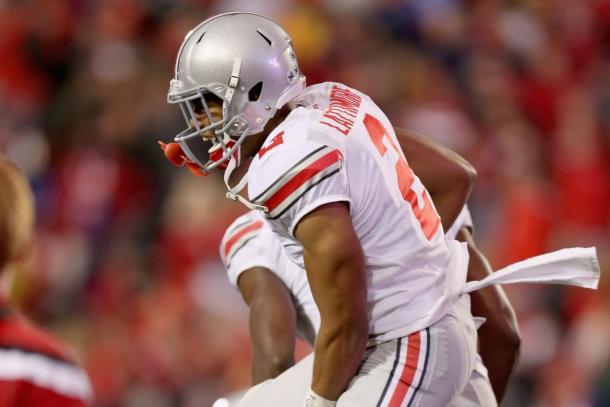 14. Indianapolis Colts select Solomon Thomas, DL, Stanford
Unlike Bills' GM Doug Whaley, former Colts decision maker Ryan Grigson was unable to overcome a string of dunderheaded signings and draft picks. Righting the ship will be simple for new GM Chris Ballard - draft defense over and over again. Stanford's Solomon Thomas made a name for himself against North Carolina in the Sun Bowl, but those in the know saw him make an impact all season long for the Cardinal.
15. Philadelphia Eagles - from Minnesota Vikings - select Jalen Tabor, DB, Florida
Like a line of dominos, once one corner gets taken in this defensive back rich class, they all may quickly go in succession. The Eagles were able to hide their sub-par corner play between strong safeties and a formidable defensive line. Florida's Jalen Tabor is a turnover maestro who will be able to make plays from the get-go in Philadelphia.
16. Baltimore Ravens select Takkarist McKinley, Edge, UCLA
Although the Ravens' reputation of a strong defense has waned in recent years, the unit produced a respectable season largely from late-career players like Terrell Suggs and Eric Weddle. To ensure continued success, GM Ozzie Newsome may look to target players who are worthy heir apparents. UCLA's Takkarist (or, Tak) McKinley is one of the most athletic edge rushers in this class and may provide an immediate impact early while spelling Suggs before taking over in a year or two.
17. Washington Redskins select Dalvin Cook, RB, FSU
It seems like ages ago when the Redskins had one of the most feared rushing attacks between Robert Griffin and Alfred Morris. While both of those players are there anymore, the Redskins have the potential to field a ferocious attack behind what has become a strong offensive line. Dalvin Cook lit up the ACC on a regular basis and could easily translate his explosive talent against the NFC East.
18. Tennessee Titans select Marlon Humphrey, DB, Alabama
If physicality was the theme of Alabama's 2016 defense, Marlon Humphrey was the poster-child. Even as a cornerback, Humphrey displayed a rough and tough attitude while shedding receiver blocks and making tackles that would make any linebacker blush. The Titans will likely double dip into this strong cornerback class and Humphrey isn't a bad place to start.
19. Tampa Bay Buccaneers select Garett Bolles, OL, Utah
Although at least one left tackle typically finds a home within the top 15, this draft class' top players don't quite check all the boxes. Early impressions are that Garett Bolles may be the best of the bunch, but teams will have to get over him being 25 years old by the time training camp rolls around. Protecting Jameis Winston should be priority number one for the Bucs, who haven't gotten what they expected out of former second rounder, Donovan Smith.
20. Denver Broncos select Ryan Ramcyzk, OL, Wisconsin
Because of the perceived weakness, a possible run on tackles would be short. Like Bolles, Ryan Ramcyzk made a strong impression as a single year starter at left tackle. Ramcyzk's post Cotton Bowl hip surgery limits what he could do for himself in the draft season cycles, but he has the makings of a long term starter on the left side. The Broncos have nearly all the parts in place to on offense to return to the playoffs besides two of the most important: quarterback and offensive line.
21. Detroit Lions select Taco Chartlon, Edge, Michigan
Although not as ripe as the defensive back class, the pass rusher class really begins to hit its stride from the middle to late first round. One of the most intriguing players at the position is Taco Charlton. The lengthy 6'6" end pciked up 10 sacks in 2016 and still has room to grow his game. With little else besides Ezekiel Ansah to speak for the Lions' pass rush, Charlton adds much needed potency to the opposite edge.
22. Miami Dolphins select Charles Harris, Edge, Missouri
A player is a rare specimen when at 35 years old he gets a two year extension, but that's exactly what the Dolphins did with Cameron Wake this offseason. Still, one has to think there isn't much more tread left on those tires, and the move does come with a tinge of desperation considering the dearth of pass rushing talent apart from Wake on the roster. Charles Harris is cut from the Cameron Wake mold as a highly athletic and bendy edge turner.
23. New York Giants select David Njoku, TE, Miami
Just as it looks like the Eli Manning train is about to come off the rails, the man is leading his team through another Super Bowl run. Last year seemed to set up like another year of Eli before the Giants were put in their place by the Green Bay Packers in the Wild Card round. Still, Eli has been known to take advantage of playmakers when he has them and Miami's David Njoku is unlike any he;s had before. Coming from the Miami tight end tree is no insignificant heritage. The Giants even had one of their own once upon a time in Jeremy Shockey.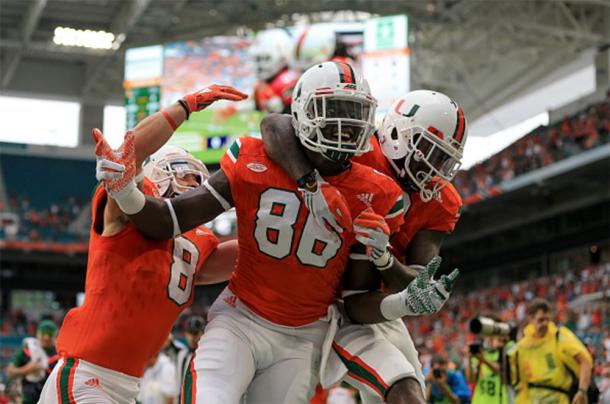 24. Oakland Raiders select Cam Robinson, OL, Alabama
Although the Raiders were undone prematurely by an injury to Derek Carr, quietly lurking as a offseason storyline is the long term outlook of left tackle, Donald Penn, whose absence sealed any chance at victory for the Raiders in the Wild Card round. Penn, who'll turn 34 before the start of next season, needs an heir and there is also a need at right tackle. Cam Robinson is a raw left tackle prospect, but he may at least answer the question on the right side, long term.
25. Houston Texans select Haason Reddick, LB, Temple
The Senior Bowl always does a good job of exposing relatively unknown or little known players to the general public. To even the most ardent draftniks, Reddick was a quick and high riser post Senior Bowl week due to his impressive movement skills and ability to translate from a collegiate edge player to more traditional second level backer. As the Texans are just starting getting production from Jadeveon Clowney, keeping the emphasis on building up the defense may push the unit from very good, to great.
26. Seattle Seahawks select Forrest Lamp, OL, Western Kentucky
For the Seattle Seahawks, there are few options outside of improving the offensive line. Aside from center Justin Britt, no position is sacred from tackle to tackle. Although Western Kentucky's Forrest Lamp played left tackle in college, his true home likely lies at guard, where he can employ his top level movement skills and technique against interior defensive linemen.
27. Kansas City Chiefs select Christian McCaffrey, RB, Stanford
During andy Andy Reid's hay-day in Philadelphia, he leaned heavily on the talents of a pass catching back by the name of Brian Westbrook. Reid did similar things with Jamaal Charles in Kansas City, but with Charles' future in question, it may be time to reprise the role once again. Spencer Ware and Charcandrick West are nice players, but neither possess the sheer talent and versatility of Christian McCaffrey, whose 2015 season saw him amass over 2,600 scrimmage yards.
28. Dallas Cowboys select DeMarcus Walker, DL, Florida State
Behind the curtain of Dallas' dream season was a defense just good enough to supplement a run based, ball control offense. Although players like David Irving show promise, the defensive line is still sparse even with investments in both the draft and free agency in recent years. DeMarcus Walker is the antithesis of the type of player Dallas has drafted recently. He's a renowned team leader who, despite not flashing combine busting athleticism, gets the job done on a down in, down out basis.
29. Green Bay Packers select Sidney Jones, DB, Washington
Reality struck quickly for the 2016 Packers as their late season run had many punching them Super Bowl tickets at the start of the playoffs. Their comeuppance came quickly and swiftly at the hands of the Atlanta Falcons and one thing became clear: this team needs corners. Even in a strong class, Sidney Jones stands out as one of the best. While not quite the level prospect as fellow Washington Husky, Marcus Peters, Jones is not one to shy away from a challenge.
30. Pittsburgh Steelers select Carl Lawson, Edge, Auburn
It's both a problem and a blessing when the venerable James Harrison is the Steelers' best pass rusher. The 38-year old (who will 39 in May) seeks to return to Pittsburgh for another two seasons, but the prudent approach would not to bank one Harrison's ageless sorcery. Auburn's Carl Lawson has a similar silhouette to Harrison as a stocky yet long armed pass rusher and famously gave current Miami Dolphin left tackle, Laremy Tunsil, fits in 2015.
31. Atlanta Falcons select Dan Feeney, OL, Indiana
A big part of Atlanta's success in 2016 came from maturity on the offensive line, but there is still potential to improve the right guard spot. Few players fit both need and value than Indiana's Dan Feeney. The senior lineman not only played on the right hand of the center in college, but he also played in a similar zone scheme the Falcons run so well. As a bonus, Feeney can also deliver snaps - skill he validated during Senior Bowl practices - and it may come in handy whenever 31-year old Alex Mack decides to hang them up.
32. New England Patriots select T.J. Watt, Edge, Wisconsin
Coming off a stunning Super Bowl victory, the Patriots face a number of offseason question marks in free agency. Nearly chief among possible departures is edge defender, Jabaal Sheard, who proved to be among the better New England's pass rushers in 2016. Accumulating 11.5 sacks in just his second year playing defense in Wisconsin, T.J. Watt's hype is justified beyond name recognition.