 While he was expected by many to emerge as one of the winners in free agency, the bottom line for Alshon Jeffery's 2017 contract with the Eagles doesn't tip the scales.
Alson's one-year "prove it" deal tallies up to $9.5 million with a $1 million 2017 salary and a nearly $8 million signing bonus, per Spotrac.com and first reported by ESPN's Josina Anderson.
VAVEL's own Norman Tall predicted Jeffery landing with the Eagles in a late February article covering free agent receivers.
Something to Prove
Jeffery's contract may come as a surprise to some, but the former Chicago Bear does have a lot to prove since his 2013 career season when he caught 89 passes for over 1,400 yards. Since, Jeffery has only caught over 1,000 yards once (2014) and has played in a combined 21 games in the past two seasons. according to pro-football-reference.
Alshon Jeffery, himself, claimed quarterback Carson Wentz played a big part in him landing in Philadelphia, calling the sophomore passer "special" in a team sanctioned interview. Jeffery also joins Torrey Smith, who signed early on Friday, in a remade receiving corps which includes Jordan Matthews, the Eagles' second leading receiver (behind tight end Zach Ertz) during the 2016 season with 804 yards through the air.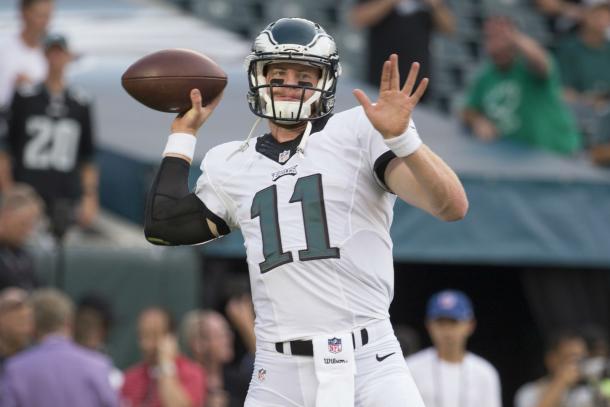 Something to Fix
The help is much needed for the Eagles, who ranked 24th in pass yards per game in 2016. Further, 2015 first round pick, Nelson Agholor, hasn't lived up to his draft slot billing. The Eagles landing Jeffery gives Wentz a "bad ball" catcher who can make plays in the air. In 12 games played in 2016, Jeffery recorded the league's 11th (tied) best yards per reception average at 15.79.
Lastly, the Jeffery and Smith signings will free up the Eagles to improve the running game and secondary early in the 2017 draft. Given the abundance of talented cornerbacks and running-backs in this year's class, the Eagles front office can breath easy about not having to make a hard choice.w