 After plenty of speculation as to where the quarterback would play next, Tony Romo has decided to end his National Football League career and is set to retire, according the NFL Network Insider Ian Rapoport.
This report ends all the talk of Romo leaving the Dallas Cowboys for the Houston Texans or any number of teams that were linked to him after it was clear that the Cowboys would be going forward with Dak Prescott from here on out. The announcement was initially reported by ESPN but Rapoport then found out more details as stated in the article posted on NFL.com today.
Prescott earns the crown, knocks off Romo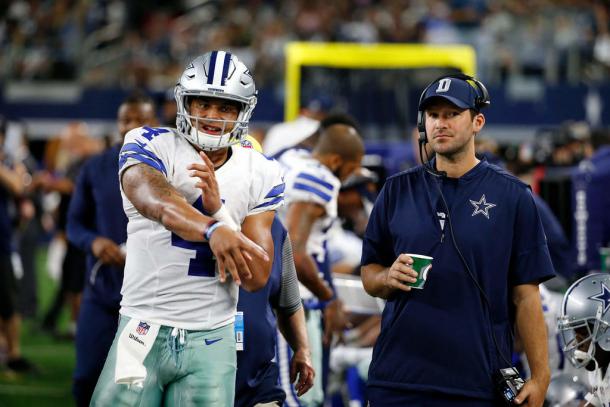 After suffering an injury early in the 2016 season, Romo was replaced by the then rookie quarterback Dak Prescott. As many now know, Prescott went on to lead the Cowboys to a 13-3 season and a home playoff berth. The playoffs may not have gone as Cowboys's fans had envisioned but it was clear that the coaching staff and those who support the Cowboys were now firmly behind Prescott, even after Romo came back to full fitness. The veteran quarterback conceded the starting position as early as October when he stated that even though he wanted to play, he wanted to compete and win, he had to accept his role as the second string quarterback even if it is "not always easy to watch."
According to Rapoport, Dallas had relinquished their right to Romo by not putting him on the reserve or retired list when filing their paperwork to release him from his contract. Rapoport when on to tell Good Morning Football that Romo had made the decision after finding out about the Cowboys decision and not only "consulting with those close to him" and looking at his career as a whole, he decided to retire and try his hand at the broadcasting opportunities that had been in his periphery during this off-season. The Cowboys decision to release him also added to the decision to retire alongside the numerous serious injuries he had sustained over the last few years. Even though Romo had come back to full fitness from those injuries, the toll they had taken on him pushed him closer to retiring.
Romo ends his career falling short of Jerry Jones' expectations
When Romo first joined the Cowboys as an undrafted free agent out of Eastern Illinois, he spent most of his first two season behind Drew Henson, Vinny Testaverde and Drew Bledsoe. Romo then got his chance in 2006 when then Dallas head coach Bill Parcells gave him his first season as a NFL starter as he came in for Bledsoe while the Cowboys had a 3-3 record that season. His play that season helped the Cowboys reach the playoffs where they fell short of the Super Bowl that year. Romo ends his Cowboys career as the franchise leader in passing yards (34,183), touchdowns (248) and winning drives (30).
All of this does not take away from the fact that in six playoffs, Romo and the Cowboys had a record of 2-4 and never once made a Super Bowl appearance. Even with the constant backing of Cowboys' owner Jerry Jones, many were not convinced of Romo's play under the spotlight of the playoffs, which is were the best make their names like Cowboys' greats Troy Aikman and Roger Staubach. For all his prowess during the regular season, there was always a lingering doubt over Romo that thought that he never could get it done in the playoffs, when it matters the most. Even with his franchise records, Cowboys' fans are not mourning the loss of Romo and look set to move forward with Prescott.
At the end of the day, Romo was one of the Cowboys mainstays for the best part of a decade and saw many star players come and go while he remained in the white and blue of Dallas. His career may not have gone the way he and Jerry Jones had wanted but at the same time, he leaves the Cowboys having made his mark, one way or another.