 The news was announced early Monday afternoon that the Carolina Panthers would be parting ways with general manager Dave Gettleman. The team's owner and founder, Jerry Richardson, revealed the news, stating that "After much thought and a long evaluation of our football operations, I have decided to relieve Dave Gettleman of his duties as general manager," according to the team's website.
After being hired in 2013, Gettleman helped put together rosters that gathered a 40-23-1 record. Carolina won the NFC South division three out of his four seasons. The most successful season for the team was in 2015, when they earned a 15-1 record and reached the Super Bowl. This past season, however, the Panthers fell to a 6-10 record, which placed them last in their division.
Choice of Timing
The timing of Gettleman's firing is perhaps one of the more shocking elements to the news. The Panther's training camp is scheduled to begin in eight days, one of the first key events of an NFL season.
Carolina is not the only team have fired their general manager this summer, though. The Kansas City Chiefs also released their GM John Dorsey on June 22, following a 12-4 season. The Chiefs held the fourth-best winning percentage in the league during Dorsey's tenure, which similarly lasted just four seasons.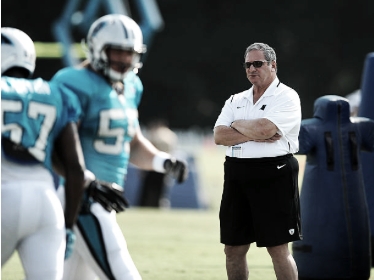 The most typical time that general managers tend to be fired is during January following the end of the regular season. Most rebuilding or disappointed franchises decide to shake up their front office and try to send messages to fans of their displeasure with the front office's performances. While this may be a partial explanation for Gettleman's firing, it seems unlikely the Panthers' ownership would decide this following the free agency period and the NFL Draft.
Some analysts, however, suggest that the summer is the most logical time to replace a GM. A handful of NFL writers, such as Kevin Seifert of ESPN's NFL Nation, suggest that the summer months are typically the time when general managers have the least responsibilities and begin preparing for the following season. If you subscribe to this mentality, the Panthers will have plenty of time to search for a new GM, who will be able to implement their strategy for the 2018 season without having to worry much about the 2017 roster.
Speculation over Reasoning
While there will likely be more news coming out in the following days and weeks as to why Panthers' ownership decided to part ways with Gettleman, social media flooded with speculation and questions towards their reasoning once the news broke. It is easy to assume that Gettleman was fired simply for the disappointing season Carolina had last year, but it's unlikely this decision was made impulsively based off a single season. More people are pointing towards Gettleman's history of not giving contracts to aging veterans. He has shown in the past that his tendencies are to build around younger pieces while retaining a few veterans on favorable contracts to help groom other players.
With that in mind, there are some notable Carolina players that are approaching free agency. Outside linebacker and 2016 team captain Thomas Davis is in his final year under contract after spending all of his 12-year career with the Panthers. Tight end Greg Olsen's contract will also be up soon, making him a free agent in 2019. These two veteran players, aged 34 and 32 respectively, have reportedly been negotiating with the team through this offseason on extensions. Knowing Gettleman's negotiating strategies, there's a chance that ownership felt like they needed to make a change in order for deals to be reached with those players (and others).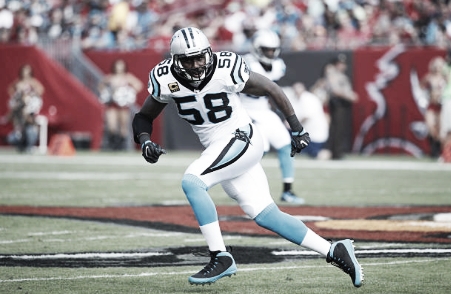 Players Reactions
Gettleman's tenure at Carolina was not without some drama. When he was hired in 2013, the Panthers had barely any cap space to work with due to big contracts that the team was still paying out. Some of his decisions to create more space for flexibility led him to release players considered to be cornerstones to the organization.
The most notable departure was wide receiver Steve Smith, who played 12 seasons with the team and still holds all the franchise's records for receiving. Smith's production had decreased in the years prior to his release, but he had publicly stated how he wished to remain a Carolina Panther for life. Gettleman released the receiver, who was 34 at the time, during the offseason in 2014. Smith quickly signed as a free agent with the Baltimore Ravens.
Another decision by Gettleman to move on from a veteran was the release of running back DeAngelo Williams. With the Panthers for eight seasons, Williams continues to hold the team record for rushing yards and touchdowns in a single season, although it seems that his franchise rushing records will likely be broken by lead-back Jonathan Stewart during the 2017 season. Through a mix of Stewart's emergence, Williams' injuries, and the running back's expiring deal, Gettleman decided to cut the veteran in 2015 before the season began. Williams later signed with the Pittsburgh Steelers.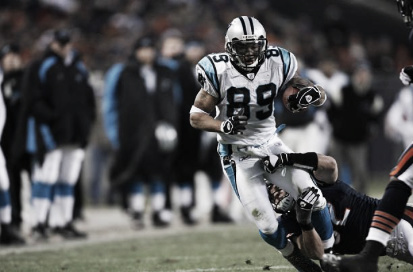 Both of these players expressed resentment towards Panthers' management following their releases from the team. Neither are currently on a team roster, but reacted to the news of Gettleman's firing on Twitter. Smith posted a photo of himself laughing, while Williams posted a message saying he would no longer consider the Carolina Panthers off-limits.
Washington Redskins cornerback Josh Norman also tweeted Monday afternoon, presumably about the news of Gettleman's release. Norman, who played for the Panthers from 2012 through 2015, also faced some drama with Gettleman during his time with the team. In the 2016 offseason, Gettleman initially placed the team's franchise tag on the breakout cornerback in order to allow more time for a contract extension. After disputes with Norman's agents, however, the general manager surprising rescinded the franchise tag which allowed Norman to sign with the Redskins as a free agent.
The Carolina Panthers will open their 2017 training camp on July 25th at Wofford College, with the NFL season kicking off in early September.