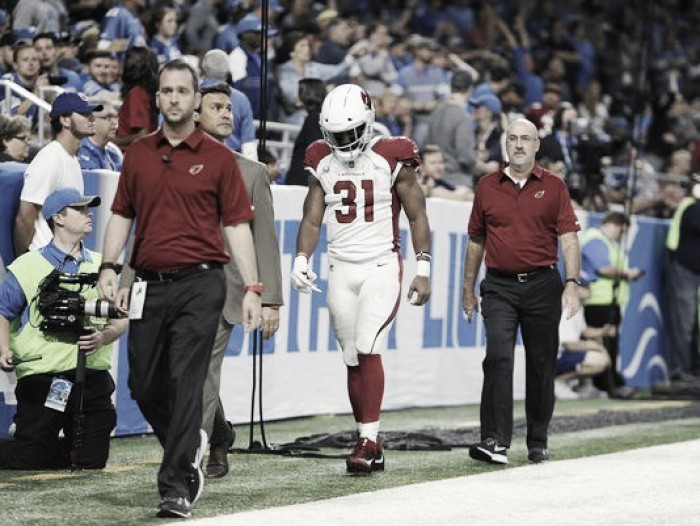 Arizona Cardinals running back David Johnson will have surgery on his left wrist and will miss two to three months, as reported by Adam Schefter on Tuesday. Johnson suffered the injury in Sunday's loss to the Detroit Lions.
The Cardinals are placing Johnson on the injured reserve with a chance to return this season. If he does return, the time table would be early to mid-December.
The Cardinals were hopeful that the Johnson's injury would be just a sprain. However, after Johnson's second opinion the injury would be diagnosed as a dislocated wrist. Teammate T.J. Logan is currently on the injured reserve with the same injury. Logan's timetable to return is eight to 12 weeks.
The injury news is a huge blow to the Cardinals offense. In 2016 Johnson rushed for 1,239 yards, caught 80 passes for 879 receiving yards and totaled 20 touchdowns. Johnson, 25, was hopeful to join Marshall Faulk and Roger Craig as the only running backs to have 1,000 yards rushing and receiving.
Roster Moves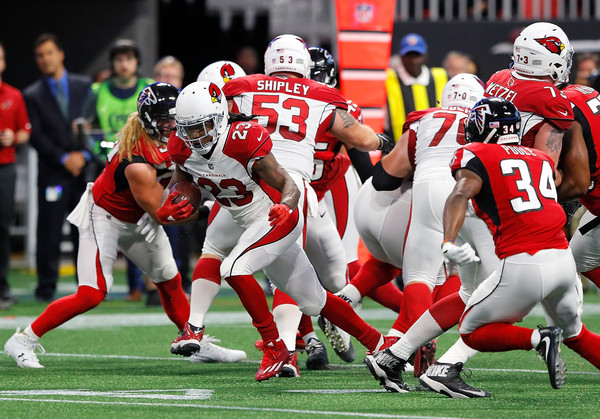 With Johnson going down, the Cardinals would re-sign Chris Johnson. Johnson comes back to the Cardinals after not making the 53-man roster. In two seasons with Arizona, Johnson has rushed for 909 yards and four touchdowns. In the preseason, Johnson would rush for just 41 yards on 13 attempts.
The Cardinals also added running back D.J. Foster from the New England Patriots' practice squad. Foster appeared in three games last season with the Patriots, rushing for 24 yards on seven carries.
Next man up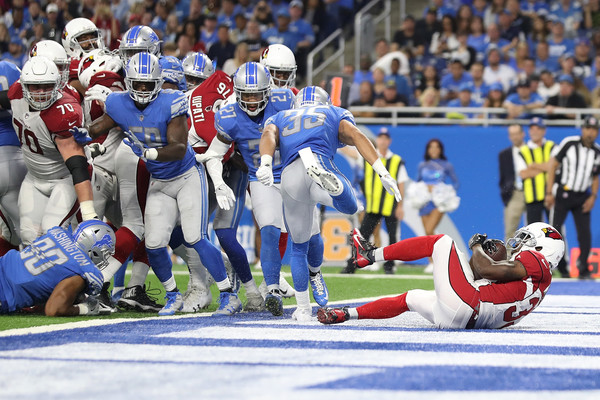 Once again, Arizona will play the "next man up" moniker head coach Bruce Arians made famous. Kerwynn Williams, Andre Ellington and Elijhaa Penny made up the running back depth before the roster moves were made.
"It's always a huge blow to lose a top player," Arians told the media Monday. "But it's not the end of the world," he quickly added.
"We've got quality guys on our team and it's an opportunity for somebody to step up. David Johnson became David Johnson because of somebody's injury." Arians continued.
Williams will probably be the starter going forward. In four seasons with the Cardinals, Williams has rushed for 555 yards and four touchdowns.
In the loss against the Lions, Williams carried the ball five times for 10 yards and a touchdown. Williams has worked best out of the wildcat formation, rushing for a 49-yard touchdown against the New Orleans Saints last season.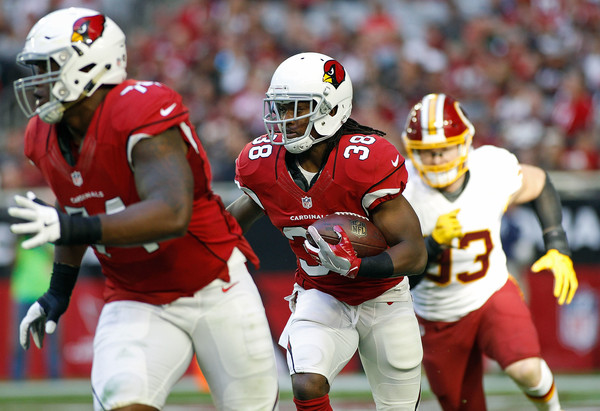 Ellington also has experience. In 54 games, Ellington has accumulated 1,697 rushing yards, 1,034 receiving yards and 12 total touchdowns. Ellington has shown flashes in his career but injuries have limited his playing time.