The Philadelphia Eagles easily handled the Arizona Cardinals 34-7 Sunday in Philadelphia.
It was all Philadelphia in this game as they never trailed the Cardinals.
Carson Wentz had a record breaking game, completing 21 of his 30 passes for 297 yards, threw four touchdowns and one interception. LaGarrette Blunt had a big game running the football for the Eagles, totaling 74 yards on 14 carries.
In what has become a recurrence in Cardinals games, Carson Palmer could not stay upright. Palmer was hit seven times by the Eagles defense, being sacked two times for a loss of 15 yards.
Record breaking first quarter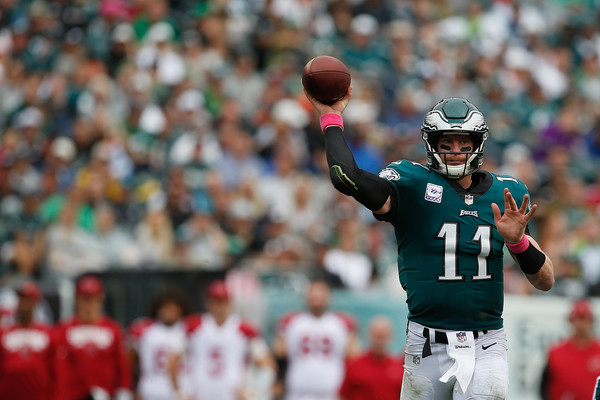 Wentz put the Eagles on the score board first on a 15-yard touchdown pass to Trey Burton.
After forcing the Cardinals to punt the ball on their second straight drive, Wentz made quick work of the Cardinals defense. Wentz delivered an 11-yard touchdown pass to tight end Zach Ertz.
Following another three and out from the Cardinals, Wentz put up another score this time on a 59-yard touchdown pass to Torrey Smith. With that touchdown, Wentz became the first quarterback in Eagles history to throw three touchdowns in the first quarter.
Wentz would strike once more in the third quarter on a 72-yard touchdown pass to Nelson Agholor, giving the Eagles a 24-point lead.
Jake Elliott kicked two field goals on the day, hitting from 28 and 36 yards out.
Cardinals can't find any offense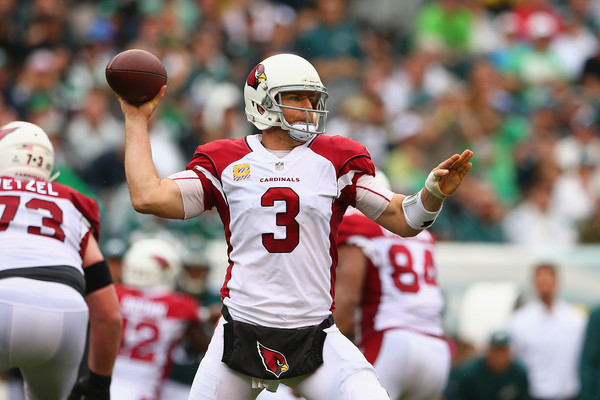 Once again, Palmer had a rough day under center. Palmer competed 28 of his 44 passes for 291 yards and one touchdown.
Chris Johnson could not find any success on the ground, gaining just 21 yards on nine carries. Both Andre Ellington and Kerwynn Williams both went negative, each having negative two yards. J.J. Nelson had the best carry of the game, gaining 14 on a 14-yard run.
Nelson impacted the passing game as well, catching four passes for 80 yards. Ellington also fared better in the passing game, having nine catches for 65 yards. Larry Fitzgerald's streak of consecutive games with a catch has improved to 200. Fitzgerald had six catches for 51 yards on the day.
John Brown would catch the only touchdown for the Cardinals, scoring on 13-yard touchdown pass.
Injuries
Cardinals special teams lost a valuable member when Aaron Brewer left in the first quarter with an arm injury. Arizona offensive line just keeps getting hit with injuries as Jared Veldheer came out of the game in the third quarter. Defensive lineman Olsen Pierre left in the third quarter with ankle injury,
Eagles lost Lane Johnson at halftime with a head injury.
Up Next
Next Sunday, The Cardinals will host the Tampa Bay Buccaneers. Both teams will look to get back into the win column as Tampa Bay lost on Thursday Night Football to the New England Patriots.
As for the Eagles, they will have a short week against the Carolina Panthers on Thursday Night Football. The Panthers defeated the Detroit Lions on Sunday.