 The Los Angeles Rams secured their first winning season since 2003 following the 32-16 win over the Arizona Cardinals.
The Rams (9-3) have beat the Cardinals (5-7) for the second time in six games, winning the season series. The Rams have won six of their last seven games and have a solid grip on first place in the NFC West.
In the season series, the Rams outscored the Cardinals 67 to 16 with Jared Goff, Todd Gurley and Alec Ogletree playing a big factor in each game.
Rams dominate all game long
On the opening drive for Los Angeles, Goff drove the Rams down the field in six plays. Greg Zuerlein kicked a 56-yard field goal to give the Rams an early 3-0 lead. Los Angeles took the ball right back from Arizona when Lamarcus Joyner intercepted the first pass of the game from Blaine Gabbert.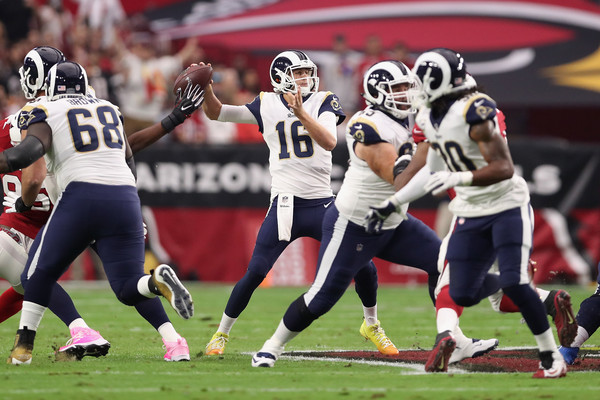 On the ensuing drive, the Rams scored on a seven-play drive, with Goff throwing a touchdown to tight end Gerald Everett. Zuerlein missed the extra point attempt, pushing the score to 9-0 Rams.
Following a three-and-out by the Cardinals, Kareem Martin intercepted a pass from Goff giving Arizona the ball once again. On third and nine, Gabbert's pass would be intercepted for a touchdown by Ogletree. The Rams ended the first quarter with a 16-0 lead.
Arizona cut the lead to 16-13 lead in the second quarter off a rushing touchdown from Elijhaa Penny and a 15-yard touchdown reception to Larry Fitzgerald. Phil Dawson's extra point attempt would be blocked. However, the Cardinals trailed 19-13 at halftime.
The Rams added an 11-yard touchdown pass from Goff to Sammy Watkins in the third quarter, pushing the deficit to 13. Following the Rams touchdown, the Cardinals answered with a 54-yard field goal by Dawson. The Cardinals could have trimmed the lead to seven, however, a blocked field goal from Michael Brockers in the fourth, taking any momentum the Cardinals had.
Zuerlien added two field goals for the Rams, giving putting the game out of reach and sealing a Los Angeles victory.
The legend of Larry Fitzgerald continues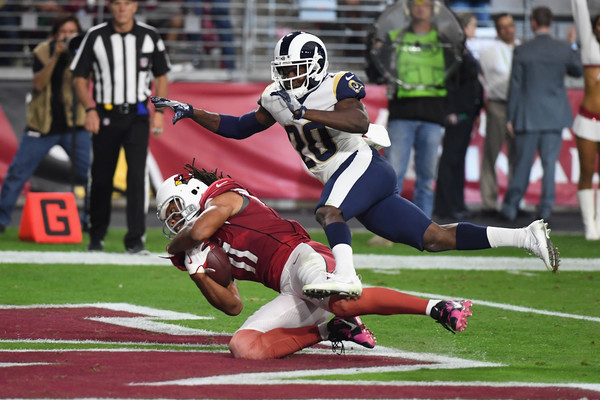 Fitzgerald continues to be the best wide receiver on the Cardinals roster. In the losing effort, Fitzgerald caught 10 passes for 98 yards.
With that performance, Fitzgerald passed Isaac Bruce for number four all time on the NFL's career receiving yards' list. Fitzgerald now sits behind No.3 Randy Moss (15,292 yards); No. 2 Terrell Owens (15,934 yards); and No. 1 Jerry Rice (22,895 yards).
Fitzgerald is also the fastest player to reach 1,200 receptions. Fitzgerald is ranked third all-time on the NFL's career receptions list.
Up Next
Next Sunday, the Rams will host the Philadelphia Eagles. This matchup will have huge playoff seeding implications on the line.
The Cardinals will wrap up their three game homestand next Sunday, hosting the Tennessee Titians.