 Now two years removed from a transcendent 2015 National Football League season where Allen Hurns caught for over a thousand yards and ten touchdowns, the former Jacksonville Jaguar lands in Dallas on a two-year deal worth up to $12 million, per Josina Anderson of ESPN.
The deal gives the Dallas Cowboys flexibility in the will they, won't they relationship they have with receiver Dez Bryant. Bryant, who is a full three seasons removed from his last thousand yard year has received a non-committal response from ownership on his future with the team.
The cost of doing business
Bryant's $16.5 million due in 2018, and the franchise tag applied to breakout defensive end Demarcus Lawrence, has been prohibitive to the Cowboys' free agent activity in 2018.
Hurns, while not the same caliber receiver as Bryant, is three years younger and would provide a healthy performance floor for a receiving corps with previously little star power outside of Bryant.
Still, it would be hard to imagine the Cowboys outright cutting Bryant as it would mean the team would eat the $8 million still owed to Bryant in guarantees. If the Cowboys are motivated to move on from Bryant, the best course of action would be to find a trade partner willing to give up a pick and assume Bryant's contract. Although Bryant has seen his box score decline since his tent pole 2014 season, PFF's scoring has him only one season removed from his second best graded year.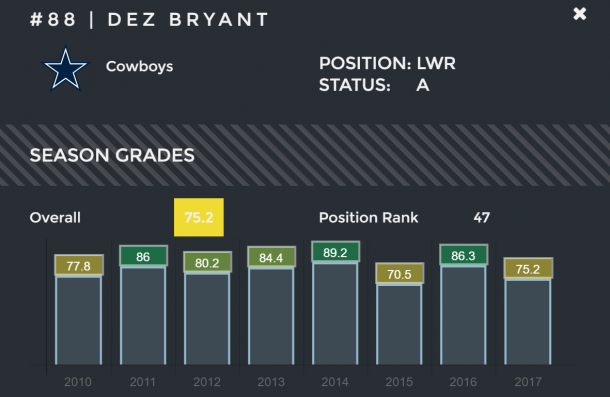 Despite not being a clear sign the Cowboys are prepared to move on from Bryant, the Allen Hurns signing does give the team a proper safety net at receiver if the team finds a willing trade partner. Bryant's talent remains head and shoulder above any player at the position in free agency, and teams with cap room who missed out on signing a premium receiving talent this offseason - like the Indianapolis Colts or the San Francisco 49ers - might be inclined to deal a mid round pick for a guaranteed return.