The Buffalo Bills published this past Wednesday, that no one will use the number 34 anymore. The number was used by Thurman Thomas as they have been retired this past season.
It will become the third number retired in Buffalo's history. Besides Thomas' number, the quarterback Jim Kelly and the defensive end Bruce Smith gained such recognition by the club.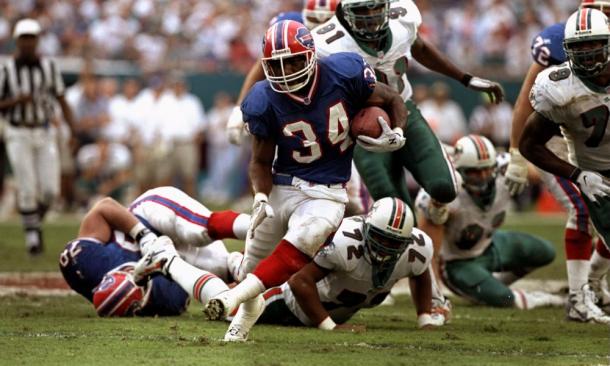 34. Forever Thurman Thomas.

We will retire our Hall of Fame running back's number at our home Monday Night Football game this season! pic.twitter.com/X5GkS0rwPh
— Buffalo Bills (@buffalobills) 16 May 2018
Who is he?
Thomas is a member of the Pro Football Hall of Fame and College Hall of Fame, joining the National Football League in 1988 out of Oklahoma State as a second-round pick with the Bills.
He spent 12 seasons in Buffalo from 1988 to 1999, and one season with the Miami Dolphins in 2000, garnering 12,074 yards speeding and 65 touchdowns on 2,877 career trials. Thomas also added 4,458 yards and 23 touchdowns on 472 catches in his career.
Besides being the Buffalo inducted to the Bills Wall of Fame in 2005, he ended his career as Buffalo's all-time maestro in yards rushing, totaling 11,938 and 65 rushing touchdowns. Thomas is the only player in NFL history to lead the league in yards from scrimmage in four straight seasons, from 1989 to 1993 overall.