 In 2017, the Baltimore Ravens surprised many in the NFL. They finished the season 9-7 and placed second in the AFC North. While many were pleased with this season, the Ravens could have delivered so much more.
The Ravens finished ninth in points scored but finished 27th in total offense. Joe Flacco and Alex Collins did the most a quarterback-running back duo could possibly do. The biggest problem that the offense faced was inconsistency from the wide receiver group.
Veteran tight end Ben Watson recorded the most receptions and tied for a team lead in touchdowns for the Ravens a year ago. In 2018, he is no longer on the roster.
Jeremy Maclin. Gone. Mike Wallace. Gone. So where will the Ravens get their offense from?
Revamping the offense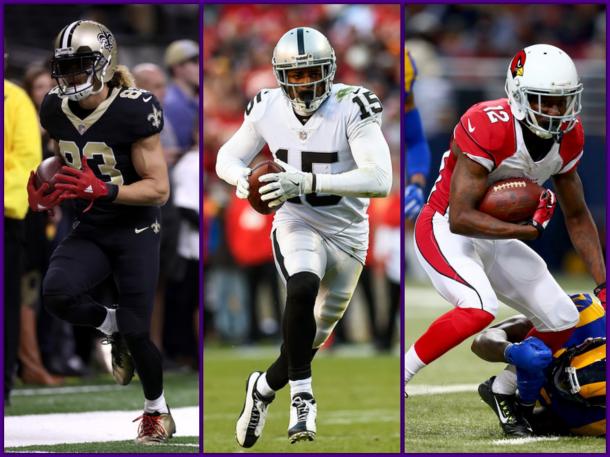 In the offseason, the Ravens took a big step in retooling the offense, adding some weapons for Flacco.
Michael Crabtree is the most established wide receiver of the three. During his tenure with the Oakland Raiders, Crabtree caught 232 passes for 2,543 yards and 25 touchdowns.
John Brown's career has been surrounded by injuries. During his four year span with the Arizona Cardinals. In four years, Brown was plagued with quadriceps, back, toe and hamstring injuries. It was also revealed that Brown carries a sickle-cell trait.
When healthy, Brown could be one of the best speedsters in the NFL. Brown has 173 catches for 2,515 yards and 17 touchdowns for his career. He is also the only receiver in NFL history to record 4-game-winning touchdowns in a rookie season.
Willie Snead has also had his ups-and-downs. After going undrafted, he would be cut by the Cleveland Browns, signing and being placed on the Carolina Panthers practice squad. He would then be signed to the New Orleans Saints practice squad and would not see the field in 2014.
In three seasons for the Saints, Snead recorded 149 catches for 1,971 yards and just seven touchdowns. Brandin Cooks and Michael Thomas usually overshadowed him during his tenure with the Saints. It will be a prove it type year for Snead.
The new guard
With the 25th of the 2018 Draft, the Ravens selected tight end Hayden Hurst. In three seasons with South Carolina, Hurst caught 100 passes for 1,281 yards. Hurst is a big target tight end and was known as being a reliable target for quarterbacks while in college. If he and Flacco develop early chemistry, replacing Watson might have been that simple.
Whats better than having one big body tight end? Having two. In the third round, the Ravens selected Mark Andrews out of Oklahoma. Andrews uses his size and creates mismatches for defensive backs. For a big target, Andrews has the footwork and athleticism to hand complex routes and make defenders miss.