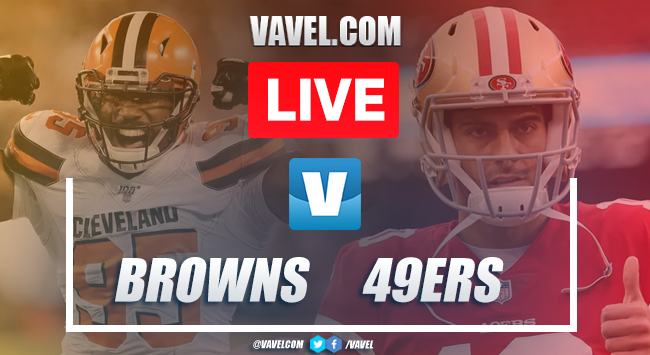 Highlights
End game
4Q 01:20
4Q 02:00
4Q 03:47
4Q 05:08
4Q 05:14
4Q 07:02
4Q 07:30
4Q 10:07
4Q 10:50
4Q 13:35
Final third quarter
3Q 01:10
3Q 01:31
3Q 01:44
3Q 04:18
3Q 07:14
3Q 08:10
3Q 08:17
3Q 09:17
3Q 10:15
3Q 10:37
3Q 11:59
3Q 12:43
3Q 13:35
3Q 15:00
Half time
2Q 00:10
2Q 01:01
2Q 01:37
2Q 01:54
2Q 02:00
2Q 04:21
2Q 04:45
2Q 06:48
2Q 07:21
2Q 08:18
2Q 09:01
2Q 10:58
2Q 11:22
2Q 11:26
2Q 13:27
Final first quarter
1Q 01:09
1Q 03:34
1Q 05:21
1Q 06:26
1Q 07:10
1Q 08:48
1Q 09:10
1Q 11:01
1Q 12:01
1Q 13:02
1Q 13:17
1Q 13:36
1Q 14:20
1Q 15:00
49ers: Inactive List
Browns: Inactive List
Our live coverage begins!
Follow it here
Lastest games
How to watch Cleveland Browns vs San Francisco 49ers Live TV and Stream
Key player San Francisco
Key player Cleveland
Fewer mistakes
To flirt victories
49ers: undefeated
Browns: At the Top
Surprise?
Kick-off time
Welcome to VAVEL.com's LIVE coverage of the 2019 NFL season game: Cleveland Browns vsSan Francisco 49ers!