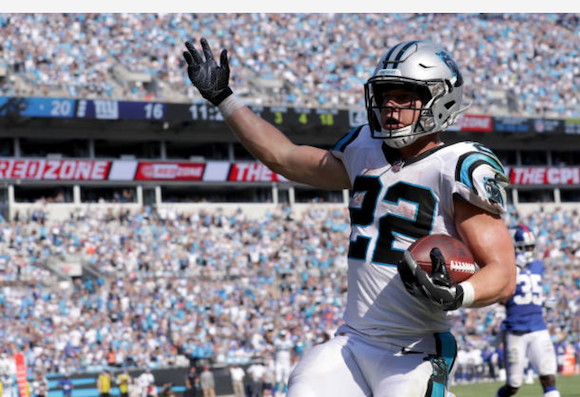 Carolina Panthers star Christian McCaffrey will become the highest paid running back in NFL history after agreeing a four-year, $64m contract extension.
The reports of a new deal for McCaffrey means he will surpass Dallas Cowboys running back Ezekiel Elliott, whose current deal is worth $15m per season.
McCaffrey, who ranked third in the NFL for rushing yards in 2019, was going into his final year of his rookie deal and his extension also includes a fifth-year option.
Panthers and McCaffrey reach agreement over contract extension
The Panthers star had another season to remember last year, becoming just the third running back in NFL history to have at least 1,000 rushing and receiving yards in a single season.
He finished 2019 with 1,387 yards on the ground and 1,005 yards through the air to join Hall of Famer Marshall Faulk (1999) and former San Francisco 49ers back Roger Craig (1985) on the unique list of players.
McCaffrey has played 48 career games with the Panthers, rushing for 2,920 yards and 24 touchdowns. The Stanford graduate, who was the eighth overall pick in the 2017 NFL Draft, also has 303 receptions for 2,523 yards and 15 touchdowns.
Head coach Matt Rhule now has one less worry after getting the McCaffrey deal sorted, but has a rebuild on his hands after the Panthers went 5-11 last season.