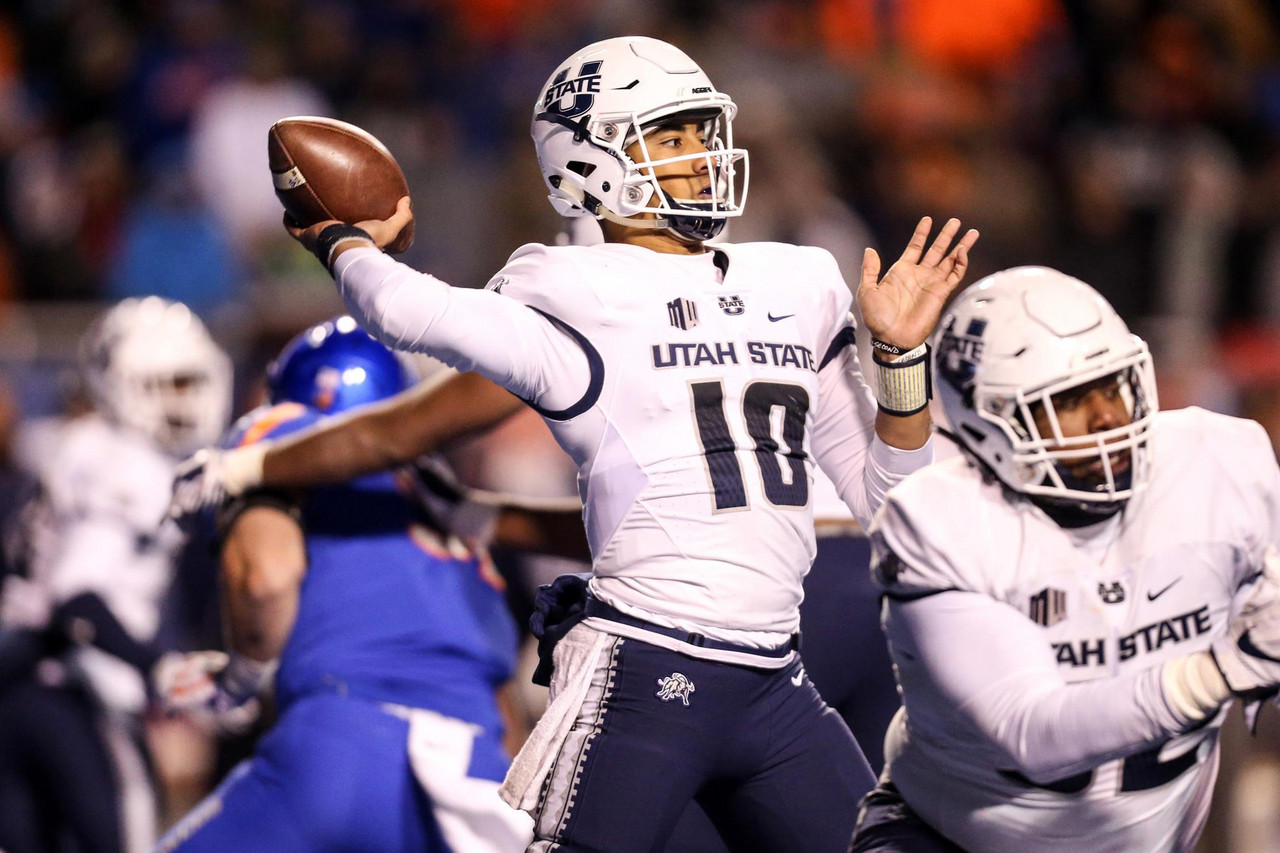 Jordan Love, out of Utah State has been described as a dual-threat quarterback and was the consensus fourth rated quarterback in this years' draft.
With future Hall of Fame quarterback Aaron Rodgers now 36-years-old, the Green Bay Packers management clearly felt they needed to look towards the future, but have they been too quick to pull the trigger in looking for their next franchise QB?
Is this not just the same as when Green Bay selected Rodgers 15-years-ago?
In short, no.
This years' number one pick, Joe Burrow was deemed to be in a class of his own and a certainty to be picked as number one. Back in 2005 right up to draft day there was nothing separating Rodgers and the eventual number one pick Alex Smith.
The Packers didn't expect that a player who could easily have been picked number one fell all the way to them at 24, and with legendary QB Brett Favre mulling retirement for a few years already, it would have been criminal not to pick Rodgers.
The rest as they say is history, Rodgers sat for three years behind Favre before taking the reins in 2008 and winning his only Super Bowl at the end of 2010 season.
Fast forward to now and the Packers traded up to move four positions in the draft, giving a fourth round pick to the Miami Dolphins to get the fourth best quarterback in the draft. Mock drafts in the lead up to the draft had Love as a high first rounder who could easily fall to the second round.
Packers GM Brian Gutekunst is clearly high on Love but Rodgers still has at least three or four good years left in him.
Peyton Manning won his second Super Bowl aged 39, Tom Brady won three of his Super Bowls since turning 36, looking at those numbers surely the Packers would have been better served selecting someone who can help them win now, and looking for the heir apparent to Rodgers in the 2022 draft.
Who could they have selected instead?
Last season it was evident the Packers needed another wide receiver to complement the brilliant Davante Adams. In a wide receiver rich draft three names drafted around Love would have pleased the Packers nation and Rodgers.
Brandon Aiyuk – Arizona State
Drafted by the San Francisco 49ers one pick before Love, Brandon Aiyuk was named first team All-Pac-12 as a wide receiver and return specialist.
San Francisco traded up in the draft, doing business with the Minnesota Vikings. This pick would have captured the imagination and left Rodgers less reliant on Adams and provided balance in the receiving corps.
Tee Higgins – Clemson
From Clemson Tiger to Cincinnati Bengal, this receiver will be catching bombs from Burrow rather than Rodgers.
Tee Higgins won a national championship in 2019 and after 25 touchdowns in his last two seasons at Clemson, he would have been a high profile pick with pedigree. Higgins was first pick of the second round so would have still been there for the Packers at number 30 had they not traded up.
Michael Pittman – USC
Selected just after Higgins by the Indianapolis Colts, the six-foot-four, 220 pound wideout would have provided a physical threat in the endzone.
Michael Pittman is a two time All-Pac-12 selection as well as a second team All-America selection from last season with 1275 yards and 12 TD's.
Could there be parallels with New England and Garoppolo?
In 2014, the New England Patriots drafted the potential heir apparent to Tom Brady in Jimmy Garoppolo at the end of the second round. How old was Brady then? You guessed it, 36.
Unable to dislodge Brady from his position, just three years later he was traded to the 49ers. In 2018 he became, at the time, the highest paid player in NFL history and also played in the Super Bowl this year.
New England used a second round pick on Garoppolo so they sacrificed less than the Packers, but after just three years he was traded for a second round pick, leaving the Patriots without their insurance for Brady, and how they would surely love to have him back now.
I'm not saying Love is the next Garoppolo but the fifth QB picked in the 2014 draft got to learn from Brady and is now setting the NFL alight elsewhere. It's not inconceivable that the same could happen in Green Bay. Either that or the unthinkable happens and Rodgers gets traded in the future.
Gutekunst said: "I'm very hopeful Aaron continues to play at a high level for years to come. I know a lot of people are saying this puts a clock on Aaron, but I don't see that at all."
Rodgers – ominously quiet since Thursday - has the capability to be playing into his early-40's, can Love develop enough to challenge Rodgers in a few years time? Can Love be patient enough to wait for Rodgers to step down?
Looking to the future the answer for Packers fans is yes to both.
However, If he can't do either, then maybe the clock in Green Bay is on Love.